Sports > Outdoors
Anglers lose crowds, find bountiful runs on Salmon River
Sun., Oct. 24, 2010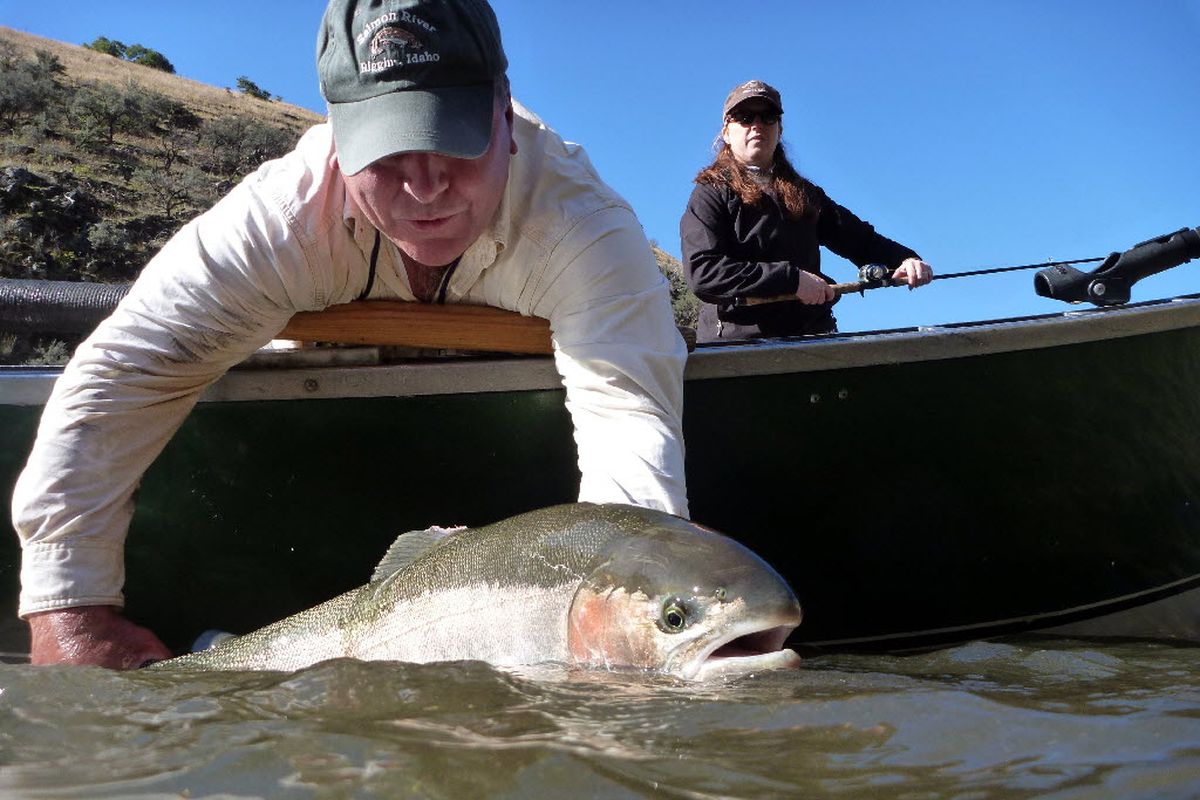 After being reeled in to the boat by an angler on the Salmon River, a beefy wild steelhead is released by fishing guide Norm Klobetanz of Exodus Wilderness Adventures based in Riggins, Idaho. (Rich Landers)
When the season comes to tap the annual steelhead runs, Riggins, Idaho, might be upstaged by Lewiston, but it's not necessarily outperformed.
The big run of steelhead that boomed earlier than normal over Lower Granite Dam this summer is splintering off into the Clearwater, Grande Ronde and upper Snake. But many of those fish are cooling their jets in the Salmon River, where a number of factors, including less pressure, often translate into better fishing success.
By the time an adult steelhead reaches Riggins, it's already run 325 miles up the Columbia and 188 miles up the Snake – climbing over eight dams. Then it still has to go 85 miles up the free-flowing Salmon River and into the Mountain Time Zone.
It will run upstream even farther before it spawns next spring.
Yet a wild and nearly 3-foot-long hen reeled in and released from the drift boat of veteran fishing guide Norm Klobetanz last Sunday was a chrome slab so bright you needed sunglasses on to look at it.
"Mid-October is about the time Riggins usually gets good, and the fishing can stay that way through winter," said Joe DuPont, Idaho Fish and Game Department regional fisheries manager in Lewiston.
The trigger tends to be in September, when water releases from the depths of Dworshak Reservoir are cut back. That eliminates the cool-water refuge that lures upstream-bound fish to make a pit stop in or near the Clearwater River at Lewiston.
"Once that encouragement to linger is gone, many of the fish continue their upstream migration," DuPont said.
Last year's record run of steelhead up the Snake River is still paying dividends in this year's bigger-than-average run. The "two-ocean" fish from that big year class are migrating into freshwater this year.
"Most of our early returning steelhead spend one year in the ocean before returning to spawn," DuPont explained. "But a certain percentage stays in the ocean two years before returning as the bigger steelhead that anglers really love to catch."
Incidentally, less than 5 percent of the fish are repeat spawners that returned to the Snake drainage last season as one-ocean fish. They spawned last winter, returned to the ocean and are making the migration for the second time, DuPont said, conveying his awe for their endurance.
Salmon River angling has not gone undetected, especially in Boise, which is just three hours away.
When Klobetanz began guiding in the mid-80s, only four drift boat guides were working the river near Riggins, he said.
"There weren't as many fish back then, but there weren't so many anglers molesting them, so we did OK," he said.
This year, 11 drift boat operators are licensed out of the Riggins area along with four jet boat outfitters, all of whom can operate multiple boats.
"Some days the competition can be stiff for good runs in the easily accessible areas, especially this year with some of the boat access points closed by construction," he said.
"But it's nothing like the Snake or Clearwater upstream from Lewiston.
"As an Idaho guide, I can't go down and operate on the Snake out of Lewiston because Idaho outfitters and guides are strictly restricted to certain areas to avoid crowding.
"But anyone from Washington can get a guide's license and set up shop down there (on the waters shared by the two states).
"It's become a travesty since the record runs of 2001 that lured so many Washington guides to that area. I'm glad to be upstream from it all."
Steelheading on the Salmon River was nothing to boast about 14 years ago when Amy Sinclair's family bought a river-trip and fishing company in Riggins, ID.
"I remember being amazed at clients who'd come off a cold, rainy day on the river and be thrilled if they hooked one or two fish," she said.
But a trend toward record runs that started a few years later has boosted fishing expectations and business at Exodus Wilderness Adventures.
"We have way more fish now," said Sinclair, who works with her father to manage a fleet of drift boats, rafts and jet boats. "And we catch a lot more of them."
Sinclair has options to guide her clients conveniently on the stretch of the Salmon along Highway 95 or into the wilderness reaches, where there's even less fishing pressure.
"Lot of groups will fish upstream with us and stay in one of the wilderness lodges and then we fish our way back," she said.
Return clients often have their favorite guides. High on the list is Klobetanz, who was booked long ago for the entire month of October.
Drift-boat guiding on the Salmon River for 25 years has given him a masterful knack for finding fish, whether his clients are back-trolling plugs, side drifting, boon-dogging or fly fishing.
"I love this nice October weather for the comfort and the way the fish strike hard and jump multiple times," he said last Sunday. In shirt-sleeve weather, he helped Sinclair land three steelhead and hook up to a dozen more that shook and fought for their freedom before she could get them to the boat.
"Even more, I like the 40-degree water we get in November because we're more likely to catch multiple fish out of each hole."
He soaks his lures in "quicker" water when water temperatures are in the 50s and 60s.
"The fish are more likely to be in the slower current or deeper holes as the temperature drops," he said.
The Salmon is a classic pool-and-drop river, with migrating steelhead likely to be in every tail-out where they rest after making a surge up through a riffle or rapid.
Klobetanz had success last weekend fishing these classic hot spots, but his experiences on the river also has pegged migration routes where he can back-troll plugs and intercept fish moving upstream.
These spots don't produce so well once the water cools and the fish settle in for the winter, he said.
"River levels, water temperatures and fishing pressure all are at play," he said. "You have to be flexible and move with the fish."
But for Sinclair and her family's river business: "We're staying put," she said. "We're spoiled here, and we know it."
Local journalism is essential.
Give directly to The Spokesman-Review's Northwest Passages community forums series -- which helps to offset the costs of several reporter and editor positions at the newspaper -- by using the easy options below. Gifts processed in this system are not tax deductible, but are predominately used to help meet the local financial requirements needed to receive national matching-grant funds.
Subscribe to the sports newsletter
Get the day's top sports headlines and breaking news delivered to your inbox by subscribing here.
---