News > Idaho
Minnick, Labrador race close
Independent voters could be deciders
Tue., Oct. 26, 2010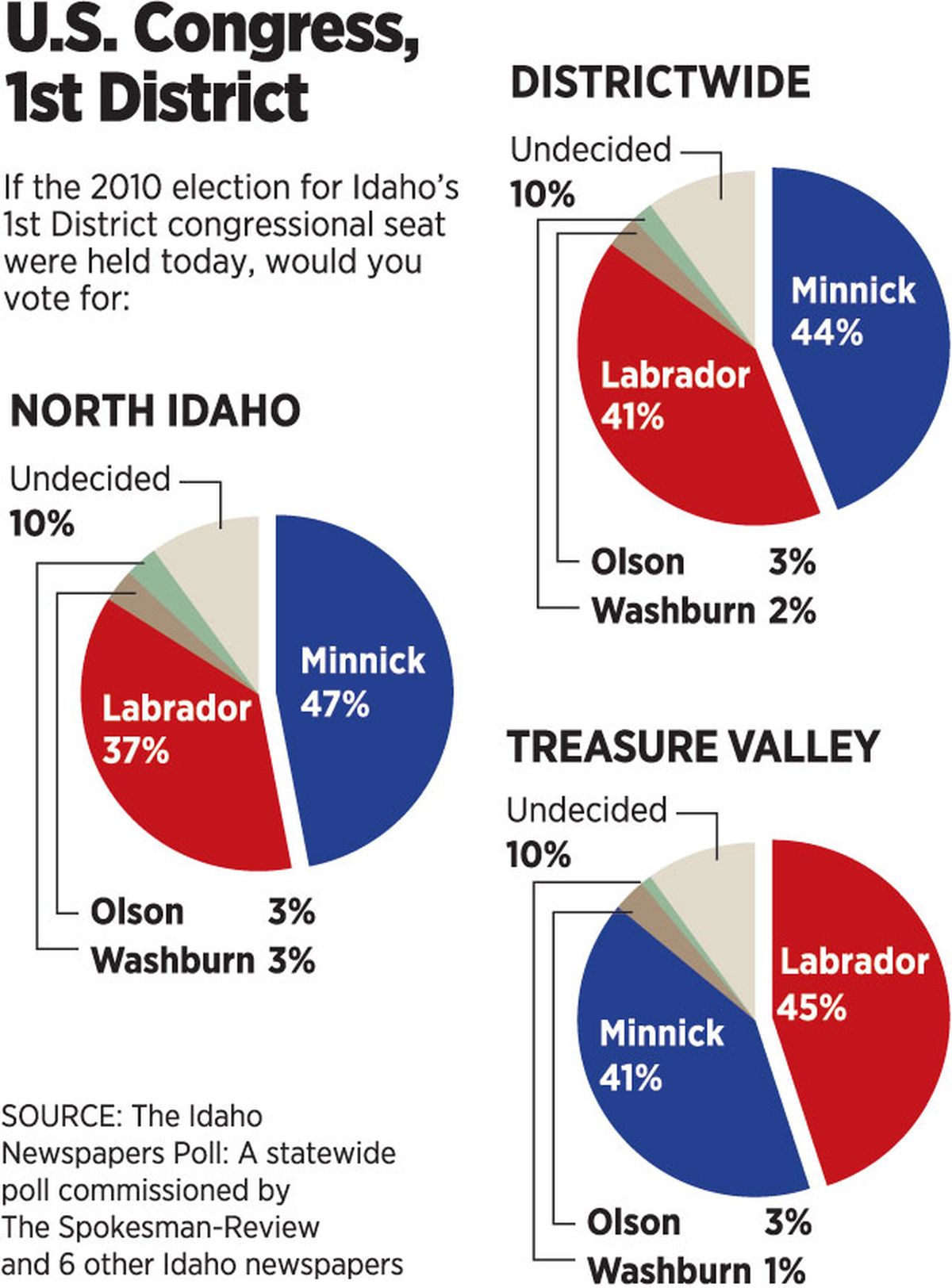 Idaho 1st Congressional District race poll. (Molly Quinn / The Spokesman-Review)
Incumbent U.S. Rep. Walt Minnick's lead over Republican Raul Labrador fell from 10 percentage points in mid-September to 3 percentage points late last week, says a poll commissioned by The Spokesman-Review and six other newspapers.
The freshman Democrat's lead is so narrow that it may not exist at all because it falls within the poll's 5-point margin of error.
With election day just a week away, the nationalization of the race to control Congress may be helping Labrador in western Idaho's strongly Republican 1st District, according to Boise State University political scientist Gary Moncrief.
"This is a test of whether the old saw that all politics are local is true," he said. "I'm not so sure they are."
Idaho Republicans have huge leads in two races, with Sen. Mike Crapo up 44 percentage points on Democrat Tom Sullivan and 2nd District Rep. Mike Simpson leading Democrat Mike Crawford by 50 percentage points. In two top statewide races, Republicans have double-digit leads: Gov. Butch Otter by 22 percentage points over Democrat Keith Allred and Superintendent of Public Instruction Tom Luna over Democrat Stan Olson by 16 percentage points.
Pollster Brad Coker of Mason-Dixon Polling and Research Inc. said the district's Republican leanings could make the difference in the 1st District next Tuesday.
"Minnick is definitely in trouble because undecided voters may be more likely to go Republican," Coker said.
While just 4 percent of Democrats and 8 percent of Republicans were undecided, 16 percent of independents said they still hadn't made up their minds.
Moncrief said undecideds typically break toward challengers. "I suspect a lot of those independents lean toward the Republican Party," he said.
Both candidates have attacked each other in broadcast ads, and both appear to have been damaged by the attacks.
Terry Williams, of Coeur d'Alene, was offended by Minnick ads attacking Labrador's practice of immigration law and voted early for Labrador. Minnick "was casting all kinds of aspersions," said Williams, 76, a retired insurance agent. "A guy's got a right to make a living."
Richard McFadden, a retired lawyer and judge in St. Maries, is a lifelong Democrat who said he'll vote for Minnick. But he didn't like Minnick's ads highlighting his opposition to the agenda of President Barack Obama, including health care reform.
"I don't agree with him saying the most important thing he did was opposing everything Obama did," said McFadden, 83. "But I think he's got concern for the middle class and poor and Social Security and a lot of things that are Democratic."
Teri Belle Smit, 50, who distributes health care products in Caldwell, wants change.
"I'll tell you, I sure feel a lot of tension in this election," Smit said. "What I'm against this year is incumbents. We need to stir the pot."
Jim Ballou, 47, owns an insurance agency in Coeur d'Alene. He said he looks at Idaho's 1st District as key to the GOP winning the House.
"Put me down as part of that wave trying to get Republicans back in control," Ballou said. "This is the first time the country has been pushed so far to the left. Government's too big and needs to be reined in."
Local journalism is essential.
Give directly to The Spokesman-Review's Northwest Passages community forums series -- which helps to offset the costs of several reporter and editor positions at the newspaper -- by using the easy options below. Gifts processed in this system are not tax deductible, but are predominately used to help meet the local financial requirements needed to receive national matching-grant funds.
Subscribe now to get breaking news alerts in your email inbox
Get breaking news delivered to your inbox as it happens.
---