Sports
Seattle DBs thrive in defensive scheme
Wed., Oct. 27, 2010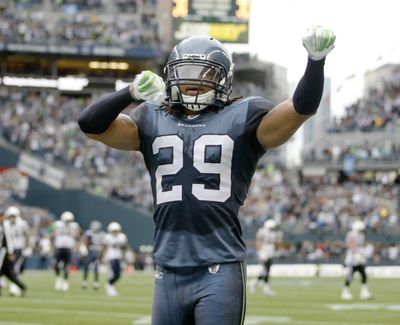 RENTON, Wash. – NFL defensive backs earn their living covering receivers, but in the Seattle Seahawks' defense, they're getting to have a little extra fun this season.
While locking down a dominant receiver like Arizona's Larry Fitzgerald is job No. 1, Seattle's cornerbacks and safeties are also getting a chance to get after the quarterback and earn more playing time in the team's "bandit" defense, which Pete Carroll and defensive coordinator Gus Bradley are using with increasing frequency and success this season.
"We love it," cornerback Roy Lewis said after being one of three defensive backs to register a sack in Seattle's victory over Chicago. "It's a DBs dream to get a chance to blitz."
This unusual defensive package, which is used exclusively in passing situations, employs seven defensive backs, three down linemen, and middle linebacker Lofa Tatupu. Having that many defensive backs on the field creates a number of options for the defense. On any given play, some can rush the quarterback, while others drop into coverage, and what makes the scheme so effective is that opposing offensive linemen and quarterbacks aren't sure who is going to do what.
On one play, Lawyer Milloy might come after the quarterback. A few plays later, it could be Jordan Babineaux or Lewis while Milloy drops into coverage. At first glance it looks like madness. Not three, not four, not five or even six, but seven defensive backs moving around the field. But there is clearly a method to this madness, and it's producing results.
According to Scout.com's Brian McIntyre, the Seahawks had seven defensive backs on the field two games ago against Chicago on 12 plays, resulting in Jay Cutler going 3 for 8 for 39 yards with four sacks. The bandit came out 17 times last weekend against the Cardinals, resulting in the Cardinals' two quarterbacks going 6 for 16 for 57 yards and one sack.
Despite giving up more yards than they'd like, Seattle's defensive backs are a big part of the reason Seattle ranks fifth in the league in scoring defense and 10th in turnover differential. Rookie Earl Thomas, whose incredible range helps free up defensive backs to blitz, has four interceptions. Three other defensive backs, Milloy, Babineaux and Marcus Trufant, have forced fumbles. Milloy is also tied for second on the team with three sacks, and is one of three defensive backs to record a sack.
About the only player not getting in on the fun is Tatupu, who has been used in coverage in the bandit defense, not as a pass rusher.
"I don't know, you've got to ask the coach," Tatupu said with a grin when asked when his number will be called. "I plead the fifth, man."
At that moment, a TV in the locker room showed highlights of a Babineaux sack, getting Tatupu's attention.
"See, we're watching it right now," he said. "They're all just partying over there. I guess they like my coverage skills."
And the defensive backs are more than happy to keep partying.
Local journalism is essential.
Give directly to The Spokesman-Review's Northwest Passages community forums series -- which helps to offset the costs of several reporter and editor positions at the newspaper -- by using the easy options below. Gifts processed in this system are not tax deductible, but are predominately used to help meet the local financial requirements needed to receive national matching-grant funds.
Subscribe to the sports newsletter
Get the day's top sports headlines and breaking news delivered to your inbox by subscribing here.
---
Subscribe and log in to the Spokesman-Review to read and comment on this story