News > Idaho
Co-workers, family remember helicopter crash victims
Wed., Sept. 1, 2010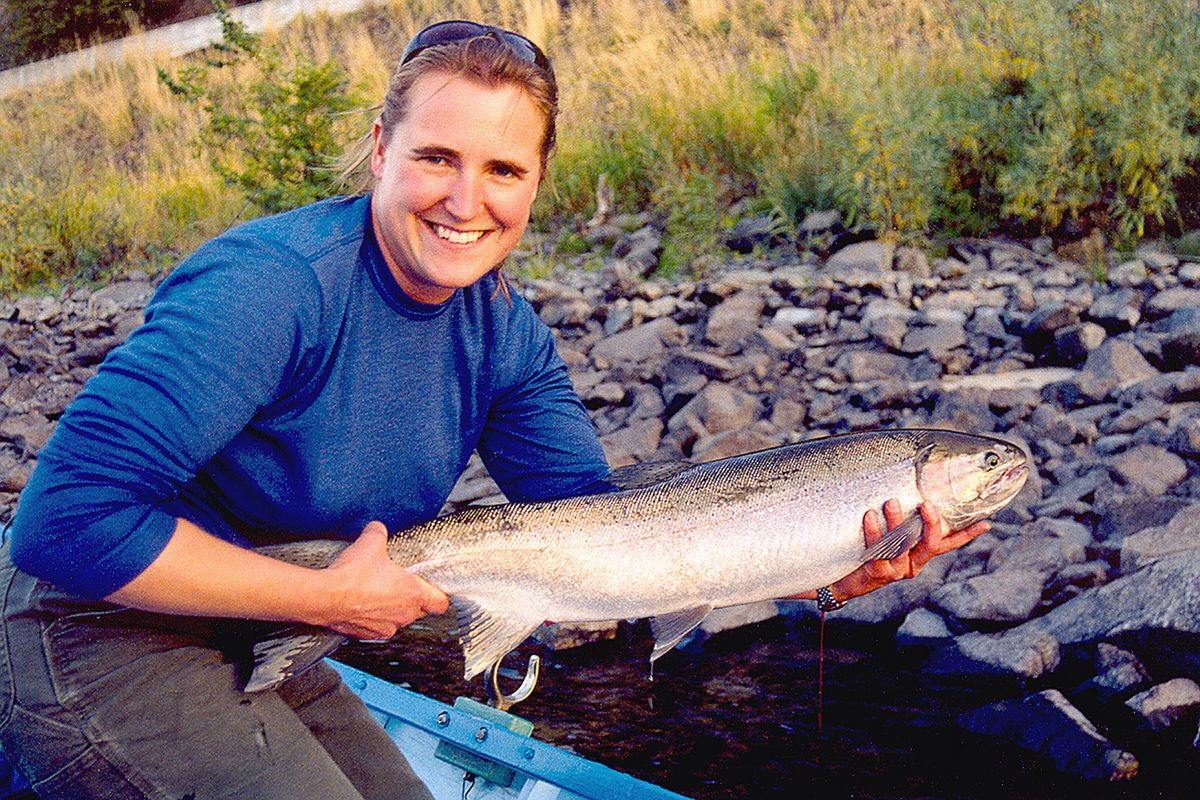 Dani Schiff, 34 of Lewiston, was killed in a helicopter crash in Kamiah. She worked for the Idaho Fish and Game Department since 1997. (Idaho Fish and Game)
LEWISTON — Devastated co-workers of two Idaho Department of Fish and Game biologists killed in a helicopter crash Tuesday remembered them as dedicated, passionate about their jobs and fun to be around. Biologists Larry Barrett, 47, and Danielle Schiff, 34, both of Lewiston, and pilot Perry Krinitt, 43, of Belgrade, Mont., were on their way to the Selway River, where they planned to survey spring chinook redds, the spawning beds of the ocean-going fish. The helicopter crashed at Kamiah, killing all three. "They loved what they were doing and they did it because they wanted to make fishing so much better for our public," said Clearwater Regional supervisor Dave Cadwallader, while fighting back tears Tuesday. "I'm just not sure that a lot of the public understands how passionate we are, how we believe in the resources that we work so hard at." Barrett started working for the department in 1985. He excelled at communicating with the fishing public and was frequently quoted in the Lewiston Tribune on fishing matters. He was enthusiastic about his job, and away from work loved to fish for trophy species like salmon, steelhead and sturgeon, and even lesser-known fish like peamouth. Barrett worked for years to ensure the Hells Canyon population of white sturgeon could be simultaneously enjoyed by anglers and preserved for future generations. "He was always excited. He was a pleasure to have around," said Joe DuPont, regional fish manager for the department at Lewiston. "He certainly understood the public." Barrett made annual fishing trips to Neah Bay on Washington's coast. He was a pilot, bird hunter and a fan of German wire-haired pointers. He was married to Cindy Barrett of Lewiston. Schiff worked for the department since 1997 and previously worked for the Nez Perce Tribe. She was an avid steelhead angler and accomplished white-water rafter. She was not married. "She loved to raft, she loved to steelhead fish. She had a passion for life," DuPont said. "She took the bull by the horns. As her supervisor she was a breath of fresh air and a pleasure to work with." Krinitt worked for Leading Edge Aviation of Clarkston. Florence Krinitt, the pilot's mother, told The Associated Press her son got his pilot's license more than 20 years ago and began flying for Leading Edge in November. He was also a trained aircraft mechanic, she said. "He was so careful," she said. "Every time he went out, you say a prayer. But he loved that. That was his heart and soul. He made up his mind when he was young. It's what he wanted to do." The department contracted with the helicopter company to conduct the spawning surveys. Biologists often utilize helicopters and small aircraft to track and study fish and wildlife species. Biologists for the department collectively log about 1,000 hours of flight time per year, often in dangerous conditions. "The department is very saddened and our prayers are with the families," said Jim Unsworth, deputy director of the department at Boise. "It just emphasizes the dangerous work we do and I think how dedicated our employees are at gathering information that helps us manage fish and wildlife resources in Idaho." In January, a helicopter crashed near Kelly Creek injuring two wildlife biologists and the pilot. All three made full recoveries. In 2000 a helicopter crash along the Lochsa River took the life of biologist Michael Gratson and the pilot. Wildlife technician Matt Lucia was injured but made a full recovery.
Local journalism is essential.
Give directly to The Spokesman-Review's Northwest Passages community forums series -- which helps to offset the costs of several reporter and editor positions at the newspaper -- by using the easy options below. Gifts processed in this system are not tax deductible, but are predominately used to help meet the local financial requirements needed to receive national matching-grant funds.
Subscribe now to get breaking news alerts in your email inbox
Get breaking news delivered to your inbox as it happens.
---