News > Spokane
Son offers insight into pastor's fatal encounter
Wed., Sept. 1, 2010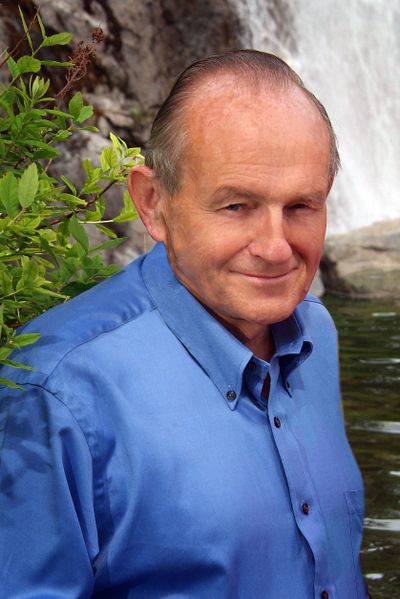 Spokane Valley pastor Wayne Scott Creach and his wife had a prearranged system for when the business owner encountered trespassers on the couple's sprawling nursery and greenhouse complex in Spokane Valley. He'd go outside and shout if there was a problem, at which point she was to call 911, Creach's son, Alan Creach, said in an interview Tuesday.
Imogene Creach followed that script Aug. 25, calling 911 when she heard what she thought were three shots fired. Alan Creach said his mother could see other patrol cars arriving before she hung up the phone.
"She went around the back door, in front of the greenhouse, and could see my dad lying there on the parking lot," Alan Creach said. "There was nobody around him and his left knee was raised in the air. She was about 20 feet away, and she was intercepted by a sheriff's deputy.
"He prevented her from having any contact or hearing any final words that he might have to say. After (she and the deputy) talked for a moment, she started to understand the gravity of the moment. At that point, she called us and we showed up as quickly as we could," he said.
Alan Creach said his family is still mystified over many details of the fatal incident, which took only moments to unfold and remains largely unexplained nearly a week later.
The deputy who shot Scott Creach is scheduled to talk to investigators Thursday. Spokane Police Department spokeswoman Officer Jennifer DeRuwe declined to comment Tuesday on details of the incident provided by Alan Creach. Spokane police are investigating as part of a previous agreement covering officer-involved shootings.
Spokane County Sheriff Ozzie Knezovich didn't return a call seeking comment but said Monday that investigators won't know why Deputy Brian Hirzel shot the 74-year-old pastor until Hirzel is interviewed later this week.
Alan Creach said his mother called him moments after the incident; when he got to the house, at 14208 E. Fourth Ave., he said he looked out his father's bathroom window and could see only the front end of a dark car, which turned out to be Hirzel's unmarked patrol vehicle backed into the private parking lot at the Plant Farm, his father's business.
He said his father apparently noticed the car, put on his pants and slippers, grabbed his .45-caliber pistol and went outside to investigate what he thought was a prowler, Alan Creach said.
"He didn't take the time to put on his shirt," Creach said. "My mom heard him leave the bedroom. He thought enough to take his gun, but not enough to get her out of bed."
Imogene Creach then heard what she later described as a loud voice. "Her best description was a shout of fear and great surprise," Alan Creach said. "She couldn't define exactly what was said and immediately following that she heard 'pop, pop, pop.' "
Witnesses to the west reported hearing the three pops, but those on the north heard only one. Alan Creach said the evidence suggests that only one shot was fired but that witnesses may have heard the sound of the one shot echoing among the many greenhouses.
He said after his mother ended the call to 911, she put on some clothes and walked the same path that Scott Creach did as he approached Hirzel's car. She saw him lying in the gravel parking lot about 5 feet from the car just as Spokane Valley Fire Department paramedics were arriving.
Alan Creach, who lives a mile and a half away, said when he arrived his father was in the parking lot covered with a blanket. He said detectives later told the family that they saw evidence that medical aid had been provided.
"When was that medical attention applied? What happened between the time he was shot and paramedics arrived?" Creach asked. "We really don't know other than what she saw when she came around the corner. She said no one was providing aid and his left leg was in the air."
Creach said he also learned from detectives that his father's .45-caliber pistol did not have a round in the chamber, meaning he could not have immediately fired the weapon. He said his father had three or four instances a year where he would hear something going on in his nursery.
"He would always respond with his weapon. Mom would stay in the bedroom and if she heard something, she would call 911," Creach said. "He behaved like he would normally behave. In all the years we had these events, Dad apprehended several individuals. But he never shot anybody."
Creach said his father did not call deputies every time he had an encounter. In one case, Scott Creach found a senior citizen who got lost in the greenhouse complexes. "He never harmed anyone and in many cases he helped people," Alan Creach said.
Lori Rice, who works at the Plant Farm, said Tuesday that Scott Creach told her of an incident two weeks before the shooting where a man in a Corvette parked at night in the same private lot where the shooting took place.
"Scott told me the guy said he was just making a phone call. Scott said he told the man it was private property and he suggested he move along. That's about as confrontational as he got," Rice said. "It's a horrible, horrible thing."
Answers haven't come fast enough for the family. Investigators have said that Hirzel, a 41-year-old deputy assigned to the Spokane Valley Police Department, responded to the area at 11 p.m. based on an earlier prowl call. Alan Creach said that call was made by a woman three houses down from the nursery at 4 p.m. on Aug. 25, the day of the shooting.
Creach also was critical of the decision to wait until Thursday to interview Hirzel. Creach said Spokane police detectives interviewed his mother immediately after the shooting.
"Within 20 to 30 minutes, all the witnesses were interviewed, but the prime witness has been left for a week and a day to sit back and find out which way the wind is blowing," Creach said.
He added that the Spokane Police Department detectives were very respectful of Imogene Creach as they asked their questions on the night of the shooting.
"The issue is not the humanity. The issue I'm having is with the protocols they set out, which are basically protocols set up to cover themselves and the department," he said. "When I was a kid, my dad expected me to tell the truth and tell it immediately. If there was any hesitation, then generally the truth was going to have to be explained. The same kind of standard that was applied to my mother should have been given to that officer, as well."
Rice, the employee, said Scott Creach would take 20 minutes every Saturday morning to have coffee with his employees at the nursery.
"It's hard for the customers because he was such a well-loved man," Rice said. "Hopefully we'll get some answers. But we'll never know the whole story because the other side can't be told."
Local journalism is essential.
Give directly to The Spokesman-Review's Northwest Passages community forums series -- which helps to offset the costs of several reporter and editor positions at the newspaper -- by using the easy options below. Gifts processed in this system are not tax deductible, but are predominately used to help meet the local financial requirements needed to receive national matching-grant funds.
Subscribe to the Coronavirus newsletter
Get the day's latest Coronavirus news delivered to your inbox by subscribing to our newsletter.
---
Subscribe and log in to the Spokesman-Review to read and comment on this story