News > Business
E-cigarettes draw fans as states and FDA question safety
More smokers making switch
Tue., Sept. 7, 2010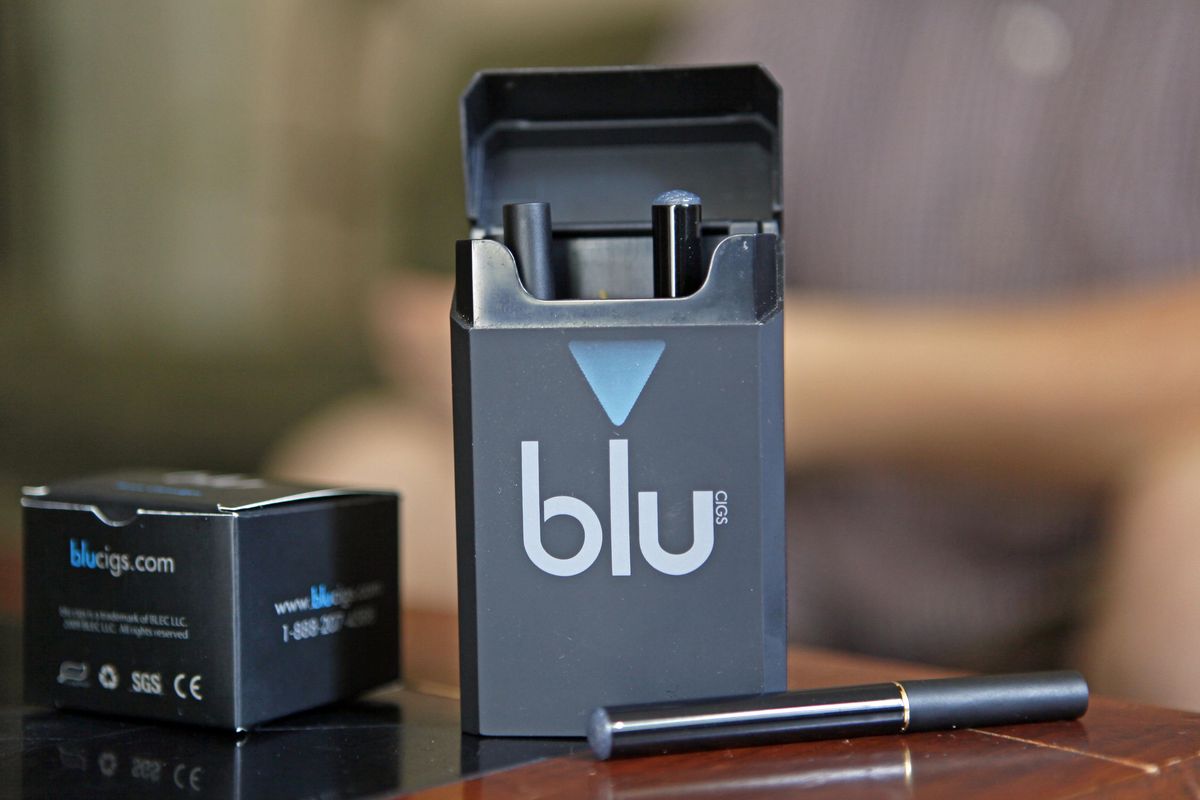 Galen Kipe's Blu Cigs are seen on his table in Asheboro, N.C. A 34-year-old who has tried quitting plenty of times, Kipe has swapped real smokes for electronic cigarettes. The industry has grown from thousands in 2006 to several million. (Associated Press)
RICHMOND, Va. – Galen Kipe hasn't smoked a cigarette in more than three months.
He couldn't kick his habit of 17 years with nicotine patches or gum. He finally put away his Marlboro menthols for good by swapping them for electronic cigarettes, which look like the real thing and give him his nicotine fix but do not contain tobacco.
"It's the closest thing to what I was doing before," the 34-year-old steelworker from Asheboro, N.C., said. "I'm still getting the nicotine, but I don't feel like I'm getting any kind of bad side effects. It can't be any worse than actual cigarettes."
As they become more popular, the battery-powered cigarettes have become the center of a fight over how risky they are compared with traditional smokes, whether they're legal and, if they are, how they should be regulated.
E-cigarettes are made of plastic and metal and heat a liquid nicotine solution in a disposable cartridge, creating vapor that the "smoker" inhales. A tiny light on the tip even glows like a real cigarette.
Nearly 46 million Americans smoke traditional cigarettes. About 40 percent try to quit cold turkey or with other nicotine replacements each year, according to the Centers for Disease Control and Prevention. But unlike patches or gums, e-smokes operate in a legal gray area.
The Food and Drug Administration and public health groups have sounded the alarm, saying they contain dangerous chemicals and are being marketed to children, and the federal agency has halted shipments of e-cigarettes at ports nationwide.
Some sellers of e-cigarettes sued the FDA last year after the agency instructed customs officials to refuse entry of shipments into the United States.
A federal judge ruled that the FDA can't stop those shipments, saying the agency had overstepped its authority. The FDA appealed and won a stay of that ruling, pending oral arguments that are set to begin next month.
The FDA claims it has the authority to regulate e-cigarettes as drug-delivery devices, which would require proving – probably through expensive clinical trials – that they are safe and effective as a stop-smoking aid.
E-cigarette sellers would like to see them regulated as a tobacco product, which would follow the same restrictions as traditional cigarettes and tobacco products.
Several states have tried to ban the sale of the products. A leading distributor has agreed to halt sales in Oregon following a lawsuit filed by the state. And Sen. Frank R. Lautenberg, D-N.J., also wrote to the FDA in March asking that e-cigarettes be taken off the market until they can be proven safe by the agency.
Users and distributors say e-cigarettes address both the nicotine addiction and the behavioral aspects of smoking – the holding of the cigarette, the puffing, seeing the smoke come out and the hand motion – without the more than 4,000 chemicals found in a traditional cigarette.
"When you're talking about a product that's essentially Russian roulette, and the alternative is much, much better, you can imagine they're pretty happy," said Jason Healy, the president of Charlotte, N.C., electronic cigarette maker Blu Cigs. "Up until e-cigs, there was quit or die."
First marketed worldwide in 2002 as an alternative to regular cigarettes, e-cigarettes didn't become easily available in the U.S. until late 2006. Now, the industry has grown from thousands in 2006 to several million worldwide, with an estimated 20,000 to 30,000 new e-smokers every week, according to Healy, whose company is expected to have $30 million in sales this year.
A starter kit, including flavor cartridges, costs about $60. Additional cartridges, equivalent to about 150 cigarettes, are about $25. The cartridges include flavor and different levels of nicotine, or no nicotine at all.
Many e-smokers like Kipe say they have noticed they can smell and taste better and sleep more soundly, plus their clothes, car and breath don't smell like cigarette smoke.
Still, the FDA has said its tests found the liquid in electronic cigarettes contains substances known to be toxic to humans – besides nicotine, which is itself toxic in large doses – as well as carcinogens that occur naturally in the tobacco in cigarettes. Most e-cigarettes are imported from overseas.
However, the level of those carcinogens was comparable to those found in nicotine replacement therapy such as gum and patches because the nicotine in all of the products is extracted from tobacco, said Dr. Michael Siegel, a professor at the Boston University School of Public Health.
"It's kind of deceptive to say, 'Oh, my God, there's carcinogens in there,' " Siegel said. "The importance is what level of carcinogens. It turns out that the levels are so low that they are 1,400 times lower than in (regular) cigarettes."
Local journalism is essential.
Give directly to The Spokesman-Review's Northwest Passages community forums series -- which helps to offset the costs of several reporter and editor positions at the newspaper -- by using the easy options below. Gifts processed in this system are not tax deductible, but are predominately used to help meet the local financial requirements needed to receive national matching-grant funds.
Subscribe now to get breaking news alerts in your email inbox
Get breaking news delivered to your inbox as it happens.
---