News > Spokane
Federal funds advance North Side corridor
Officials celebrate its next phase
Wed., Sept. 8, 2010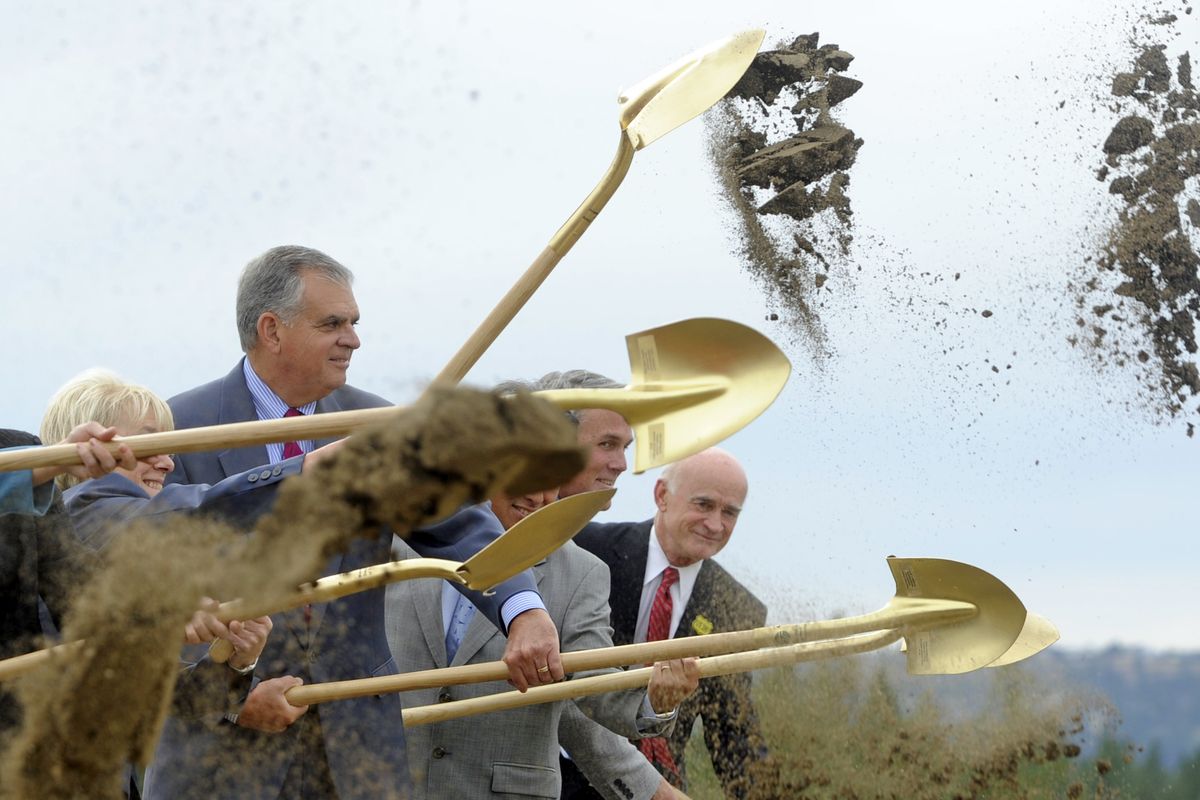 U.S. Secretary of Transportation Ray LaHood, second from left, breaks ground with other federal and state dignitaries Tuesday on the next phase of the north-south freeway, paid for with a $35 million stimulus grant.
As leaders gathered Tuesday to celebrate the start of a phase of North Spokane Corridor construction paid for by the 2009 federal stimulus package, state officials said they will be ready if President Barack Obama's plan for $50 billion for transportation projects wins support.
"We're not sure what all is in that package, but you can bet that the state of Washington will compete and compete hard for those dollars," said Paula Hammond, the state Secretary of Transportation, speaking at a ceremony held on what soon will be the southbound side of the North Spokane Corridor.
Tuesday's event marked the start of work on the southbound lanes of a 3.7-mile stretch of the freeway between Farwell Road and Francis Avenue. Construction is slated to start Thursday.
Obama announced Monday that he will push for $50 billion for transportation infrastructure, which he said could be paid for by closing tax breaks for oil and gas companies and other corporations. He also proposed the creation of an "infrastructure bank" that administration officials say would better prioritize projects.
Obama said the plan would boost employment and improve highways and other infrastructure that will further economic growth. Republicans criticized the plan as wasteful spending that will add more to the deficit.
U.S. Transportation Secretary Ray LaHood, the featured speaker at Tuesday's groundbreaking, said he soon will talk with members of Congress to gauge support for the president's plan.
"We're right at the starting gate on this. So we'll see how it plays out," LaHood said in an interview after the ceremony. "But it's something the president believes is a good way to fund big projects around the country."
LaHood said it's possible that projects like the North Spokane Corridor would be eligible for money in the proposed plan, depending on how spending rules are crafted.
"We're talking about multimillion-dollar projects, so, you know, big projects," LaHood said. The Spokane freeway is "a big project," he added.
Still, Sen. Patty Murray, D-Wash., who also spoke at the ceremony, said she's not ready to endorse the concept.
"I share the concerns of everybody that government has to count their pennies and spend wisely," Murray said in an interview. "So I want to look at what the proposal is. I want to know how it's paid (for) and, importantly, I want to know how it's going to be administered before I decide if I'm going to support it."
The next unfunded part of the corridor is a $32 million project to rebuild the Francis Avenue bridge over adjacent railroad tracks, said Keith Metcalf, regional director for the state transportation department.
Tuesday's ceremony, organized by Murray's office and the U.S. Department of Transportation, was held where the southbound lanes will be built. It was the second celebration of the project in the past year. In February, Gov. Chris Gregoire headlined an event nearby when the $35 million grant for the southbound lanes was announced.
With prices on construction contracts complete, the state now estimates the cost of the lanes and five bridges at around $27 million.
The northbound lanes of the same 3.7-mile stretch of highway opened last year, marked for two-way traffic for now.
Money for the southbound lanes was part of the $787 billion American Recovery and Reinvestment Act approved by Congress and signed by Obama last year. Another project is under way to connect the freeway to U.S. Highway 395. Officials hope to someday connect it to Interstate 90.
Local journalism is essential.
Give directly to The Spokesman-Review's Northwest Passages community forums series -- which helps to offset the costs of several reporter and editor positions at the newspaper -- by using the easy options below. Gifts processed in this system are not tax deductible, but are predominately used to help meet the local financial requirements needed to receive national matching-grant funds.
Subscribe now to get breaking news alerts in your email inbox
Get breaking news delivered to your inbox as it happens.
---