Sports
Time helps heal Jason McEndoo
Thu., Sept. 9, 2010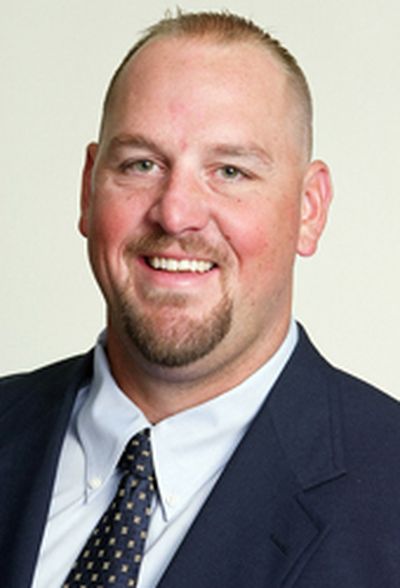 PULLMAN – Eight-year-old Luke McEndoo just doesn't get it. "He can't understand why he can't wear his Washington State jersey," said Luke's dad Jason. "I told him this weekend he has to wear his Bobcat jersey." Poor Luke. He has to learn at such a young age the school that's name is on your dad's paycheck trumps the one where his memories were built. Though his father grew from a callow youth to a man in his time in Pullman, he's now the offensive line coach at Montana State. And though WSU was the past that created the elder McEndoo's present, for this weekend at least, when the Bobcats invade Martin Stadium, the past has to be put away. Even for Luke. Though it won't be easy for any of the McEndoos, Jason included. "This whole week has just brought back a flood of memories, good games, good times and bad times," said McEndoo, an four-year letter-winning offensive lineman who starred for WSU during its memorable Rose Bowl run in 1997, who is a Montana State assistant. "I remember how many times I've come through that tunnel, always in crimson and gray. "Now, to be on the other side. I can't even tell you where the opposing locker room is. I've never seen it and I've never been in it, so it will be the first time for that." The 35-year-old has been MSU's offensive line coach since 2003, when then-head coach Mike Kramer plucked him from Mt. Spokane High, where McEndoo had been the JV line and C head coach for a year. Yes, from a GSL JV assistant to a Big Sky job, a pretty long leap. "I am indebted to him for hiring me at 29 years old to be a first time Division I position coach," McEndoo said earlier this week. "That just doesn't happen. I wasn't a graduate assistant, I didn't spend time as a student assistant, I didn't work my way up the ranks through that kind of stuff." And he didn't believe it was happening. Kramer ran down McEndoo's cell number from then-EWU coach Paul Wulff, and made the connection. "Here's exactly how it went," Kramer said, laughing as he related the call. "Jason McEndoo, this is Mike Kramer." "Coach, how you doing?" "Mac, I'm going to come over to Spokane and hire you as my offensive line coach." Long pause. "Who is this really?" "I felt very fortunate," McEndoo said of Kramer's largesse. "Here I am, eight years later, I'm still here." Kramer isn't. He was fired by Montana State in 2007 under controversial circumstances that were the basis of a recent lawsuit settlement – he received $240,000 from the university. The Bobcat seniors who will face WSU on Saturday came to Bozeman to play for Kramer. Now an operations assistant at WSU under Wulff, he said he always looked to hire guys who played for coach Mike Price at WSU because they "know how to succeed and how to recruit in a small town." And triumph in the face of adversity. McEndoo remembers the lean times in Pullman, like a 1995 loss to Stanford when "there were 5,000 people in the stands" watching a 3-8 team. And he remembers the fat times too. "An overtime win against Arizona in 1997, what a fun time that was," he said. "And beating Stanford at home that year, to have a chance to go to the Rose Bowl (before a Martin Stadium-record crowd of 40,306). The fans flooded the field. What a rush that was." In between the lean and fat came the defining moment of his young life. July 14, 1996. Just a month before McEndoo was married to his Aberdeen High sweetheart, Michelle. The two had ridden with Ryan McShane, another WSU offensive lineman, to Seattle for another wedding, this of Cory Withrow, yet another lineman. Michelle sang in the ceremony. On the way back, McShane driving, dozed for just a few seconds, but lost control of his Ford Explorer near Ellensburg and it rolled three or four times. Michelle, sleeping on the backseat, was ejected out the back and killed. McShane suffered injuries. Jason was unhurt. Physically. Through the next few months McEndoo prepared for his senior season in a fog. A psychologist helped. But so did Ruth Padgett, a WSU student, who befriended him. Fast forward a few years to a night in Cheney. Mike Kramer is outside Wulff's house. McEndoo is with him. Kramer knocks on the door. The three sit down for a night of shooting the breeze, something football coaches do all the time. But this is different. McEndoo and Wulff share a tragic bond. Both lost a wife in awful circumstances – Wulff's first wife, Tammy, died of cancer – at a young age. They talk late into the night. "We just talked about what it's like to go through that and yet, how much support you get out there from your family and friends," Wulff said. "You don't realize they're out there until something like that happens." "We do have similar circumstances, as far as losing our wives, under different circumstances, but same kind of thing," McEndoo said. "So we've talked about it." That support Wulff mentioned? It helps you move on. Ruth Padgett became Ruth McEndoo. She and Jason have four children, Luke and his three younger sisters. "The one thing, too, is (Wulff and I have) both moved on and prospered with great families," McEndoo said. "Life does go on, even amidst tragedy. Time heals and life moves on." So this Saturday Jason McEndoo will walk out of a tunnel that helped define his athletic life. He'll stare across the field at one coach, Mike Kramer, who helped define his coaching life, and at another, Paul Wulff, who helped him define the importance of living life. No wonder he said "it has been racing through my brain a little bit. I'm sure there will be a flood of emotions. "There is just going to be a lot of raw emotion to the game this weekend," he said. "I think a lot of people have no idea the underpinnings of the game." Well, Luke does. "We came across an old Rose Bowl tape the other day," McEndoo said. "I hadn't seen it in a while, so I sat down with him and we watched it." There, wearing No. 66, was Luke's dad. In crimson and gray. A different man in a different color in a different time.
Local journalism is essential.
Give directly to The Spokesman-Review's Northwest Passages community forums series -- which helps to offset the costs of several reporter and editor positions at the newspaper -- by using the easy options below. Gifts processed in this system are not tax deductible, but are predominately used to help meet the local financial requirements needed to receive national matching-grant funds.
Subscribe to the sports newsletter
Get the day's top sports headlines and breaking news delivered to your inbox by subscribing here.
---