Sports
WSU Notebook: Honoring No. 15
Sun., Sept. 12, 2010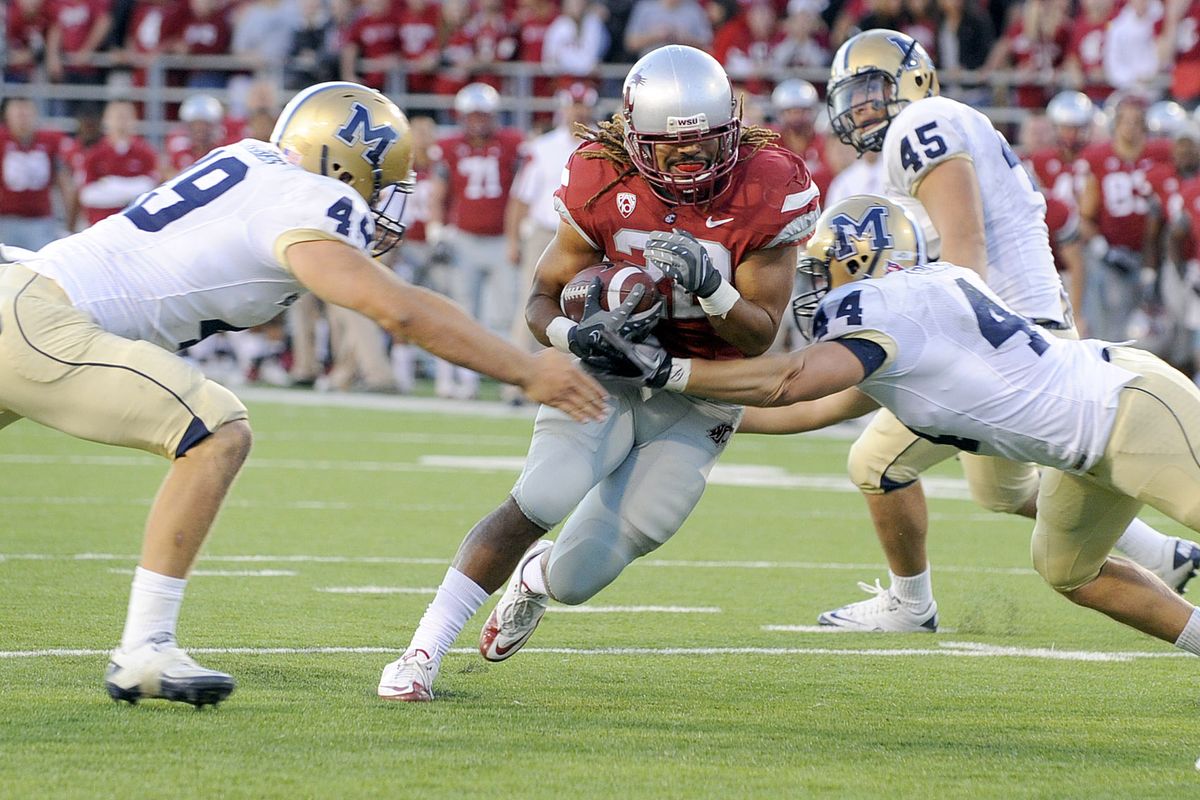 Montana State's defense stops Washington State running back Chantz Staden at the 1-yard line in the fourth quarter Saturday. (CHRISTOPHER ANDERSON photos)
PULLMAN – Tyree Toomer usually wears No. 33, but Saturday afternoon he took the Martin Stadium turf against Montana State wearing No. 15.
That's the number of his roommate, LeAndre Daniels.
Daniels' football career is over. He's walking around campus wearing a metal halo to keep his broken neck secure as he heals from a freak practice injury.
Toomer saw how depressed his roommate was following the diagnosis a few weeks ago so, going into last week's game, he came up with a plan.
"I wanted to wear it for our season opener last week, but it was kind of late, so (the coaches) said I could wear it this week," said Toomer, WSU's starting free safety.
Which he did in the Cougars' 23-22 victory.
Despite being 3 inches shorter and 12 pounds lighter, Toomer looked a little like his roommate on one play. When Alex Hoffman-Ellis intercepted Montana State quarterback Denarius McGhee late in the game to set up Nico Grasu's winning field goal, it was Toomer who supplied the pressure on a safety blitz.
So how did Daniels like the tribute?
"He was happy," Toomer said. "He was asking me if it was only for one game, but if I can wear it the rest of the year, I will. I have to just double-check with him."
Still a winner angle
If Grasu had his way, the winner – an 18-yard field goal from the right hash – wouldn't have been at such an acute angle.
"It's probably where I don't want it," he said. "But a kick is a kick. You have to take everyone the same. Just like the 56-yard one last week. You've got to take the same straight kick, just turn the angle a little bit."
The last three WSU wins – the 2008 Apple Cup, last Sept. 19 vs. SMU and Saturday's – have all been decided by a Grasu field goal. The first two were in overtime, the latest with 2 minutes, 13 seconds left.
But this one almost was backup Andrew Furney's to kick.
Grasu strained his left oblique muscle Tuesday warming up before practice and kicked sparingly the rest of the week, and not at all on Thursday and Friday.
"Coach (Paul) Wulff wanted me to rest it until game time," Grasu said. "Muscle memory and a lot of confidence in (long snapper) Zach (Enyeart) and (holder) Reid (Forrest) got me through.
"We've been doing this for three years, so it's more mental. We took more mental reps this week than actual physical ones."
He almost had one more shot to tack on three points, as WSU had the ball at the Montana State 16 as time was winding down. But, after three clock-deflating plays of Jeff Tuel taking a knee, Wulff elected to do it once more on fourth down instead of trying a Grasu 39-yarder.
"There was a risk of having it blocked and they could return it," Wulff said.
Instead, MSU got it back with 16 seconds remaining.
But Montana State shouldn't have had that much time, according to Wulff. When the Cougars took over, there were 65 seconds left and MSU had just two timeouts. Somehow there were still 16 seconds left when the Bobcats got it back.
"On second down, the play clock went to 25 seconds when it was supposed to go to 40," Wulff said. "So we had to snap the ball sooner. That would have brought it all the way down to a couple of seconds."
As it was, the Bobcats had time for two passes, the first incomplete and the second a pass that Elvis Akpla caught and flipped to Everett Gilbert, who was run out of bounds by Justin Clayton as time expired.
Happy anniversary
The last time a Washington State running back eclipsed 100 yards was a year ago today. It was against Hawaii and it was James Montgomery who did it, gaining 118 yards on 17 carries.
Montgomery hit the 100-yard mark on his first carry of the second half Saturday, finishing with 116 on 20 carries. Seventy of them came on one second- quarter run from the WSU 5-yard line that set up his only score, a 3-yard run.
In between the two 100-yard games, he dealt with career-threatening compartment syndrome injury and knee surgery.
He jokingly blamed that for his inability to outrun Arnold Briggs on his 70-yarder.
"I know now I can take it from the 30 all the way in," he said, "I can't take it from the 5 anymore. That's what microfracturing and compartment syndrome do for you, they get you ran down."
Other than the long run, Montgomery and the rest of the WSU backs struggled to find running room against a veteran Montana State defense.
And then Orenzo Davis put it back in – the end zone, that is. After Washington State cut the lead to 22-14 on the first play of the fourth quarter, the Montana State junior fielded the kickoff 5 yards deep in the end zone and couldn't seem to make up his mind whether to bring it out or not. In the end he took a tentative step that saw his toe touch the goal line – but then backed up and took a knee.
The Martin Stadium crowed screamed for a safety. But, in fact, it's an issue of fully crossing the goal line – it's the field-side edge that counts.
"I asked if it was reviewable and (referee Michael Mothershed) said he didn't think so," Wulff said. "But it's not the foot, it's the ball, whether the ball breaks the plane. And what I heard from the booth is that he stepped on the line, but I wasn't sure the ball broke the plane so I wasn't willing to risk a challenge."
Local journalism is essential.
Give directly to The Spokesman-Review's Northwest Passages community forums series -- which helps to offset the costs of several reporter and editor positions at the newspaper -- by using the easy options below. Gifts processed in this system are not tax deductible, but are predominately used to help meet the local financial requirements needed to receive national matching-grant funds.
Subscribe to the sports newsletter
Get the day's top sports headlines and breaking news delivered to your inbox by subscribing here.
---