Sports
WSU rallies to end 10-game losing streak
Sun., Sept. 12, 2010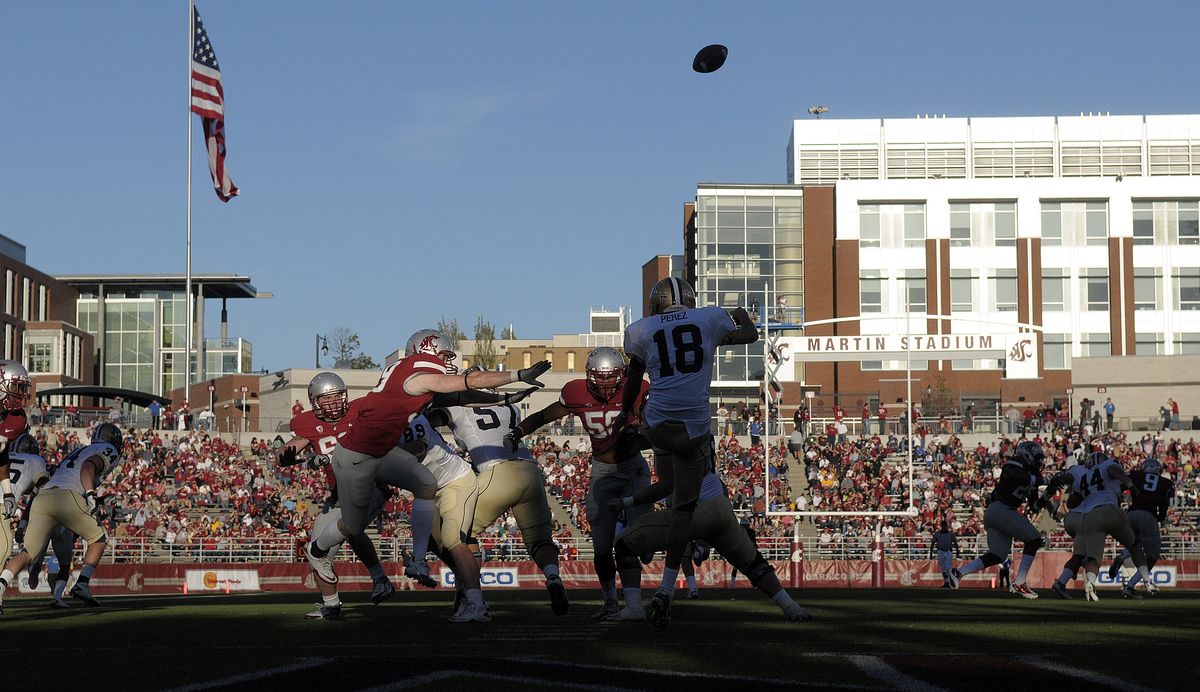 The WSU defense puts pressure on the Montana State punter during second half action at Martin Stadium in Pullman, Wash. Saturday September 11, 2010. (Christopher Anderson / The Spokesman-Review)
PULLMAN – In the end, it almost had the feel of an Apple Cup. Or a Rose Bowl.
Almost anything but what it was, a 23-22 Washington State University comeback victory over Montana State. After all, the Bobcats are from a lower NCAA division, have fewer scholarships, less resources and came in a decided underdog.
But when you've lost 10 consecutive games, when you are coming off a 65-17 shellacking to open the season at Oklahoma State, and when there are 26,356 fans in a sun-drenched Martin Stadium getting their first chance to see this Cougar edition, well …
"A win's a win," said WSU coach Paul Wulff, a comment echoed by more than one of his players.
Maybe that's why the Cougars saluted the students afterward, or why there were miles of smiles as the field emptied.
"We're rebuilding, and we'll take a win," Wulff said. "We didn't play great and we found a way to win."
A tough way at that.
The Cougars (1-1) turned the ball over on their first offensive play for the second consecutive week, turned it over on their second possession and fell behind 6-0 11 minutes in.
After taking their first lead in regulation of a game since November of 2008 in large part due to James Montgomery's 70-yard run, part of a 116-yard day on 21 carries, they coughed it up in less than 3 minutes.
And they sputtered and turned the ball over again through the third quarter, finally trailing 22-7 with 3 minutes left before the fourth.
When they seemed to get mad.
"We need to come out and really get after it," said Alex Hoffman-Ellis, who had a hand in igniting the comeback. "We can't have mental mistakes, just mistakes, period, on either side of the ball."
The defense finally got after it 42 minutes in, and it was Hoffman-Ellis who started it.
Coming on a late blitz, he was able to get his hand in the passing lane, deflected Denarious McGhee's pass into the air and into Myron Beck's hands. At that point McGhee, a redshirt freshman making only his second college start, was 16-of-24 passing for 192 yards and two touchdowns.
The turnover, Montana State's first of the season, gave the Cougars the ball at their 49. On the first play of the final quarter, quarterback Jeff Tuel found tight end Andrei Lintz in the end zone from 4 yards out and WSU was within one score.
"I talk about momentum plays," Wulff said. "Do you have guys that can make those? Do you have guys who can make the sack, who can make the interception, the guy who can reel off the big run?"
This day, WSU did.
But MSU (1-1) looked to wrest the momentum right back, quickly getting down inside the Washington State 40. Facing a fourth-and-4 from the 34, the Bobcats disdained a long field goal, instead dropping McGhee back to pass. The coverage was tight, however, giving reserve middle linebacker C.J. Mizell a chance to blitz late and catch McGhee for a 10-yard sack.
"I feel like guys were a little more settled down (than last week)," said Tuel, who got his first victory as a starting quarterback. "They knew what they had to do, knew they had to make plays."
The sophomore quarterback led WSU on a methodical drive, finally finding Jared Karstetter in the end zone from 19 yards out to pull WSU within 22-20. After throwing an ill-advised interception on the game's first play, Tuel was 18 of 28 for 204 yards and two touchdowns the rest of the way.
But he couldn't connect with Karstetter on the two-point conversion and, with 5:06 left, Montana State still led, 22-20.
Freshman Deone Bucannon exploded kickoff returner Orenzo Davis at the 10-yard line but that didn't stop the Bobcats from throwing the ball. And, on second down, McGhee made another bad throw. With Tyree Toomer supplying pressure on a safety blitz, McGhee made a wobbly throw over the middle.
Hoffman-Ellis gathered in the interception at the 15 and bulled his way down to the MSU 2.
But three running plays brought the Cougars only a yard closer. So, with 2:13 remaining, Nico Grasu booted through a tough-angle 18-yard field goal. WSU had scored 16 fourth-quarter points and had come all the way back.
Local journalism is essential.
Give directly to The Spokesman-Review's Northwest Passages community forums series -- which helps to offset the costs of several reporter and editor positions at the newspaper -- by using the easy options below. Gifts processed in this system are not tax deductible, but are predominately used to help meet the local financial requirements needed to receive national matching-grant funds.
Subscribe to the sports newsletter
Get the day's top sports headlines and breaking news delivered to your inbox by subscribing here.
---