Sports
Grizzlies will throw local talent at Eagles
Tue., Sept. 14, 2010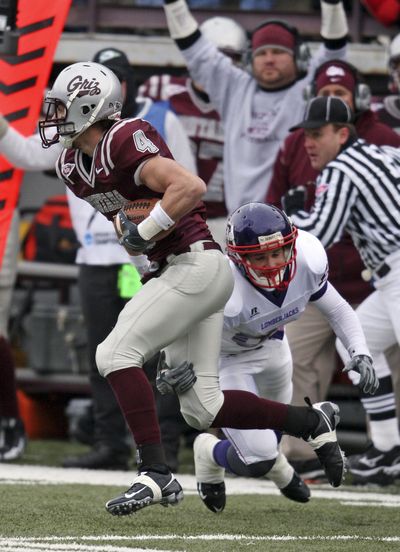 The University of Montana has never been shy about diving into the Spokane area's deep pool of high school football talent.
So it made sense that UM's first-year head coach, Robin Pflugrad, and his staff would swoop in this past winter and pluck a couple of additional keepers from the region's recruiting waters.
"It's been real good for the Grizzlies," said UM's offensive line coach, Bob Beers, who is in the first year of his second stint as a Montana assistant in charge of recruiting Spokane and North Idaho. "The thing that has always impressed me is that the high school coaching there is so good.
"You know when you recruit someone from there, you're getting a well-coach young man, because the high school football there is really good."
The Grizzlies, ranked No. 6 among NCAA Football Championship Subdivision schools, will face 18th-ranked Eastern Washington University at Roos Field on Saturday at 4:05 p.m. in a Big Sky Conference opener for both teams that will also serve as the Eagles' inaugural game on their new red Sprinturf playing surface.
And when they arrive, they will have eight players from the Spokane area – including senior defensive tackle and co-captain Tyler Hobbs – on their roster.
"It's really kind of neat," said Hobbs, a 6-foot-4, 385-pounder who had scholarship offers from Idaho, Wyoming, Montana State and Eastern coming out of West Valley, but opted to become a Griz because of the school's winning tradition. "We've got guys from West Valley, to Mead, to Ferris, to G(onzaga)-Prep; guys from all over the Greater Spokane League, and we like to poke fun at each other."
Montana's other players from the Spokane area are senior Erik Stoll, a starting strong safety from Sandpoint; senior Houston Stockton, a backup safety from Gonzaga Prep; junior Alex Shaw, a starting linebacker from Lewis and Clark; sophomore Levi Buckles, a backup wide receiver from Post Falls; redshirt freshman Aaron Roberts, a backup wideout from Ferris; and true freshmen Bo Tully, a backup free safety from Mead, and Trevor Poole, a defensive lineman from Ferris, who is expected to redshirt this fall.
Tully, the son of Whitworth head coach John Tully, has played in Montana's first two games, getting the majority of his minutes on special teams.
He, like Hobbs, likes the idea of having a core group of teammates from the Inland Northwest to help him make the adjustment from high school to college.
"We all share a little bit of the same background," Tully said. "And knowing some of them beforehand has really helped create a stronger bond between us."
Hobbs and Tully are both looking forward to returning to Cheney this weekend.
"I'm glad we're going on the road," Hobb said. "It's like a homecoming game for me. I've always had a few people I know make the trek across the mountains to Missoula to watch me play, but I've tons and tons of family members and friends coming on Saturday.
"I can't wait to get on that red turf. It's already brought a lot of good publicity to the Big Sky."
Red alert
Leading up to Saturday's game, Eastern will hold two separate events to help inaugurate the school's new red carpet.
The first, a special dedication and open house, will take place at 3 p.m. Thursday on the field, whose name will be officially changed from Woodward Field to Roos Field as part of the ceremonies. Dave Woodward, son of the late Arthur C. Woodward – after whom the field has been named for the last 78 years – will be in attendance.
Friday, the Eagle Athletic Association will stage a Red Turf Tailgate Party from 6:30-9 p.m. at the Pend Oreille Pavilion at Northern Quest Casino. Tickets to the event, which will include a tailgate food buffet and door prizes, is $20 per person and available through TicketsWest at ticketswest.com or (800) 325-SEAT.
As an added attraction, the first 300 will receive a chunk of red turf.
Poll vaults
As a result of previously top-ranked Montana's 35-33 upset loss at Cal Poly on Saturday, defending national champion Villanova (1-1) has vaulted to the top of this week's The Sports Network/fathead.com Football Championship Subdivision poll, while Appalachian State (2-0) is No. 1 in this week's FCS Coaches' Poll.
Montana (1-1) slipped to No. 6 in both polls, which still have three other Big Sky teams in their top 25.
Eastern (1-1) is No. 16 in the coaches' poll and No. 18 in the TSN rankings, while Weber State (1-1) is ranked 21st by TSN and 20th by the coaches. Montana State (1-1) is 22nd in both polls.
Quick kicks
Montana State has been called for just five penalties in two games. … The Bobcats, who lead the Big Sky in rushing defense with an average of 67 yards allowed per game, has allowed two rushing touchdowns – the same number it allowed all of last season. … Montana, coming off a 35-33 nonconference road loss at Cal Poly, has not suffered back-to-back losses since 2003 and is riding a 15-game Big Sky winning streak.
Local journalism is essential.
Give directly to The Spokesman-Review's Northwest Passages community forums series -- which helps to offset the costs of several reporter and editor positions at the newspaper -- by using the easy options below. Gifts processed in this system are not tax deductible, but are predominately used to help meet the local financial requirements needed to receive national matching-grant funds.
Subscribe to the sports newsletter
Get the day's top sports headlines and breaking news delivered to your inbox by subscribing here.
---
Subscribe and log in to the Spokesman-Review to read and comment on this story