News > Spokane
Police report details pastor's shooting
Case goes to Tucker with no recommendation on charges against Hirzel
Fri., Sept. 17, 2010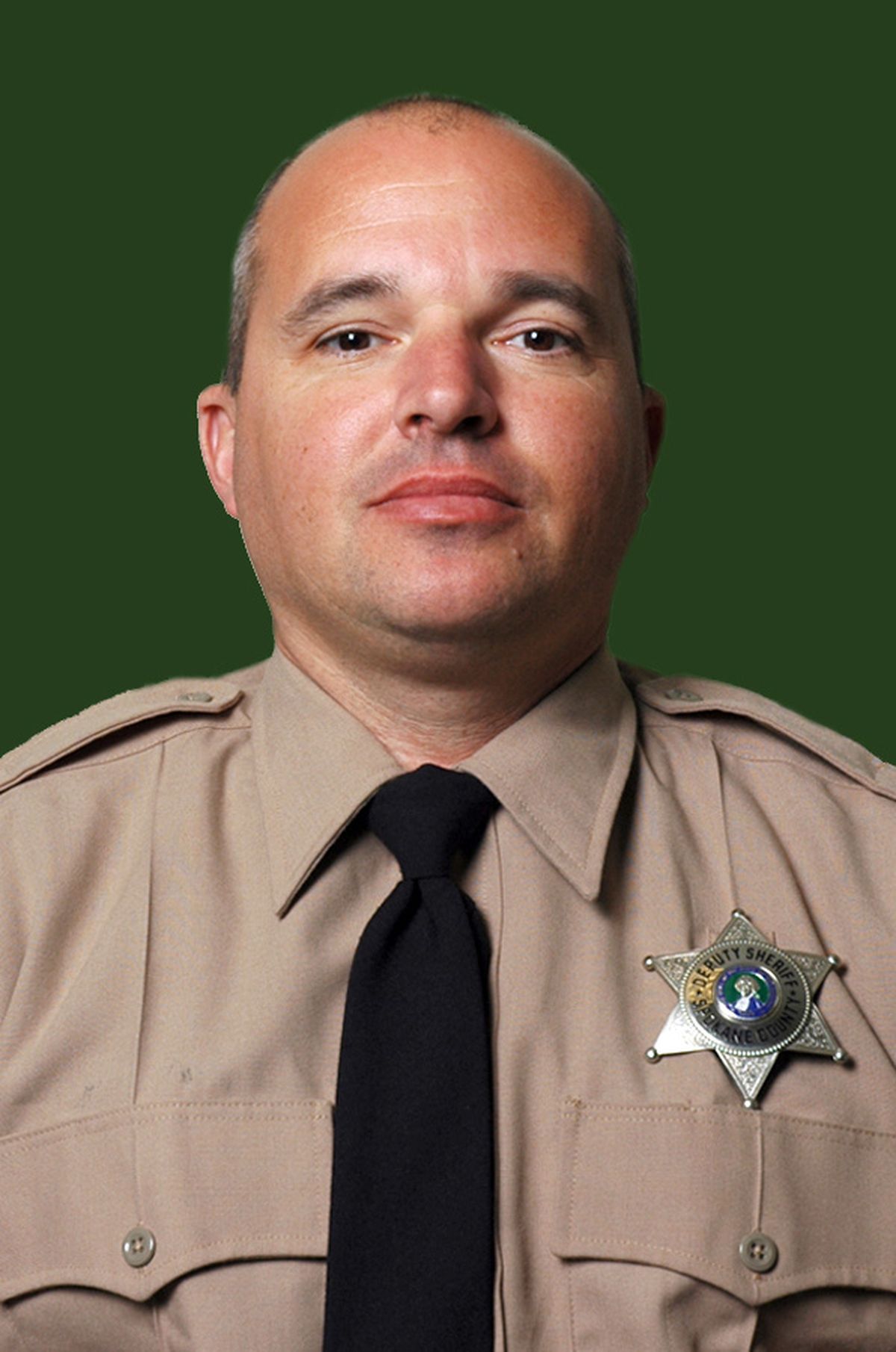 Hirzel
Deputy Brian Hirzel told investigators that he feared for his life before he fired the shot that killed Pastor Wayne Scott Creach.
The 733-page investigative file released Thursday by the Spokane Police Department provides the first public glimpse into the deputy's account of why he opened fire on the 74-year-old man. The documents include forensic, medical and witness reports that detail what happened on Aug. 25 in the parking lot of Creach's Plant Farm, at 14208 E. Fourth Ave.
"When, when I saw his hand go behind his back and come out with a gun, or the grip of the gun that I saw, there wasn't a doubt in my mind that he was going to shoot me," Hirzel, 42, told investigators, according to transcripts. "I, I don't know why, but that's what I was thinking."
Completion of the criminal investigation, which has been turned over to prosecutors, marks the first significant development in a case that has triggered intense debate over police training and procedures and the responsibility of armed and law-abiding property owners to obey law enforcement demands while on their own property.
A final report from the county medical examiner's office could take a while, pending laboratory toxicology results.
The police reports shed new details on the tragedy, including:
• Disclosures that Hirzel was involved in a fatal encounter while serving as a police officer in Cathedral City, Calif., several years ago. No criminal charges were filed in that case, which reportedly included Hirzel's use of a controversial chokehold on the individual, who later died.
• Numerous instances of officers, including some who were on duty the night of the shooting, warning Creach over the years that his practice of armed confrontation with people on his property after hours was risky. At least one officer told investigators that he'd advised Creach specifically that he should avoid carrying firearms around law enforcement officers but that Creach adamantly asserted his right to bear arms.
• Hirzel, who was in uniform, switched to an unmarked patrol car just hours before the shooting because someone had left something in his normal, marked Spokane Valley Police Department cruiser that left a foul odor.
• No independent evidence supporting Hirzel's claim that he struck Creach with his police baton before firing the fatal shot. Hirzel also had a Taser in the front seat but he didn't grab it before exiting the patrol car.
• Hirzel's inability to recall several details about the encounter when interviewed by detectives nine days later, such as how close he was to the pastor when he shot him; how it happened that his patrol car's spotlight was turned on and pointed in Creach's direction; and whether his request for backup was made before or after the baton strike.
"We have more questions today than the night it happened," said Alan Creach, son of the slain pastor and businessman. Hirzel "created this situation. It was his intrusion (onto private property). He is the one who made the decision to pull the trigger on Dad. He's the one who decided he wasn't safe with my dad having that gun in his waistband.
"I'm hoping there are some officials in this community who will stand up and make changes in the police department because this doesn't protect folks like my dad at all."
The investigative file makes no recommendation on whether the shooting is justified or if criminal charges should be filed. That will be left up to Spokane County Prosecutor Steve Tucker, who did not return a phone call Thursday.
It was unclear Thursday why investigators made no recommendation. In the probe of the fatal 2006 police confrontation with Otto Zehm, for example, Spokane police detectives concluded in their report to prosecutors that no criminal charges were warranted, though a federal grand jury has since indicted one of the officers.
Hirzel had been writing a collision report on his computer at 11:07 p.m. when he noticed a light to his left. He then saw a shirtless Scott Creach approaching with a flashlight in his left hand and a gun pointed at the ground in his right hand.
Hirzel said he repeatedly told Creach to drop the weapon and later to get down on the ground, but investigators have found no witnesses who heard any of that conversation before the shot. Only Creach's wife, Imogene Creach, who was in the family home next door, heard any talking coming from the parking lot and she said the only voice was her husband's, though she was unable to understand what was said.
Hirzel said he struck Creach with a baton after Creach had tucked his gun in his waistband but refused commands to get down onto the gravel parking lot.
Alan Creach said his father was taking a 325 mg daily dose of aspirin to thin his blood, which caused him to bruise easily. But the autopsy showed no mark on Creach's knee; no fibers from Creach's pants were found on Hirzel's baton and no crush marks were found in Creach's pants to indicate any type of baton strike.
But Hirzel continued to maintain in interviews that he used the baton even after detectives told him forensic tests provided no evidence to support it.
"You know … one thing that kind of bugs me is the family making a big deal that they couldn't find any evidence of a baton strike," Hirzel told detectives. "Well, like I've explained, it wasn't a good strike just the way it came across … so I, I wouldn't expect there to be a lot of injury if any."
Spokane police Detective Brian Hamond, who was assigned the lead detective as part of an agreement between departments, asked Hirzel why he needed to hit Creach with a baton after Creach had already put his gun in his waistband.
"Again just, just to get him to comply," Hirzel said. "He wasn't doing it. I felt that the baton strike was okay, you know, the gun was still in the back waistband, his hands are visible at the time, so I felt it was safe to do that while keeping (him) covered with my gun. I just wanted to get him on the ground till I figured out what was going on and why he was coming up on me with a gun."
During the exchange, Hirzel said he told Creach five or six times to drop the gun and repeatedly told him to get on the ground. Asked how loud he was speaking, Hirzel said he wasn't "screaming or chaotic," but instead was using an "assertive" voice that was raised.
"Think anybody else could have heard it?" Hamond asked during the interview. Hirzel responded: "I don't know, it was kind of late at night so I, I don't know if there was anybody else out that would have heard it."
Hamond in his later summary wrote that only "Mrs. Creach reported hearing a startled voice just before the gunshot. None of the subjects who heard the gunshot reported hearing a startled voice including people who were in the position to do so; most notably the … nearest neighbors."
Two of those neighbors, Richard and Elizabeth Courser, heard the shot and immediately exited their home. Richard Courser said he heard no voices before the shot and it was very quiet in the parking lot.
Elizabeth Courser "said she could see a spot light directed to the west and pointing somewhat to the ground. Elizabeth said she could see a body on the ground and went in to get a telephone to call 911," the report states. Asked if she could hear any noise before the shot, "she said she did not and said that sound usually carries through the neighborhood, but she did not hear anything."
Hirzel also told investigators that he thought he remembered shooting Creach when he was about 6 feet away, though in later interviews he said it might have been closer. The autopsy showed what's called stippling, or essentially burns in the skin caused by gunpowder residue from a close blast. Later forensic tests with Hirzel's .45 caliber Glock pistol caused stippling at shots ranging up to 4 feet, but no stippling from 5 feet and farther.
And, Hirzel told investigators that he did not use his spotlight on Creach. But several witnesses and responding deputies said the spotlight was on, illuminating the area where Hirzel described the confrontation, when they arrived on scene.
After he shot Creach, Hirzel remained in essentially a shooting position, asking the first backup deputy to arrive, "Who the (expletive) is this guy?" He had already called for medics and urged arriving deputies to begin CPR while he looked for medical supplies in his car.
Deputy Mark Speer was the first backup deputy to arrive and quickly recognized Creach.
Two years ago, Speer handled the call where Creach chased down a fleeing plant thief and apprehended him at gunpoint while threatening to "blow his head off."
"I advised Creach to not chase suspects with a loaded gun," Speer wrote in his report from the Aug. 25 shooting. "Creach disagreed with me and stated he would defend his property and had the right to bear arms anytime he wanted. Creach was polite about his convictions but would not listen to my advice about confronting suspects."
Local journalism is essential.
Give directly to The Spokesman-Review's Northwest Passages community forums series -- which helps to offset the costs of several reporter and editor positions at the newspaper -- by using the easy options below. Gifts processed in this system are not tax deductible, but are predominately used to help meet the local financial requirements needed to receive national matching-grant funds.
Subscribe now to get breaking news alerts in your email inbox
Get breaking news delivered to your inbox as it happens.
---