Sports
Seahawks buy in to Carroll's pep
Fri., Sept. 17, 2010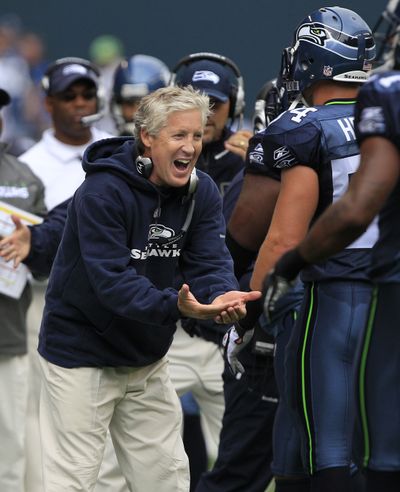 RENTON, Wash. – In the middle of a special teams practice, Lofa Tatupu started hearing "clinks" coming from the other end of the practice field.
Unsure of the sound, the Seattle middle linebacker turned to find a sight that to him, considering his past connections at Southern California with Pete Carroll, wasn't so strange.
There was Carroll, now his head coach in Seattle, just passing the time by attempting to hit the goalposts with throws from 30 yards away – and getting excited every time he did.
"Me and Kelly Jennings are looking at it like, 'You've got to be kidding me. Does he ever lose energy?' " Tatupu said.
Carroll coached his first NFL game in 11 years last Sunday and hopped along the Seattle sideline like a sugar-filled kid. He spent almost as much time on the field as some of his players, getting pulled and yanked back to the sideline on more than one occasion.
It looked similar to his demeanor on Saturdays for the previous nine years at USC. But in the NFL, Carroll's laughter, fist pumps and "Wooooooos!" during Seattle's surprising 31-6 rout of San Francisco were a bit atypical for an NFL coach.
Stoic isn't a word Carroll seems to know.
"We're really letting our guys know that we want them to be energetic, to be emotional about the way we bring our game to game day," Carroll said. "I want them to feed off one another and to do that they have to let it out, and there's nothing wrong with that."
Carroll hasn't slowed one bit since arriving in Seattle. At least with the roster he's put together, Carroll's attitude and approach – which some wondered about its effectiveness with pro athletes – has found some buyers.
It certainly helped that Seattle rolled through preseason division favorite San Francisco in the opener.
The Seahawks will try and improve to 2-0 for the first time since 2006 on Sunday at Denver.
"I told Pete I like where he is because he comes from the book of positive. He takes every situation, whether negative or positive or whatever the case may be, he'll make it a positive," Seattle running back Leon Washington said. "If a guy makes a mistake he will find a way to make that mistake become a positive. I love that type of attitude, but at the same time we definitely understand the seriousness about him."
But getting professional football players, men in their 20s and 30s, to accept what might have worked in their late teens in college isn't easy. The excitable attitude and positive vibes Carroll has brought to the Seattle locker room can sometimes border on hokey or contrived and work opposite their intended goal.
The key, say those players who seem to be buying Carroll's enthusiasm, is to make it genuine. Receiver Mike Williams, who played for Carroll at USC, said there is a clear delineation: The players know when it's time to have fun and know when it's time to be serious.
"When it comes to energy and emotion and enthusiasm and all of that, it's not just Pete. It's his whole coaching staff. Everybody's in on it," Seattle quarterback Matt Hasselbeck said. "It's almost like he's got people assigned to it. It's really just a well-oiled machine. They have it down. It feels very authentic all the time."
Ken Norton Jr. sensed that during his first interactions with Carroll. It was 1995 and Carroll had just taken over as defensive coordinator for the San Francisco 49ers, while Norton was in his second season with the Niners and seventh in the NFL.
He'd played for Jimmy Johnson in Dallas, and yet it was Carroll who spoke to him in a unique way that resonated.
"From a player's standpoint, it's always refreshing when you have a coach who sees the game through your eyes. Most see it as a coach, as X's and O's and most can't really relate to how we see it as players," said Norton, who has served as Carroll's linebackers coach at USC and now in Seattle. "And he had an uncanny ability to see the game the way players see it and try and have the same feel the players feel and he's been able to carry that over to the players."
Local journalism is essential.
Give directly to The Spokesman-Review's Northwest Passages community forums series -- which helps to offset the costs of several reporter and editor positions at the newspaper -- by using the easy options below. Gifts processed in this system are not tax deductible, but are predominately used to help meet the local financial requirements needed to receive national matching-grant funds.
Subscribe to the sports newsletter
Get the day's top sports headlines and breaking news delivered to your inbox by subscribing here.
---
Subscribe and log in to the Spokesman-Review to read and comment on this story