Sports
SMU dominates third quarter to pull out victory over Cougars
Sun., Sept. 19, 2010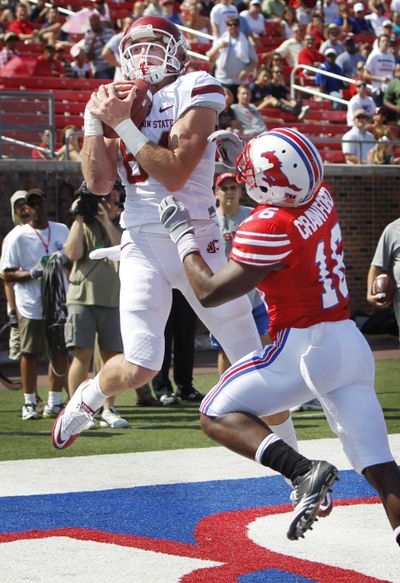 DALLAS – For once, the Washington State University Cougars were able to talk about key plays in the second half.
Saturday at Southern Methodist, they broke a touchdown drought in the first quarter that stretched back nearly two years.
They went into the locker room at halftime tied, the first time they haven't trailed a FBS school at intermission in almost three years.
And, as quarterback Jeff Tuel said, "We broke the spell of the first-play turnover, which is good."
But none of it was enough.
For the 24th time in the past three years, WSU (1-2) left the field defeated.
This time it was 35-21 to Southern Methodist, before a mostly listless crowd of 18,184 at Gerald J. Ford Stadium. And the mantra, again, was about lost opportunities.
The biggest, were, in order:
• The chance to force SMU to punt on the game's opening drive negated by a personal foul;
• A made field goal that would have given the Cougars a 10-7 second-quarter lead rubbed out by a penalty. Nico Grasu pulled the ensuing 27-yard attempt left;
• Letting the Mustangs off the hook after back-to-back false starts on a third-quarter opening drive. SMU QB Kyle Padron converted a third-and-7, propelling the Mustangs on a 12-play, 73-yard, 7-minute, 16-second, game-turning drive and a 21-14 lead;
• Jeff Tuel, under pressure, was just a touch high with a third-down screen pass early in the fourth quarter to James Montgomery from the SMU 26 with WSU trailing 28-14. There were no SMU players between Montgomery and about the 5-yard line.
But all those melt in comparison to the elephant in the stadium, the third quarter.
Tied at 14, Washington State came out of the locker room and played, well, like it has played in many of the last 28 first quarters.
"We just felt we're tied up and we eased up," said true freshman Deone Bucannon, who had five tackles. "We took the dogs off and we should have kept coming."
"We have quarters when we play great, both offensively and defensively," added defensive end Kevin Kooyman. "Then there are quarters when it just goes south."
Quarters yes. But sometimes even a lone series. Take the first one of the game. The Mustangs' Padron missed Keenan Holman on a third-and-4 slant and Bucannon, making his first collegiate start in place of injured strong safety Chima Nwachukwu, barreled into Holman.
Holman went down, followed by a flag. Personal foul. First down. Seven plays later, Padron scramble into the end zone from 13 yards out and it's 7-0.
"That was a big series," WSU coach Paul Wulff said. "We stop them on a third-and-4, opening drive, which they end up getting a touchdown on. And we have a personal foul. That's shooting yourself in the foot. Those are the kind of mistakes we've made, unfortunately. You hate to say it, but youth plays into that."
So do referees' decisions. One kick-started the Cougars' final drive of the first half, a personal-foul call that moved them into SMU (2-1) territory. Jeff Tuel then teamed with 6-foot-4 Jared Karstetter three times for big plays, the final a 4-yard jump ball touchdown pass.
"The offense did a lot of good things today," said Tuel, who finished 18 of 33 for 284 yards and two touchdowns.
So did SMU's, especially on one second-quarter play – a 67-yard pass from Padron to Aldrick Robinson on the possession following Grasu's miss – and throughout the third quarter – when Padron threw three more TD passes, two to Robinson and one to Darius Johnson.
And so did WSU's punt coverage team, which turned a Johnson muffed punt at his 10-yard line – he was hit by Jamal Atofau, who was flagged but not penalized after it was determined he was pushed into Johnson – into a score.
Sophomore walk-on Kyle McCartney fell on the ball in the end zone for his first college score and the halftime tie.
Then came the third quarter.
"We came out in the second half and we lost our composure a little bit," Wulff said. "It was pretty obvious. We had a couple penalties that put our backs against the wall."
As did SMU's first second-half drive, the aforementioned 7:16 one.
"They just made a bunch of real quality plays," Wulff said.
With a 28-14 lead going into the fourth quarter, SMU, which had a 420-350 edge in total offense, was content to play contain defense and the Cougars, who had 29 yards of total offense in the third quarter, couldn't convert two fourth-down plays deep in SMU territory.
After SMU scored a late touchdown to up the lead to 35-14, WSU freshman wide receiver Marquess Wilson capped the scoring by schooling cornerback Chris Parks and running away with a 68-yard touchdown catch at the 2:01 mark.
Local journalism is essential.
Give directly to The Spokesman-Review's Northwest Passages community forums series -- which helps to offset the costs of several reporter and editor positions at the newspaper -- by using the easy options below. Gifts processed in this system are not tax deductible, but are predominately used to help meet the local financial requirements needed to receive national matching-grant funds.
Subscribe to the sports newsletter
Get the day's top sports headlines and breaking news delivered to your inbox by subscribing here.
---