News > Spokane
Vestal: In his day, 'high-speed' meant old-fashioned hustle
Wed., Sept. 22, 2010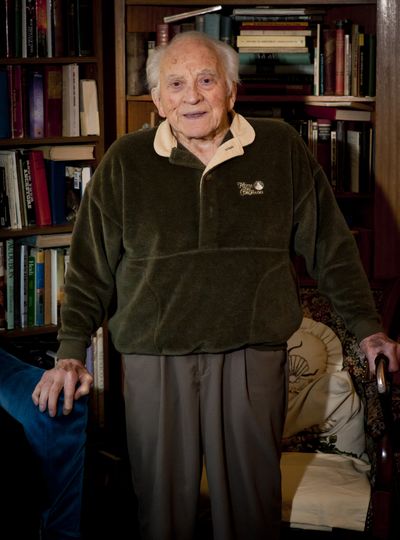 Listen up, children of Twitter.
There was a day when every passing thought you had did not fly through the air to anyone and everyone. When moving information from one person to another required a little heave-ho.
When Wafford "Con" Conrad first started filing newspaper stories, in the 1930s, it took a typewriter and a train to get them to the good people of Spokane. As a college student at Washington State, Conrad was a correspondent for the Spokane Daily Chronicle. Each day he typed up the campus news at his fraternity and ran it down the hill to the train station.
"I wrote all the news about Washington State," Conrad said this week in an interview at the South Hill home where he's lived for more than 50 years. "That included sports and everything."
It was the kind of hustle that Con Conrad would show throughout his long career in journalism – which included covering movies and film stars, and writing for decades about mining. And writing as a freelancer for magazines. And doing PR work and other writing. And running a mining company.
"He was really driven," said his son, Tay Conrad, a retired business manager with the Community Colleges of Spokane. "Very, very disciplined, motivated and worked all the time."
These days, Con Conrad can be forgiven if he takes it a little easier. He turns 100 on Sunday.
Isn't that exciting?
"Oh, yeah," Conrad said, his voice lightly hoarse. "I can hardly stand it."
Conrad's health is pretty good – he takes the walker out for spins in the neighborhood, and doesn't suffer from any chronic diseases or serious health problems. But he's a bit hard of hearing, and the memory isn't what it used to be.
Fortunately, he seemed to have saved everything along the way. Among the items family members dug out for an interview were: Assignments from his 1931 journalism classes at WSU; the invitation to his college graduation; photos of newsrooms filled with reporters in ties and short-sleeved white shirts; a pay stub from 1942.
"For a 40-hour week – a hundred thirty-four dollars!" Tay said, laughing.
And page after page of articles, clipped mostly from the Chronicle. The city's afternoon paper for more than a century, the Chronicle was Conrad's main professional home. He also worked for the Associated Press in Portland and for the federal government as an information officer at the Topaz internment camp for Japanese-Americans in Utah.
Conrad was born in Spokane, graduating from North Central High School in 1928. His father founded a silver mine in North Idaho, the American Silver Mining Co., and Conrad worked there in the summers while attending WSU.
Eventually, Conrad took over as president of the company. It gave him an inside track – if not a completely disinterested position – on mining news, which he covered extensively over the years.
Back then, when the town had more than one paper, Conrad's mining coverage gave the Chronicle an edge, Tay Conrad said.
"I remember the intense rivalry between the two papers," he said. "They were always trying to scoop each other. … Because he knew a lot about mining, he got all these mining stories and the Review didn't get any."
Before that, he'd been the paper's drama editor – covering movie premieres at the Fox and interviewing movie stars who came to town.
A family history describes those days as something out of the movie "The Front Page."
"Con worked on the second floor of the Chronicle building with about 20 other staffers in the midst of a din of clattering typewriters, constant deadlines, an office full of smoke and no air conditioning. He never complained about the work environment, but he was inspired and motivated by the many interesting people he met and the challenge of daily reporting on the news happenings of Spokane and surroundings."
Meanwhile, he was also writing freelance pieces at night and running the mining company. Even after his retirement in 1975 – an occasion marked with telegrams and letters of congratulation from around the region – he continued to freelance.
Conrad says he enjoyed the work, and there was one motivator that kept him going. "I got paid for it," he said.
Conrad and his wife, Enid, raised three kids. He has nine grandchildren, and his eighth great-grandchild was born Monday.
Enid died in 2001 after complications arose from injuries she received in a nursing home. Conrad won a multimillion-dollar settlement against the home, Alderwood Manor, which the jury found negligent. Over the years, he's contributed thousands of dollars in her name to the Christmas Fund, the annual holiday fundraiser sponsored by this newspaper.
He's been happy to see a couple of grand old Spokane institutions come back to life recently – the Fox theater, where he met the likes of Myrna Loy, and the Davenport Hotel, where he and Enid spent their wedding night in the honeymoon suite. For the Depression-era price of five bucks.
On Sunday, the family will celebrate his birthday. It will be a big milestone, but a lot of the people who might appreciate it most – his peers and the readers who relied on him – aren't around anymore to raise a glass.
"He's outlived everybody," Tay said.
Shawn Vestal can be reached at (509) 459-5431 or shawnv@spokesman.com.
Local journalism is essential.
Give directly to The Spokesman-Review's Northwest Passages community forums series -- which helps to offset the costs of several reporter and editor positions at the newspaper -- by using the easy options below. Gifts processed in this system are not tax deductible, but are predominately used to help meet the local financial requirements needed to receive national matching-grant funds.
Subscribe to the Coronavirus newsletter
Get the day's latest Coronavirus news delivered to your inbox by subscribing to our newsletter.
---