News > Spokane
Allan H. Toole Jr. was known for civic, philanthropic work
Wed., Sept. 29, 2010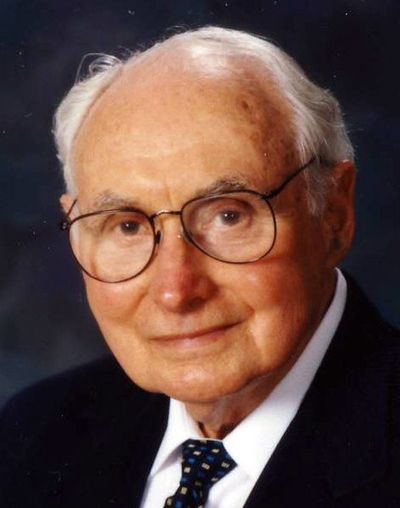 Lawyer, philanthropist and Spokane native Allan H. Toole Jr. dedicated his life to making his community a better place for all.
"He had a love for mankind because it was the right thing to do," said Kyle Smith, a close friend and captain with The Salvation Army in Spokane. "Truth that didn't show itself in actions was no truth at all. That's why he was so engaged in the community."
Toole, who worked his way up to senior partner at Witherspoon Kelley law firm before retiring in 1990, died Sept. 21. He was 89.
Toole served four years as a captain in the Military Police Corps during World War II, then returned to Spokane and graduated from Gonzaga University School of Law in 1948.
While Toole practiced law for a living, his passion was civic and philanthropic work.
Toole was active in numerous organizations, including The Salvation Army, Children's Home Society of Washington, Spokane Symphony Society, The Exchange Club and Second Harvest Food Bank. He is the founder of Foundation Northwest and Deaconess Medical Center Foundation.
His dedication to community service stemmed from the Eagle Scout saying: "Always leave your campsite in better condition than you found it," said his daughter, Loretta Toole. "He was such a gentle, kind man, and he cared so much about his community," she said.
In addition to his civic involvement, Toole spent much of his life in a quest to find truth, she said. In his spare time, he studied religion, politics and philosophy and wrote several essays on the topics.
"He was a really cool father because he really questioned everything from religion to taxation to politics," she said. "He always taught us to ask 'why?' He wanted us to always question our world and not take everything at face value."
Toole's memorial is scheduled for 2 p.m. Tuesday, Oct. 12 at the Davenport Hotel, 10 S. Post St. The family asks that donations be made to one of the organizations he worked with in lieu of flowers. RSVP to AllanTooleMemorial@gmail.com.
Local journalism is essential.
Give directly to The Spokesman-Review's Northwest Passages community forums series -- which helps to offset the costs of several reporter and editor positions at the newspaper -- by using the easy options below. Gifts processed in this system are not tax deductible, but are predominately used to help meet the local financial requirements needed to receive national matching-grant funds.
Subscribe to the Coronavirus newsletter
Get the day's latest Coronavirus news delivered to your inbox by subscribing to our newsletter.
---