News > Spokane
Baker family invited back to White House
Dress code violation, lack of background check led to denial of West Wing tour
Thu., Sept. 30, 2010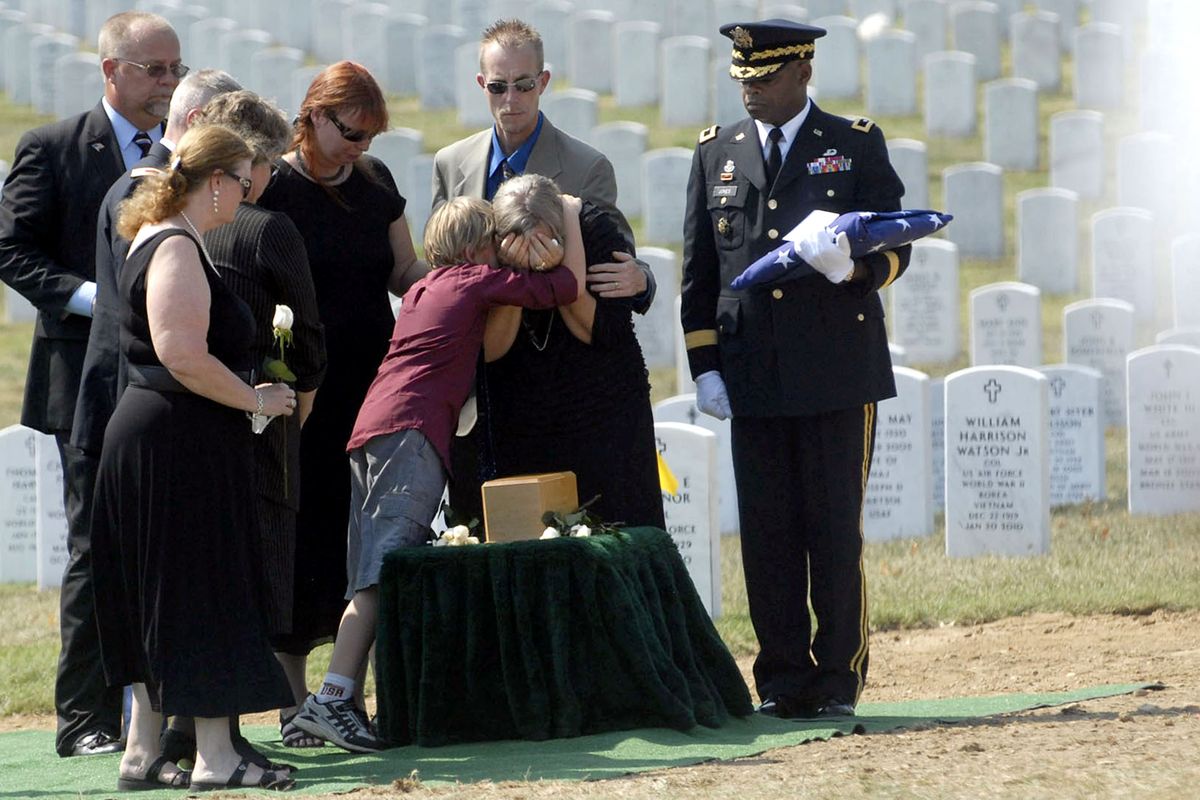 Heidy Baker is comforted by her grandson, Vernon Pawlik, at the burial of Vernon Baker on Friday, Sept. 24, 2010, at Arlington National Cemetery. Major General Reuben Jones holds the flag to the right and Baker's daughter, Alexandra Pawlik stands to the left. (Liz Kishimoto / The Spokesman-Review)
The White House hopes to make amends to the family of Congressional Medal of Honor recipient Vernon Baker after they were turned away from a West Wing tour because of dress code issues.
Reports surfaced Wednesday that the St. Maries family was turned away from a West Wing tour over the weekend because Baker's step-grandson was wearing shorts and a T-shirt bearing the war hero's image. The family was in the D.C. area for Baker's burial at Arlington National Cemetery.
Another member of their party, North Idaho resident Thomas Norris, a retired FBI agent and Medal of Honor winner, also was denied entry to the West Wing because the Secret Service didn't have time to complete a background check on him.
A White House spokesman said Wednesday evening that the incident was the result of an "unfortunate misunderstanding."
"We would have loved to have hosted 10-year-old Vernon and his family at the White House and we have reached out to the Baker family and Lt. Norris to communicate our deep regret and invite them back to the White House," spokesman Adam Abrams said. "This family, as well as Lt. Norris, have given so much to our nation and they have our sincerest appreciation and our apologies for this misunderstanding."
Norris, who served as a Navy SEAL lieutenant before becoming an FBI agent, had accompanied the Baker family to Washington for the military burial Friday. He said Wednesday that he was told when he arrived at the White House with the Baker family on Saturday that the Secret Service had not run a security clearance on him.
"He apologized," Norris said of the government employee who explained the problem to him. "He told me 'The Secret Service has informed me they haven't had time to do a background check and you can't get in.' "
Moments later, after Norris gave up his place in the tour to the Baker family's driver, who had clearance, Baker's step-grandson, Vernon Pawlik, 10, was denied entry because of the dress code. Also on the tour were Vernon Baker's widow, Heidy, and her daughter Alexandra.
At that point the family gave up and left the White House, Norris said. Heidy Baker was traveling on Wednesday and could not be reached for comment.
In general, there's no dress code for White House tours, and the family said they'd checked about possible dress codes ahead of time to make sure. But Norris and the Baker family turned down a previously arranged East Wing tour for a more exclusive visit to the West Wing, which does have a dress code. The West Wing is where the Oval Office is located.
Norris acknowledged that the Secret Service has come under pressure to tighten security after a Virginia couple managed to slip into a state dinner uninvited. The White House requires that visitors obtain clearance in advance.
Nevertheless, Norris said, someone in a position of authority should have stepped forward to assess the circumstances on Saturday.
"You would think there would be someone there to stand up and say, 'I'm a supervisor and we can make an exception" for a Medal of Honor recipient and the grandson of another, he said.
Norris said that little Vernon was looking forward to the tour and hoped to meet President Barack Obama. He even bought one of Obama's books in case he got a chance to get the president's signature.
As it turned out, Obama was out of town on Saturday.
Prior to the White House's Wednesday announcement, staff members of Idaho's congressional delegation were crafting a letter to the White House about the incident, said Susan Wheeler, communications director for Sen. Mike Crapo, R-Idaho. Wheeler said the letter will ask for an "apology, an explanation and a clarification" of policy from the White House.
Dean Ferguson, communications director for U.S. Rep. Walt Minnick, D-Idaho, said the congressman was "very upset."
"Vernon Baker was one of our nation's greatest heroes, and Walt has asked the White House to contact the family," Ferguson said.
The whole incident "is beyond understanding," said Norris, who was awarded the nation's highest honor for military service in 1976 from President Gerald Ford for his actions in Vietnam in 1972.
Norris, then a SEAL adviser with the Strategic Technical Directorate Assistance Team, rescued two downed Air Force officers on separate missions behind enemy lines in Quang Tri province.
In 1979, Norris became an FBI agent after overcoming a grave head wound during his service in Vietnam.
Vernon Baker was the only living black World War II veteran to receive the Medal of Honor for uncommon valor. In 1945 he rallied the troops after their commander deserted and took a German stronghold in Italy, taking out three machine gun nests, two bunkers and an observation post.
Local journalism is essential.
Give directly to The Spokesman-Review's Northwest Passages community forums series -- which helps to offset the costs of several reporter and editor positions at the newspaper -- by using the easy options below. Gifts processed in this system are not tax deductible, but are predominately used to help meet the local financial requirements needed to receive national matching-grant funds.
Subscribe now to get breaking news alerts in your email inbox
Get breaking news delivered to your inbox as it happens.
---