Sports > Outdoors
Researcher explains threats to wolverine in its remote range
Sun., April 10, 2011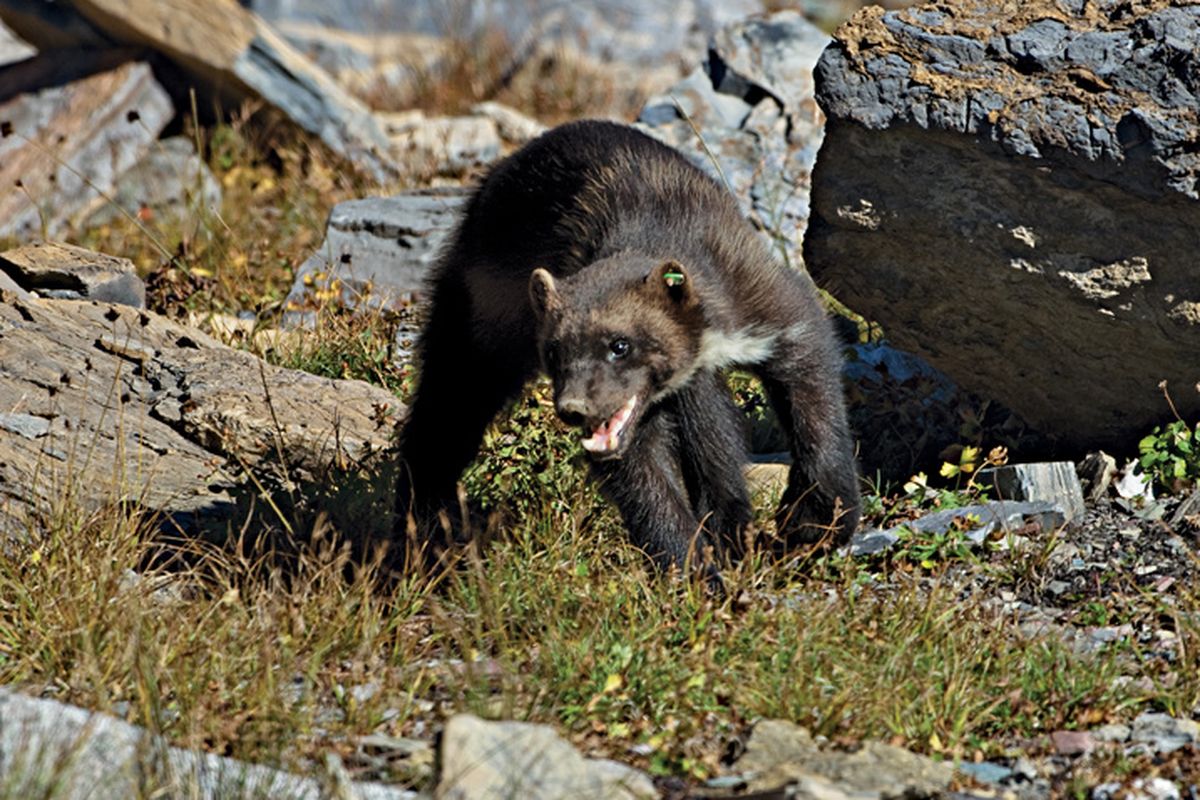 The wolverine, largest member of the weasel family, lives at high elevations, where it relies on deep spring snowpacks to protect its young in reproductive dens. This mother wolverine has been key to research in Glacier National Park. (Photo by Bill Garwood)
Perhaps the only critter at top of the food chain that's rarer and more set apart than a wolverine is the wolverine researcher.
"Worldwide, maybe a dozen people are working on wolverine projects or pursuing research," said Jeff Copeland, who's been among that rare breed for 20 years. Currently based in Idaho, he'll be in Coeur d'Alene on Tuesday to present a public program on research and ecology of wolverines, the largest members of the weasel family.
"The fact that wolverines don't mess with human property, get in our garbage cans or prey on our livestock contributes to our lack of knowledge about them – there's no economic incentive for studying them," he said.
Pound for pound, the wolverine is perhaps the toughest North American carnivore, legendary for cowing wolves, challenging grizzlies and for chewing its way out of traps. But unlike the others, it's a predator that shies from human habitats.
"The wolverine doesn't care about us," Copeland said. "It keeps off the radar. It lives in places that, until relatively recently, we haven't found particularly valuable."
Copeland has worked as a wolverine research biologist with agencies such as the Idaho Fish and Game Department, Forest Service and National Park Service in Idaho, Wyoming and Montana as well as Canada, Alaska, Scandinavia and Mongolia.
But the researcher's territory narrows considerably in the lower 48 states, where wolverines roam mostly in the high mountains, near the treeline, where conditions are cold year-round and snow cover persists well into May. More than 90 percent of the wolverine habitat in the U.S. is on federal land.
Wolverines inhabit the North Cascades in Washington and the Northern Rockies of Montana, Idaho, and Wyoming. Recently, migrant wolverines have been documented venturing south into their former range in the Sierra Nevada of California and the southern Rocky Mountains of Colorado and Utah.
"The wolverine is one of the lowest-density carnivores in North America and maybe the world," Copeland said. "For that reason, they have to be able to move and communicate genetically," he added, citing one of the concerns for the species' future.
Wolverines have been in the headlines in recent years as conservation groups have worked toward getting them listed as endangered species since the mid-1990s. In the past year, U.S. Fish and Wildlife Service evaluated wolverines for endangered status, but essentially put them on a waiting list.
Adding to their visibility, several wolverine research projects were launched, PBS aired a wolverine documentary, and Doug Chadwick published a book about wolverine research in Glacier National Park.
Locally, the permit for a Silver Valley snowcat skiing company is in jeopardy because it operates on federal land documented as wolverine denning habitat.
Copeland and other researchers are in the middle of the issues, maintaining their research is more important than ever to study the carnivore and sort out the threats against it.
The top three threats, according to Copeland, appear to be climate change, expanding winter recreation and habitat connectivity.
Climate change: The wolverine appears to have a critical relationship with spring snowpack, which it needs to protect the dens of mothers with their young.
"In a warming climate, it's reasonable to assume a decreasing snowpack and earlier snowmelt in spring that could impact wolverine reproductive denning," Copeland said.
"This is way out there, but we need to develop a better understanding of den site selection, the needs for female wolverines in selecting sites and the need to protect those areas.
"We've only been able to document 60-65 dens across North America. That's not many considering its range."
Winter recreation: Prior to the 1980s, when most national forest plans were being written, there were no snowmobiles going into the high-country wolverine habitats. Even backcountry and helicopter skiing were not so popular.
"More recently, what used to be de facto wilderness for wolverines has become playgrounds for snowmobiles and skiing," he said. "Researchers are concerned about the impact, primarily on denning females."
A project out of McCall in central Idaho is among the first to investigate the impact of recreational activity near wolverine denning sites.
Habitat connectivity: Roughly 15,000-20,000 wolverines roam northern Canada and the Arctic, where virtually everything is wolverine habitat. "It's all interconnected," Copeland said.
South of Canada, only about 300 wolverines live in a narrow elevation band that's naturally fragmented and further fragmented by human activity.
"It's difficult down here for them to move across and communicate genetically," he said.
"Up on St. Joe Peak, the habitat isn't that much different than the sub-arctic of Canada. But on rare occasions when a young male needs to disperse, it has to drop down out of the habitat and across lower-elevation habitats. That's when it gets hit on a road by a vehicle, shot by a kid with a .22, injured by a pack of dogs.
"Wolverines have less chance of surviving without good travel corridors."
Copeland is optimistic that further research can help assure a future for the wolverine, and at the same time help sort out the associated land management issues.
The species appears to be surprisingly resilient.
From low numbers and possible extirpation in the 1930s in Washington, Idaho and Montana, wolverines quickly began recolonizing these areas "most likely due to the ending of wholesale predator poisoning campaigns and the protection of broad expanses of wilderness across the western U.S," Copeland said.
In 1970s, wildlife scientists Maurice Hornocker and Howard Hash conducted a radio telemetry wolverine assessment in northwestern Montana. Published in 1981, "it was the first comprehensive wolverine study of the wolverine conducted anywhere in the world," Copeland said.
Since then, only about a dozen research efforts, world-wide, have produced published results. "That's pretty much the sum of everything we currently understand about this animal as the latest research is under way."
In 1993, Copeland was working out of Stanley, Idaho, when he and other researchers snowshoed into the Middle Fork Salmon river country and found the first wolverine den discovered in the contiguous U.S.
Up to then, high-elevation habitats had been viewed by both recreationists and land managers as preferred destinations for skiers and snowmobilers to keep them separated from low-elevation deer and elk winter ranges.
"What we didn't realize was that we were pushing recreationists into high-elevation play areas that provide important habitat for the wolverine," he said.
More research on where they den and how much disturbance they can endure will be critical, he said.
"While it is reasonable to assume the occasional skier or snowmobiler traveling by a wolverine den may or may not elicit a strong response by a female, a crowd of recreationists using an area as a destination play area will likely remove that area from available denning habitat," he said.
But he agreed there's still a lot to learn by the small corps of wolverine researchers, and the reclusive wolverine doesn't make it easy.
Local journalism is essential.
Give directly to The Spokesman-Review's Northwest Passages community forums series -- which helps to offset the costs of several reporter and editor positions at the newspaper -- by using the easy options below. Gifts processed in this system are not tax deductible, but are predominately used to help meet the local financial requirements needed to receive national matching-grant funds.
Subscribe to the sports newsletter
Get the day's top sports headlines and breaking news delivered to your inbox by subscribing here.
---