Sports > Outdoors
Area lowland fisheries prime
Fat rainbow crop ready for anglers
Thu., April 14, 2011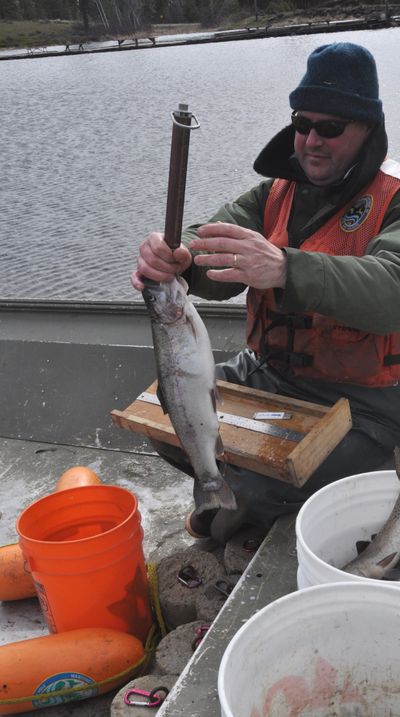 The season isn't open yet, but the fishing has been good the past two weeks for Chris Donley, Washington Fish and Wildlife Department Spokane district fisheries biologist.
Recently he pulled survey gillnets that had been soaking overnight in West Medical and Fishtrap Lakes and found an exceptionally healthy crop of fat, rainbow trout.
"The fry plants from last year are enormous," he said, pointing a cold, wet finger on a blustery day to one of the specimens coming into the boat at West Medical. "This lake can really grow fish. These are almost too big. Makes me wonder if cormorants or something thinned out the fry plant. I can't say for sure.
"But one thing I can say is that anglers are going to be very happy on opening day."
Although many of the mixed species lakes and selective fishery waters already are open, Fishtrap, West Medical, Williams, Badger and other lowland trout fisheries won't open until April 30 – the latest possible opening date under the "last Saturday in April" rule.
Fishtrap and West Medical should be in their prime, just two years after the nongame fish were killed out with rotenone and the waters restocked with trout.
Williams should be good, but Donley fears fishing will be tough in Badger, where smallmouth bass are taking hold.
"You can still catch fish at Badger if you move around and use your electronics to find them. Then drop eggs or a fly under a bobber into them at the right depth."
Other regional fishing points Donley mentioned include:
Silver Lake's great largemouth bass, bluegill and crappie fishing has deteriorated after someone illegally introduced perch that overpopulated. Lake homeowner groups have not been able to agree on fish management options that would require a concensus before the state could do much to improve the fishery.
Top panfishing lakes in the Spokane region include Eloika, Bonnie, Downs, Liberty, Newman and Bear Lake, which is off Highway 2 and open only to youth and disabled anglers.
Sprague Lake has a large number of trophy-size trout, and by this fall, the re-started bluegill and crappie fishery should start to show.
Selective fisheries, such as Amber Lake, have been producing excellent catches of huge trout. While Donley was surveying fish at West Medical, a fly fisher stopped by and reported catches of up to 20 fish a day at nearby Medical Lake, a selective fishery where bait is not allowed. Most recently, the top fly was a chironomid fished under an indicator.
After the angler left, Donley showed me why as he opened the stomach on one of his survey fish and showed the contents. It was stuffed with large green chironomids.
Local journalism is essential.
Give directly to The Spokesman-Review's Northwest Passages community forums series -- which helps to offset the costs of several reporter and editor positions at the newspaper -- by using the easy options below. Gifts processed in this system are not tax deductible, but are predominately used to help meet the local financial requirements needed to receive national matching-grant funds.
Subscribe to the sports newsletter
Get the day's top sports headlines and breaking news delivered to your inbox by subscribing here.
---