News > Features
Fitness after 50 runs women into healthy futures
Tue., April 26, 2011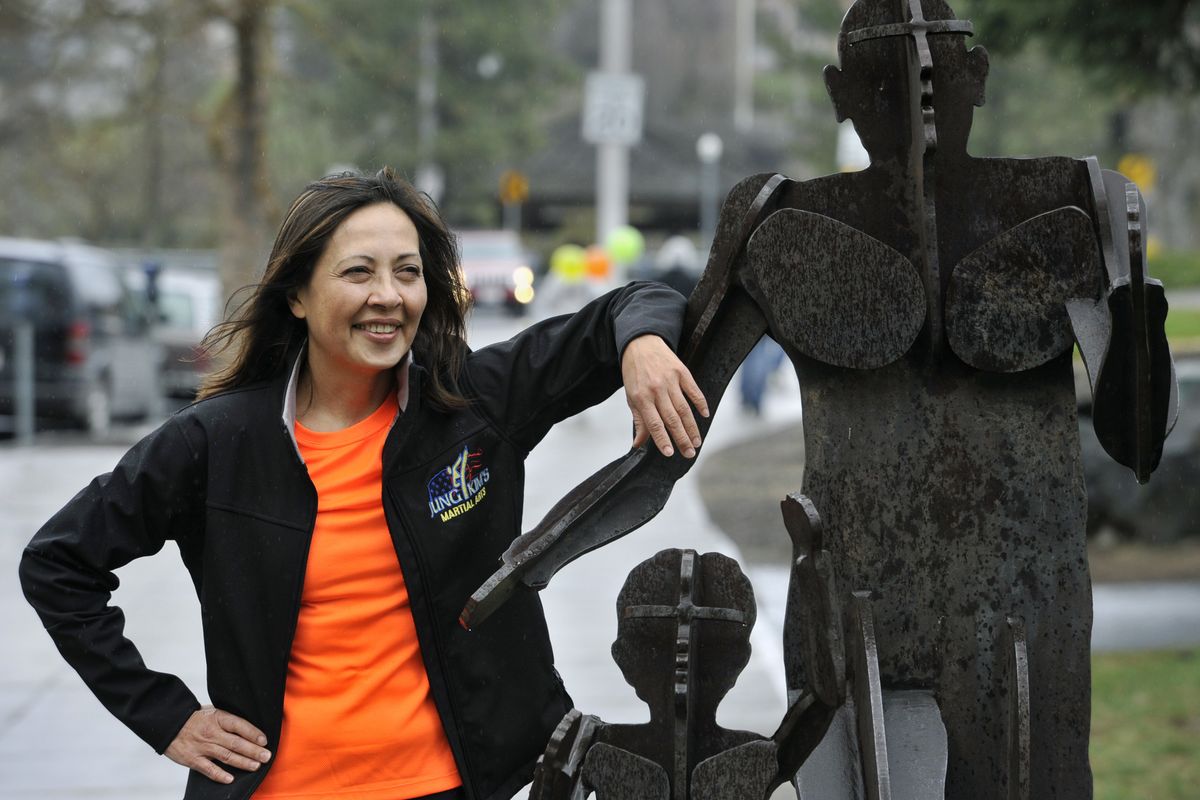 Atania Gilmore is tracking a fitness fad for women over 50 (Dan Pelle)
More women than men run Bloomsday, 60 percent to 40 percent last year, a trend likely to continue Sunday, when Spokane's 35th Bloomsday takes to the streets. ¶ Why more women? ¶ Says race director Don Kardong, "Women's participation has been growing as more women who had the privilege of participating in scholastic sports, due to Title IX, look for opportunities to continue in sports after graduation. ¶ "And let's face it, women are just more interested than men in staying in shape and looking good. Running, jogging, walking (are) good ways to do that." ¶ The percentage of women 50 and older who run and walk Bloomsday increases each year, too. In 1988, just 4 percent of the participants were women older than 50. Last year, it was 12 percent. ¶ By way of explanation, two women Bloomsday runners over 50 share their fitness stories.
Atania Gilmore, 53
Back story: Grew up in Asia until moving to the United States when she was 13.
"I was very much a tomboy," she said, "I did martial arts. I surfed, danced."
She stayed active until her babies came along, three children in seven years.
"Every pregnancy, I put on weight I couldn't get rid of. I lost my breath easily. I didn't have much strength."
When it changed: She was 42. She missed the feeling of energy from her fit, younger years. So she started out with short walks. She added some short runs. When her children got into martial arts, she joined them.
Fitness regimen: "I run about 25 to 30 miles a week. I train or teach martial arts five or six hours a week. I try to get to the gym once or twice a week for weight lifting. I'll mix in biking and swimming."
Injuries: "Fortunately, I have no constant injuries to battle but have had plenty that come and go," Gilmore said. "I try to be aware when there are warning signs, scale back, get treatment if needed, and then start back up slowly.
"And I change activities to keep my fitness up. For example, last winter I injured my foot running too many hill repeats on the ice and snow. So for three weeks, while my foot healed, instead of pushing it, I swam laps instead."
Work: Gilmore (along with more than 300 other Spokane-area high-tech workers) was laid off from Itronix in 2009. She is almost finished with a master's degree in business administration at Eastern Washington University. Her research project is a blog, Fitness Diaries, fitnessdiaries.net.
The idea for the blog, which went online in September 2010, came to her while running one day.
"I had read an article about women over 50, and it said about 75 percent are overweight and lethargic and depressed. I thought: 'This is terrible!'
"Women over 50 are the glue in our society. They take care of the generations above and below them. If they are depressed, this is bad for all of society. And it's so unnecessary. While I was running I thought, 'What does it take to change or motivate?' One of the things that inspires me are stories of people doing something remarkable."
In her blog, Gilmore tells the stories of women in their 50s, 60s, 70s and beyond who still run, walk, hike, bike, swim, do marathons and triathlons and climb mountains.
Her advice to the sedentary: "Begin slow. Start with standing up more. If you just stand more, something good happens physically.
"Then, introduce some walking. Start with 15 minutes. That should get you about a mile. And build from there."
Jan Kirk, 65
Back story: She grew up on Chicago's South Side and attended an all-Catholic girls' school before Title IX, the federal law mandating school sports opportunities for girls.
The lack of opportunities didn't stop her from physical activity - and dreaming.
"I had a twin brother who played baseball. I had my own little baseball glove and sat on the bench. I slept with it at night. I did tomboy playing. I thought my bicycle was a horse."
When her two children were small, Kirk didn't have a car, so walking and bicycling with them kept her in the outdoors she loved. But Kirk worked part time and didn't have the time to get in tip-top shape.
When it changed: In the fall of 1980, her youngest started kindergarten. She started to run that day.
"I had little hiking boots on, blue jeans," she remembered. "I went out and did three miles."
Kirk did her first Bloomsday in 1980 and the Coeur d'Alene marathon in 1981.
Track record: Kirk has done 41 marathons since 1981, three triathlons, dozens ofhalf-marathons and shorter races.?She has missed only four Bloomsdays.
She runs three to five times a week. She also hikes, bicycles and skis - downhill and cross-country.
Kirk loves winter running. "It's my very favorite season," she said. "Running shoes are made like little snow tires."?
Injuries: She underwent arthroscopic surgery on her right knee 12 years ago. Three weeks ago, while skiing in the Grand Tetons in Wyoming, she took a tumble and got a black eye. But that's been it.
"I never run seven days a week, and I always get new shoes appropriately," she said.
Work: Retired April 1 after 38 years as a cardiac care nurse at Deaconess Medical Center.
"(Running) kept me balanced," Kirk said. "Even if I was tired after work, if I?went out for a short run, the weight of the world was released."
As for her patients? "I had the honor of walking patients one day after open-heart surgery. Even if they felt like they couldn't get out of bed, the majority of them felt better immediately."
Her advice to the sedentary: Take baby steps. Believe you can do it. Keep it fun. Call a friend. Set a goal.
"I've walked the New York marathon with friends who had been very sedate," she said. "We trained all year, and they actually walked the New York marathon. It took them seven to eight hours."
The future: Her son wants to run the Great Wall of China marathon in five years, when he turns 40 and Kirk turns 70.
Kirk told him: "You do the whole. I'll commit to the half. But I'm in."
Local journalism is essential.
Give directly to The Spokesman-Review's Northwest Passages community forums series -- which helps to offset the costs of several reporter and editor positions at the newspaper -- by using the easy options below. Gifts processed in this system are not tax deductible, but are predominately used to help meet the local financial requirements needed to receive national matching-grant funds.
Subscribe now to get breaking news alerts in your email inbox
Get breaking news delivered to your inbox as it happens.
---