News > Spokane
Metal thefts nearly sink Colville boat firm
Thu., Aug. 4, 2011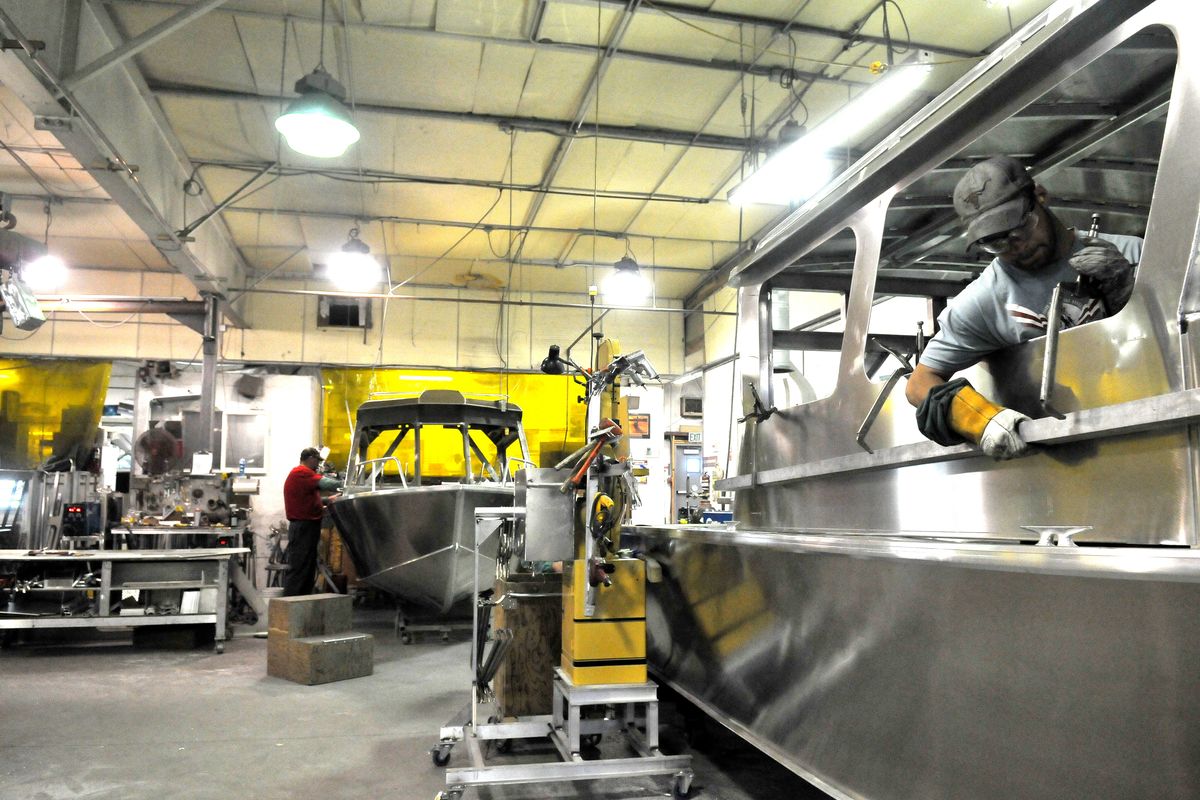 Workers assemble aluminum fishing boats at Hewes Marine Co. in Colville on Wednesday. (Jesse Tinsley)
A Colville boat factory nearly went out of business when a trusted supervisor sold an estimated $556,000 worth of stolen aluminum to a Spokane scrap metal dealer.
It took more than three years to catch the thief because he was in charge of the Hewes Marine Co. investigation.
Court documents say Christopher Randall Boring, who was considered an exemplary employee, set up cameras, conducted numerous audits and repeatedly claimed to be baffled.
"We never dreamt that one of our most trusted employees would be stealing it, especially not in that quantity," co-owner Bill Hewes said.
He said he has little hope of recovering any of the loss.
Boring, 40, pleaded guilty July 22 in Stevens County Superior Court to aggravated first-degree theft and aggravated first-degree trafficking in stolen property.
He had been with the company since February 2005, and resigned last August days after incriminating information was found on his work computer.
A jury Wednesday convicted his wife, 38-year-old Jody Danielle Boring, of second-degree trafficking, aggravated by large economic impact.
Coupled with the recession, the theft of 360,799 pounds of aluminum sheet "came very close to pushing us over the edge," Hewes said.
He said the thefts began in 2008, leaving the company in a weakened condition when the recession bottomed out for the boat-building industry in 2009.
A workforce of 120 was cut to 40 and so far has been restored only to a few more than 90.
"We could have avoided a lot of layoffs, and we could have avoided a lot of pay cuts," Hewes said.
"Wow, I didn't know that," said Hap Ahlborn, owner of Action Recycling in Spokane.
Ahlborn's company purchased the stolen aluminum from the Borings without checking whether they owned it.
Chris Boring "was dressed businesslike and driving a nice vehicle, and you could tell he wasn't on drugs," Ahlborn said.
A police affidavit says Jody Boring also frequently took aluminum to Action Recycling.
The statement says Ahlborn produced copies of receipts for more than $200,000 his company paid the Borings since 2007 – far less than the aluminum had cost Hewes new.
"Hap stated that many times the aluminum would be large sheets that looked to be brand-new, whole pieces cut in half," according to the affidavit.
Ahlborn reportedly said Boring was his largest supplier of aluminum, and many of his employees wanted to serve Boring because he would give them a $100 tip.
In the past, Ahlborn has championed self-regulation and has opposed legislation to keep recyclers from buying stolen metal. Now, Ahlborn said he favors tighter controls.
He said Action Recycling has started checking state databases of corporations before opening commercial accounts for sellers such as Boring, who claimed to represent "Bella Boats." If the seller isn't listed as a corporate officer, Action Recycling won't open an account.
An amendment to state law in 2007 says scrap dealers can't buy "commercial metal property" unless the seller has a commercial account with the dealer or has written proof that the metal isn't stolen.
"That's part of the gray area of the law," Ahlborn said. "It says the account has to be set up, but it doesn't say how."
In Boring's case, no proof was required. A quick Google search would have revealed that Bella Boats is a Finnish manufacturer of fiberglass boats.
"Chris was very persuasive," Hewes said. "He fooled a lot of people."
Hewes credited Action Recycling for tracking down two pallets of stolen aluminum it sold to Travis Pattern and Foundry in Spokane.
Hewes said the pallets revealed that unused sheets, cut to fit a pickup, were bundled between layers of genuine scrap metal.
Hewes said most of the stolen aluminum was "brand-new sheet that was in virgin condition."
He said company officials had long been aware that a lot of aluminum couldn't be accounted for, but they found it hard to believe so much was stolen.
"The idea that somebody would take sheet that's worth $2 a pound and cut it into pieces so it is worth 60 cents a pound, that was unthinkable," Hewes said.
Instead, the investigation focused on whether too much scrap was being created or billing and inventory records were wrong.
Hewes said company officials realized last August that they were dealing with a thief when a box of parts showed up for sale on eBay a day after it went missing. An online photo showed recognizable marks on the box.
"Talk about brazen," Hewes said.
An examination of Boring's computer showed he had an online user name of "Bella Boats" and had been in contact with the person who offered the stolen parts on eBay.
Attention quickly shifted to the missing aluminum sheets, and police identified Action Recycling as the purchaser in September.
Court records show the Borings filed for bankruptcy in May 2001 and again in October 2009, for debts totaling $115,504.
They are to be sentenced Aug. 22.
Stevens County Deputy Prosecutor Matt Enzler said he has agreed to recommend a four-year sentence for Chris Boring, but hasn't decided what to ask for Jody Boring.
Without aggravating circumstances, Jody Boring's standard sentencing range would have been one to three months, and Chris Boring's would have been six to 12 months.
Local journalism is essential.
Give directly to The Spokesman-Review's Northwest Passages community forums series -- which helps to offset the costs of several reporter and editor positions at the newspaper -- by using the easy options below. Gifts processed in this system are not tax deductible, but are predominately used to help meet the local financial requirements needed to receive national matching-grant funds.
Subscribe now to get breaking news alerts in your email inbox
Get breaking news delivered to your inbox as it happens.
---