News > Nation/World
Man who abused prisoners released
He served 6.5 years after Abu Ghraib
Sun., Aug. 7, 2011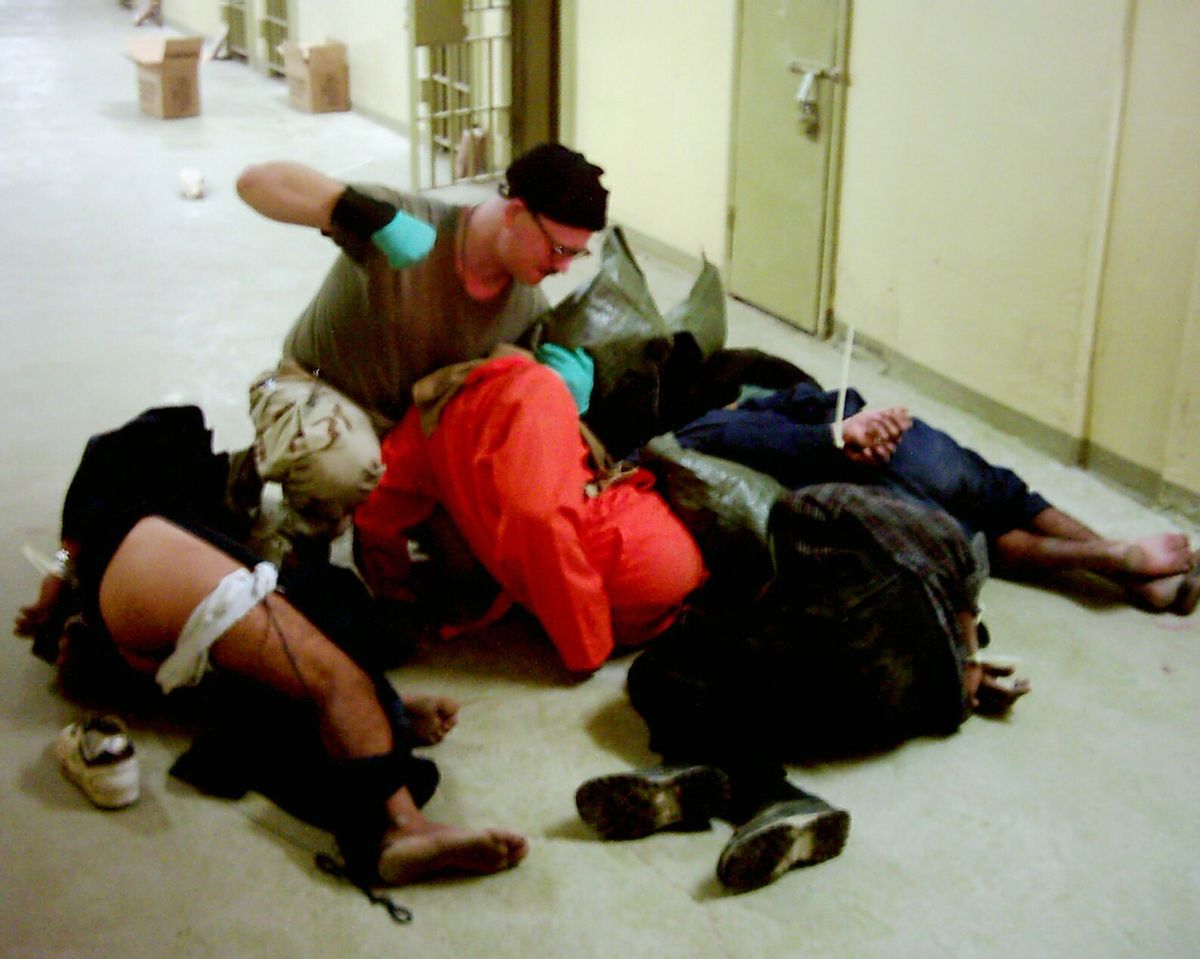 This image obtained by the Associated Press shows Cpl. Charles Graner Jr. appearing to punch one of several handcuffed detainees lying on the floor in late 2003 at the Abu Ghraib prison in Baghdad. (Associated Press)
The convicted ringleader of detainee abuses at Abu Ghraib was released Saturday from a military prison, an Army spokeswoman said.
Charles Graner Jr., 42, was released from the U.S. Disciplinary Barracks at Fort Leavenworth, Kan., around 10 a.m. Saturday after serving more than 61/2 years of a 10-year sentence, spokeswoman Rebecca Steed said. Graner will be under the supervision of a probation officer until Dec. 25, 2014, she said.
Steed said she could not release any information about Graner's whereabouts or his destination after release. Neither Graner nor his wife – who was a fellow Abu Ghraib defendant – have responded to interview requests from the Associated Press. Calls and emails to Graner's father and lawyer were not immediately returned.
Graner was an Army Reserve corporal from Uniontown, Pa., when he and six other members of the Maryland-based 372nd Military Police Company were charged in 2004 with abusing detainees at the prison in Iraq. The strongest evidence was photographs of grinning U.S. soldiers posing beside naked detainees stacked in a pyramid or held on a leash.
Graner was convicted of offenses that included stacking the prisoners into a pyramid, knocking one of them out with a head punch and ordering prisoners to masturbate while soldiers took pictures. He maintained that the actions were part of a plan directed by military intelligence officers to soften up prisoners for interrogation.
Hana Adwar, an Iraqi human rights activist, said the "easy" release of a criminal who "committed a war crime" would be met with outrage in Iraq.
Steed said Graner's obligation to the military ends at the end of 2014. Until then, his supervised release could be suspended.
She said Graner, who was a civilian correctional officer, was released before serving his maximum sentence under rules that include days off for good behavior. She said he lost some good conduct time for institutional rule infractions while incarcerated, but she wouldn't provide details.
Local journalism is essential.
Give directly to The Spokesman-Review's Northwest Passages community forums series -- which helps to offset the costs of several reporter and editor positions at the newspaper -- by using the easy options below. Gifts processed in this system are not tax deductible, but are predominately used to help meet the local financial requirements needed to receive national matching-grant funds.
Subscribe now to get breaking news alerts in your email inbox
Get breaking news delivered to your inbox as it happens.
---