News > Spokane
Town's legal battle against man living in shed may be no-winner
Mon., Aug. 15, 2011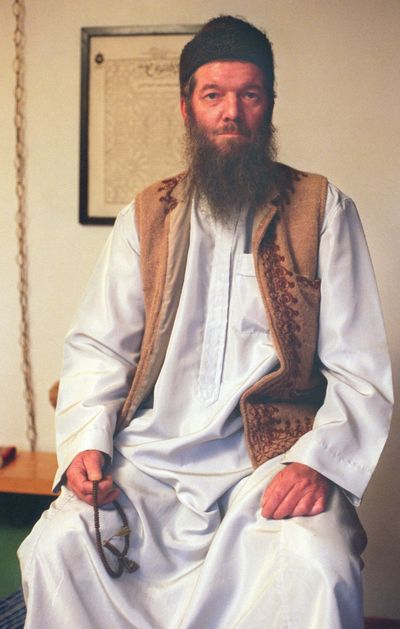 Springdale, Wash., population 280, is spending more than 10 percent of its general fund to keep a man from living in a shed.
The money might go a long way toward buying a house in Stevens County, but instead is just paying for litigation to empty the shed.
It's a matter of principle for all concerned.
Dawud Ahmad, a self-styled Muslim sheik, says he is defending religious freedom. Mayor Doug Buche says the town is protecting its ability to enforce ordinances.
Born Gary Lee Smith in Portland, Ahmad says he was a troubled young man – he served nearly three years in prison on drug convictions – who converted to Islam and changed his life.
He is the registered agent for a nonprofit organization called Muslim America that owns his home as well as an unplumbed outbuilding occupied by Bedreddin Iman.
Muslim America is exercising its right to offer shelter to a homeless member of the religious organization, according to Ahmad.
He pointed to federal and state religious protections, including a year-old state law that says cities and counties "may" adopt a building code exemption for buildings that have been converted to house the homeless if code deficiencies don't threaten health or safety.
Buche said he doesn't dispute Muslim America's right to shelter the homeless, "but we're saying they can't do it in a building that was never designed for human occupancy."
The town cited Muslim America for violating the building code and failure to get a business license.
The result may be a Pyrrhic victory for either side.
So far, the town is winning.
But the two-year legal battle has sucked $34,227 from a general fund that averages $150,000 to $170,000 a year – and the meter is still running.
"I'm in a very difficult position," Buche said. "We're trying to do the best we can."
Visiting Spokane County Superior Court Judge Maryann Moreno refused in October to order the town to grant a building code exemption as Ahmad demanded. Exemptions are at the town's discretion, Moreno said.
She found the request frivolous and ordered Muslim America, Ahmad, Iman and another plaintiff, Sameer Hatem, to pay $200 apiece and, together, to pay Springdale's attorney bill at the time: $23,916.
Since then, Ahmad and his associates have appealed Moreno's decision and the town has racked up more than $10,000 in additional legal fees.
Although Colville attorney Robert Simeone is representing Muslim America, Ahmad is representing himself. He doesn't have to pay filing fees because the court has declared him a pauper.
"He is trying to put us into the position where he can force us to let him do whatever he wants to do because he can tie us up in court," Buche said. "We have to pay legal fees, but he doesn't."
Ahmad said he plans to go to federal court if he doesn't prevail in state courts.
"It's going to be in litigation until we win," he said. "I don't care where it is, it's going to be in litigation."
Ahmad is an accomplished do-it-yourself lawyer. Facing eviction as a tenant, he won possession of the house he lives in.
Now he faces the possibility of being turned out of the house if he can't defeat Moreno's ruling or stave off collection efforts. But Ahmad hopes to turn the tables and force the town to pay up to $100,000 for the time he says he has spent working on the case as a paralegal.
"The case is not frivolous, it's not frivolous at all," he said. "We are being harassed on account of our religion."
Buche sees only a building-code dispute: "We want to be able to enforce our ordinances, and Mr. Ahmad has turned this into something way bigger than it should have been."
Local journalism is essential.
Give directly to The Spokesman-Review's Northwest Passages community forums series -- which helps to offset the costs of several reporter and editor positions at the newspaper -- by using the easy options below. Gifts processed in this system are not tax deductible, but are predominately used to help meet the local financial requirements needed to receive national matching-grant funds.
Subscribe now to get breaking news alerts in your email inbox
Get breaking news delivered to your inbox as it happens.
---