News > Nation/World
Libyan rebels advance
Explosions, gunfire heard in Tripoli after opposition fighters take key city
Sun., Aug. 21, 2011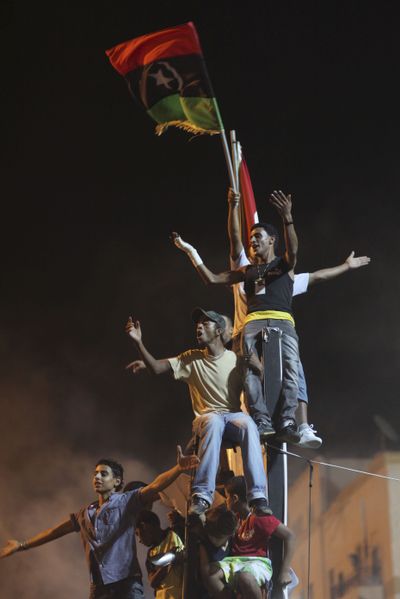 TRIPOLI, Libya – Libyan rebels said they launched their first attack on Tripoli in coordination with NATO late Saturday, and Associated Press reporters heard unusually heavy gunfire and explosions in the capital. The fighting erupted just hours after opposition fighters captured the key city of Zawiya nearby.
Gunbattles and mortar rounds were heard clearly at the hotel where foreign correspondents stay in Tripoli. NATO aircraft made heavy bombing runs after nightfall, with loud explosions booming across the city.
"We planned this operation with NATO, our Arab associates and our rebel fighters in Tripoli with commanders in Benghazi," Mustafa Abdel-Jalil, the head of the rebel leadership council, told the Arab satellite channel Al-Jazeera. Benghazi, hundreds of miles east of Tripoli, is the rebels' de facto capital.
Abdel-Jalil they said chose to start the attack on Tripoli on the 20th day of the Muslim holy month of Ramadan, which fell on Saturday. The date marks the ancient Islamic Battle of Badr, when Muslims first fought for the holy city of Mecca in A.D. 624.
A couple of hours after the rebels said they had attacked Tripoli, state television ran what appeared to be a live audio message by Gadhafi. He did not appear on television but sounded like he was calling the message in on a poor phone line which crackled at times. He announced the time and date twice to prove that he was speaking live.
Gadhafi condemned the rebels as traitors and "vermin" who are tearing Libya apart and said they were being chased from city to city – a mirror image of reality.
"Libyans wanted to enjoy a peaceful Ramadan," he said. "Instead they have been made into refugees. What are we? Palestinians?"
Government spokesman Moussa Ibrahim appeared on Libyan television to deny there was an uprising in Tripoli. But he acknowledged that there was some kind of unusual activity.
"Sure there were some armed militants who escaped into some neighborhoods and there were some scuffles, but we dealt with it within a half hour and it is now calm," he said.
The claims from both sides could not immediately be independently verified.
If the rebels did indeed attack Tripoli, it would be the first time in the 6-month-old uprising. The rebels made early gains in the revolt, capturing most of the east of the country and rising up in a few other major cities such as Zawiya and Misrata. But Gadhafi's forces fought back and until a week ago, the civil war had been mired in a stalemate.
Last weekend, rebels from the western mountains near the border with Tunisia made a dramatic advance into Zawiya, just 30 miles west of Tripoli, and captured parts of the city.
Gadhafi appeared increasingly isolated as the fighters advanced closer to Tripoli, a metropolis of 2 million people, from the west, south and east and gained control of major supply roads into the capital.
After hard-fought battles for a week in Zawiya, the rebels finally wrested the city's oil refinery, central square and hospital from Gadhafi's forces and drove them out in a major victory on Saturday that clearly swung momentum in their favor.
Hours later, the attack on Tripoli was claimed.
Col. Fadlallah Haroun, a military commander in Benghazi, said the battles marked the beginning of Operation Mermaid – a nickname for Tripoli. He also said the assault was coordinated with NATO. Haroun told the AP that weapons were assembled and sent by tugboats to Tripoli on Friday night.
"The fighters in Tripoli are rising up in two places at the moment – some are in the Tajoura neighborhood and the other is near the Matiga (international) airport," he told the Arabic satellite channel Al-Jazeera.
Earlier Saturday, the government organized a trip for reporters to the airport to show them it was still in government hands.
A representative for Tripoli on the rebel leadership council told the AP that rebels were surrounding almost every neighborhood in the capital, and there was especially heavy fighting in Fashloum, Tajoura and Souq al-Jomaa.
Those three neighborhoods have been bubbling with discontent ever since the beginning of the Libya uprising. They paid the highest price in deaths when protesters took to the streets, only to be met with live ammunition by government militiamen.
"We don't have exact numbers yet, but we are hearing that many fighters have fallen – very likely over 100," said Mohammed al-Harizi.
U.S. Assistant Secretary of State Jeffrey Feltman visited Benghazi on Saturday.
"Gadhafi's days are numbered," he said. "The best case scenario is for Gadhafi to step down now … that's the best protection for civilians."
Local journalism is essential.
Give directly to The Spokesman-Review's Northwest Passages community forums series -- which helps to offset the costs of several reporter and editor positions at the newspaper -- by using the easy options below. Gifts processed in this system are not tax deductible, but are predominately used to help meet the local financial requirements needed to receive national matching-grant funds.
Subscribe now to get breaking news alerts in your email inbox
Get breaking news delivered to your inbox as it happens.
---