Sports
Kentucky adjusts to being ranked No. 1
Thu., Dec. 1, 2011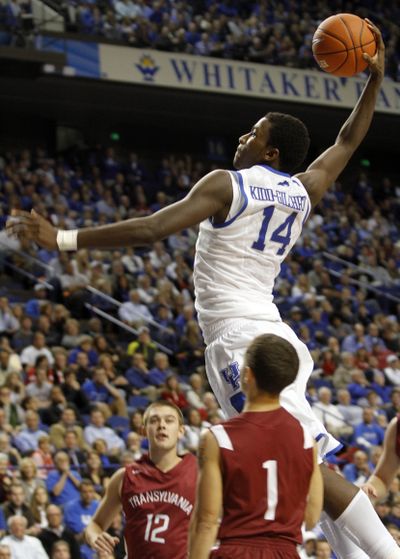 LEXINGTON, Ky. – Kentucky coach John Calipari said his freshmen are "oblivious" to what it means being ranked No. 1 in the country.
However, with the Wildcats atop the poll for the first time in nearly two years, Marquis Teague, Michael Kidd-Gilchrist and Anthony Davis are about to experience it firsthand.
"I've never been in this position. It's pretty exciting just to know that you're No. 1," Teague said. "But you've still got to come out to perform."
The Wildcats (6-0) returned to No. 1 for the first time on Monday since a one-week stint in the 2009-10 season, but Calipari has been starting three freshmen and two sophomores who weren't around the last time the program was at the top.
"I said (to them), 'I want you to understand, it's not a burden, it's a badge of honor,' " Calipari said. "That's what it is. And playing here, this is what you're trying to attain. It's not when we want it, but we're there."
The last few times, the stay at No. 1 was short-lived.
The top-ranked Wildcats lost to South Carolina in 2009-10 and Marquette in the 2003 NCAA tournament regional finals.
"It's an honor, but it's November," Davis said. "There's not really much that we can do. We're not even halfway through the season."
This group takes the floor as No. 1 for the first time today when it hosts St. John's (4-3) as part of the SEC-Big East challenge. Then on Saturday, the Wildcats face No. 5 North Carolina, which fell from the top spot following a 90-80 loss to UNLV.
The North Carolina loss came hours after Kentucky beat Portland.
"We were talking about (being ranked No. 1). We weren't sure. We were like, 'Are we going to be No. 1?' and all this," Davis said. "But at the end, it just means we've got to work even harder now because teams are going to come after us."
St. John's will be without coach Steve Lavin as he continues to recover from prostate cancer surgery. Lavin said his stamina has not improved enough for him to coach from the bench. He missed the opener but returned for four before missing the last two home games.
"We want Coach Lavin to feel like he can take as much time as he needs based off our behavior – that's the most important thing for us," assistant coach Mike Dunlap said. "I don't want to paint our players as being machine-like, because they're not. But they feed off of the rest of the coaching staff's energy levels."
St. John's hasn't beaten the No. 1 team in the country in 27 years and has started with a tough schedule early against ranked opponents Arizona and Texas A&M before dropping a home game on Saturday to Northeastern.
Freshman forward Moe Harkless said he's excited to travel to Rupp Arena because Kentucky reminds him of his own team.
"They're like a longer version of us. But if we put more pressure on them and play more physical than they play, we'll be fine," Harkless said. "We just have to go out there, play hard, and execute."
Calipari said the Wildcats struggle with physical opponents and he's noticed other deficiencies such as breaking traps and defending 3-point shooters off screens.
Still, Kentucky has won every game by at least 10 points this season, including over then-No. 13 Kansas on Nov. 15.
But the Wildcats have not played anyone at home with a current RPI above 121.
That's led to lopsided victories against Marist (by 50), Radford (48) and Portland (24) that has Calipari ready to see what his team can do.
"These are learning opportunities, and you can't learn against Popcorn State," Calipari said. "You can play those games and you've got to fill out your schedule, but you need these kind of games. You just don't need 12 of them, especially when you have a young team."
Local journalism is essential.
Give directly to The Spokesman-Review's Northwest Passages community forums series -- which helps to offset the costs of several reporter and editor positions at the newspaper -- by using the easy options below. Gifts processed in this system are not tax deductible, but are predominately used to help meet the local financial requirements needed to receive national matching-grant funds.
Subscribe to the sports newsletter
Get the day's top sports headlines and breaking news delivered to your inbox by subscribing here.
---
Subscribe and log in to the Spokesman-Review to read and comment on this story