Sports
WSU rips EWU in men's basketball
Dec. 3, 2011 Updated Sat., Dec. 3, 2011 at 7:48 p.m.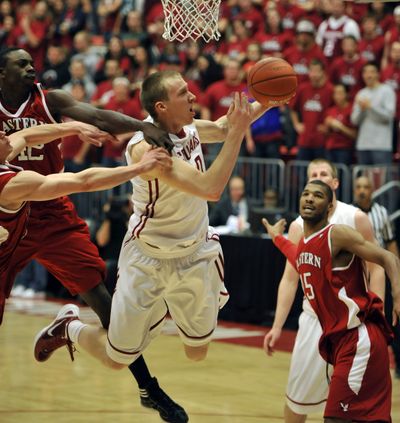 PULLMAN – With 6 minutes, 48 seconds left in Washington State's rout of Eastern Washington on Saturday, the Eagles' Cliff Ederaine finally shook free of the Cougar defense. One bounce and the 6-foot-7 senior exploded for an uncontested dunk. He missed, the ball ricocheting high off the rim. It was that type of afternoon for the Eagles. And for Washington State, which was missing four of its top nine players. The Cougars still stifled Eastern's offense and rode a career-high 20 points and 13 rebounds from 6-10 senior post Charlie Enquist for a 75-49 nonconference victory at Beasley Coliseum. "We played hard for a majority of the 40 minutes and that's been our goal since the first game this year," said WSU's Brock Motum, who chipped in 15 points and six rebounds. "I think we achieved that tonight." That effort, witnessed by a sparse crowd of 4,002, began to show up early, even though Eastern (4-3) led 14-13 after two Collin Chiverton free throws with 8:06 left in the first half. That gave the junior wing seven points. But Eastern's leading scorer, averaging 15.7 points coming in, picked up his second and third fouls in the next 61 seconds and sat the rest of the half. From the EWU lead until intermission, WSU (4-4) limited the Eagles to three baskets, breaking to a 41-25 advantage. And then they turned Enquist loose. "He was outstanding," WSU coach Ken Bone said of the fifth-year senior who has been on-and-off scholarship throughout his career. "Not a whole lot else to say. He was just very good." Not only did Enquist post his first career double-double in a career-high 31 minutes, he made all but one of his eight shot attempts and 6 of 8 free throws. He had 14 points and nine rebounds in the second half. "I'm pretty sure almost every point I scored was dished off from my teammates," he said, deflecting any praise. "They would drive, my man would pick them up and then I just finished. That's all I had to do." Enquist, along with redshirt freshman Dexter Kernich-Drew (10 points, five rebounds), sophomores Patrick Simon (three points, four rebounds) and Will DiIrio all had to play more because WSU was missing four key parts. Forward Abe Lodwick has been out all season with a broken bone in his foot. Guard Mike Ladd has missed the last three games with a sprained thumb. And guard Faisal Aden, the Cougars leading scorer at 16.3 points per game, was on the bench with a concussion suffered Wednesday against Grambling but not discovered until Friday. Add in the indefinite suspension Bone handed 6-10 junior college transfer D.J. Shelton for undisclosed "inappropriate conduct," and the Cougars were not fully stocked. But it certainly didn't seem to hurt their defense. "We were very aware, very alert what was going on, on the floor," Bone said. And the guy the Cougars were most aware of was Chiverton. "He's a prolific scorer and he's proven that almost every game," Bone said, "and I think our guys did a nice job of knowing where he was at, at all times. With Marcus Capers taking the lead, WSU held Chiverton to 3-of-11 shooting and 12 points in 19 minutes. "Chiverton obviously has some great skill but is still learning the difference between a great shot and any shot," said first-year Eastern coach Jim Hayford. "That's up to me to teach him that difference." "When you can eliminate the opposite team's best player, it usually messes around with their whole structure," Motum said, and that seemed to be the case. The Eagles, who haven't won in Pullman since 1952, broke down offensively, finishing 15 of 59 from the floor (25.4 percent) and missing 19 of 23 3-point attempts. "When you are playing on the road and adversity is coming at you, that's when you have to come together and be more cohesive, more unified," Hayford said. "And we obviously splintered." Point guard Cliff Colimon was 1 for 11 shooting, Ederaine, 1 for 8. Eastern had just four assists on its 15 baskets. "You look at those three guys there and that's 5 for 29," said Hayford. "I don't think 24 misses is shot selection. I think the majority of it is Washington State's defense." As good as the Cougars' defense was, they still put themselves in harm's way by not taking care of the basketball. Despite having four players in double figures, despite winning the rebound battle 45-29, despite moving the ball around for 16 assists, they made everything tougher with 21 turnovers. "We made a great effort to share the ball," Bone said. "Unfortunately, we shared it with both teams. That's disappointing." The biggest offender was point guard Reggie Moore, whose 15 points – Bone said with all the injuries he asked him to shoot more – and four assists were offset by nine turnovers. "(I) never thought we could beat any team by 20 or so points and have 21 turnovers," Bone said. "And there are not a lot of teams on our schedule we're going to be able to do that against." Unless of course Enquist continues to put up 20 and 13. "It's always nice to see a guy get rewarded," Bone said. "He's a very hard worker, he's a great team guy and you just like to see guys like that have good games and have success."
Local journalism is essential.
Give directly to The Spokesman-Review's Northwest Passages community forums series -- which helps to offset the costs of several reporter and editor positions at the newspaper -- by using the easy options below. Gifts processed in this system are not tax deductible, but are predominately used to help meet the local financial requirements needed to receive national matching-grant funds.
Subscribe to the sports newsletter
Get the day's top sports headlines and breaking news delivered to your inbox by subscribing here.
---