Sports
Moore's shot lifts WSU over Idaho
Thu., Dec. 8, 2011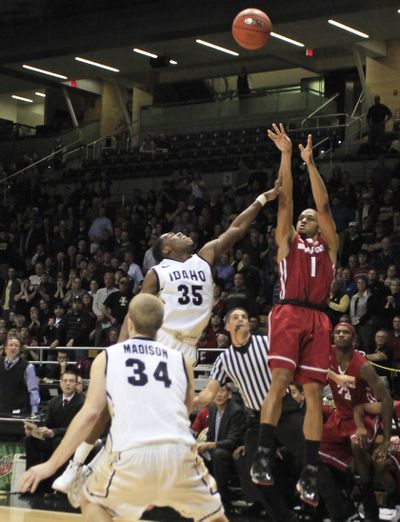 MOSCOW – Reggie Moore calmly buried a 20-foot jumper with what turned out to be 0.9 seconds left, lifting Washington State to a 66-64 nonconference basketball victory over the University of Idaho at the Cowan Spectrum on Wednesday night.
With the score tied at 64 following Landon Tatum's 5-foot jumper over Moore with 23.5 seconds left, WSU coach Ken Bone called timeout.
"We tried to run a (play) and DaVonté (Lacy) got it … and he made the right decision," Bone said. "Nothing was there, so he got it back to Reggie, they cleared out of the way and let Reggie make a play."
The junior, in the midst of his most aggressive offensive game of the season, did just that.
"I was open and Charlie (Enquist) hit me, and I think I took one or two dribbles left and I just pulled up," Moore said.
Despite Deremy Geiger's best defensive efforts, Moore's jumper fell through as the clock expired.
"I felt like we had that shot pretty well guarded," Idaho coach Don Verlin said, adding he was actually worried Geiger had fouled Moore.
He hadn't. But the officials checked the video replay and put 0.9 seconds on the clock. The Vandals tried to entice D.J. Shelton – back after a one-game suspension – into a foul on the inbounds play, failed and finally had to settle for Tatum's half-court heave that missed everything.
"I thought we played hard, hard enough to win," Verlin said after the Vandals dropped to 4-4. "But when it came time to make the winning play, they did."
And he knew Moore was the guy to do it.
"He's an All-Pac-12 type of player, and he made the shot," Verlin said.
With the Cougars still without three key players – Abe Lodwick (foot), Mike Ladd (thumb) and Faisal Aden (concussion) – Moore was attacking from the opening tip. He finished 7 of 17 from the floor (1 of 6 beyond the arc) for a team-high 15 points along with seven assists and just three turnovers.
The Cougars finished with 14 turnovers after having six in the first 7 minutes.
"I do think the guys tried to take care of the ball tonight, but early on we were very careless," Bone said.
WSU moved to 5-4 with its third consecutive win.
With WSU taking care of the ball, it moved out to a 35-25 halftime edge, with only the 11 points from UI's Stephen Madison – he finished with 18 on 7-of-10 shooting – keeping the Vandals within shouting distance.
But after pulling even at 45 midway through the second half, the Vandals turned the ball over on four of five possessions and WSU stretched the lead back to seven at 54-47. The lead was down to five – 64-59 – with 1 minute, 42 seconds left, when Geiger nailed a 3-pointer over Dexter Kernich-Drew, who had done the same just a minute earlier.
With a two-point lead and less than a minute left, Moore tried to attack Geiger with the dribble and a pull-up jumper. The senior guard stripped him, grabbed the ball and was fouled. That led to Tatum's tying jumper. But WSU had time – and Moore.
"I told Dexter, 'If you give me the ball, I'll make it,' " said Moore, who until this year usually served as a conduit for Klay Thompson late in games. "I really don't care where. As long as I get it, I'm good."
Local journalism is essential.
Give directly to The Spokesman-Review's Northwest Passages community forums series -- which helps to offset the costs of several reporter and editor positions at the newspaper -- by using the easy options below. Gifts processed in this system are not tax deductible, but are predominately used to help meet the local financial requirements needed to receive national matching-grant funds.
Subscribe to the sports newsletter
Get the day's top sports headlines and breaking news delivered to your inbox by subscribing here.
---