Sports
Leach followed uncommon route on journey to football success
Sat., Dec. 10, 2011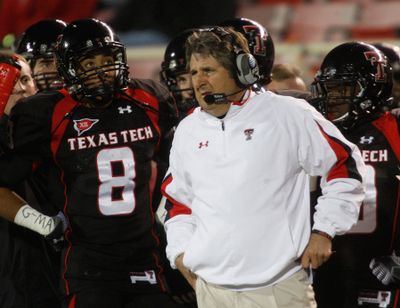 PULLMAN – Mike Leach is the Saab of modern football coaches. He's anything but ordinary. Not ordinary in the way Washington State's newest football coach will attack defenses. Not ordinary in how his former school, Texas Tech, won football games, 84 in 10 years, more than any coach in the school's 86-year history with the game. And, most important, not ordinary in the path Leach, 50, took to his present position. "I had just gotten out of law school when I started coaching football," Leach said this week, a couple of days after accepting WSU's $11.25 million, five-year offer, "and I viewed it like any other trade. You learn and you develop your skills. From law school I figured, not just me, but anybody can learn whatever they apply themselves to. "I knew it was going to be long hours, hard work and I knew I that I would start from behind. But I did think I had the ability to learn." Leach did learn, despite being one of just a handful of major college football coaches who never played college football. Although that wasn't his plan when he left Cody, Wyo., for Provo, Utah, and Brigham Young University. "I had it in my head I was going to be an attorney, which is kind of inexplicable when you consider I didn't have any attorneys in my family or any of that," Leach said. It's not that Leach didn't play football. He did in high school, but broke his ankle his senior year, assuring he would attend BYU for academics, not athletics. "You can play football somewhere, there are so many levels, anyone can," Leach said. "But I did respect the academics at BYU, and that was important to me. There were days that I wished I had played, but by the same token, I was consistently in sports and had a level of competition." That competition came through rugby, the sport Leach took up at BYU after his leg healed. The BYU team was "at least as far as the college division, we played on the national level, we were one of the best teams in the country," Leach said, admitting he was a bit undersized until growing later in college. "I definitely learned some things just as far as coaching concepts and stuff from (rugby), there's no question," he said. And he began to learn about the passing game while watching LaVell Edwards' BYU teams play. It was the late 1970s, the golden age of the Cougars' offense, with quarterbacks Marc Wilson, Jim McMahon and Steve Young all passing through Provo while Leach was in school. "I watched it all the time," Leach said. "I was always interested in coaching. It started when I was 15 and I started coaching Little League baseball. "I actually had a file where I would keep (coaching) stuff in. It was always football- and baseball-related, but sometimes it was kind of a philosophy or teaching item. I just kept thoughts or plays in it." That was the beginning of Leach's coaching strategy – and his theory of offense. That theory began at BYU, of course, but was really refined at Iowa Wesleyan, Valdosta State and Kentucky, all spots Leach worked with current McMurry University head coach Hal Mumme. "You want to attack the whole field and you want to utilize all your personnel, and your plays should put you in a position to do that," Leach said, summarizing an offensive attack that features a true spread look and passing on almost every play. "In other words, I want to get the ball in every skill players' hands. I want to utilize all of them." Leach added one player might be better than the rest and he would receive a greater emphasis, but without balance the defense would just make "a beeline to your key player or two." Asked if he thinks he coaches differently than his peers, Leach answers yes, with a qualifier. "Everybody does, to a point," Leach said. "But I think the guys who do a good job of it kind of have a core of beliefs. They have a sense of what they are trying to accomplish and, specifically, how they are going to try to accomplish it, because if you are all over the map, then you're really not executing things, you're just … trying to fool the other guy." Leach tried to fool himself into becoming a lawyer, even graduating from Pepperdine University's law school in 1986. But by then he knew law wasn't right, coaching was. So he and his wife, Sharon, traveled up the California coast to San Luis Obispo, where he worked for $3,000 a year. "I probably did," answered Leach when asked if he dealt with any prejudice because he hadn't been a college player. "I'm not real conscious of it. I didn't worry about it very much." Through his coaching journey that led last week to Pullman, Leach expanded that file he started so many years ago. But probably nowhere in there was a note on how to deal with the situation that led to his dismissal at Texas Tech following the 2009 regular season. Leach, in the midst of the most successful tenure Texas Tech had experienced, signed a reported five-year, $12.7 million extension after his Red Raiders had posted an 11-2 record in 2008. But the negotiations had been acrimonious at times. When a controversy over Adam James, son of ESPN commentator – and former SMU and NFL running back – Craig James, exploded concerning the younger James' treatment following a concussion, Leach was dismissed. The James family charged Leach ordered Adam to stand in an equipment shed during practice. The school sided with the family and demanded Leach apologize. He refused – later saying he never ordered James into the shed and that Craig was upset by his son's lack of playing time – and was fired. The firing has led to lawsuits – Leach has sued the school and ESPN – and also to questions at his WSU introductory press conference. "It's well documented that was a complete lie," Leach answered when queried about the incident and its possible effect on future recruiting. "The matter of fact, the other side of it is, I think it will be extremely clear you earn your job on the field," and no pressure from outside will earn a player an advantage. "The other thing is, if there are lies and falsehoods perpetrated, and things like, those aren't going to be tolerated either," Leach added. "We're going to have the integrity to stand up to those things." It's obvious Leach was ready for the question and it's also obvious he's ready to get back into coaching. The past 25 years prepared him for it. Not only did he develop some outlier ideas, he also came to understand the game's essence hasn't evolved much since the days of leather helmets and the single-wing. "One thing that has never changed, is the most important thing you do on offense is block," Leach said. "The most important thing you do on defense is tackle." But that knowledge, and the knowledge that helped his Tech teams lead the nation in passing a majority of his 10 years in Lubbock, all came through years of trial and error. There was no college-playing experience to draw upon – or be confined by. "Not being in the middle of it as much as some," Leach said, "there was a certain amount of learning what's to be accomplished and what's the best way to accomplish it? "As I'm studying it, it would roll through my mind, why don't we just do it this way? Sometimes they were good ideas and sometimes they were pretty stupid. And I learned why they were so dumb." Even when Leach is ordinary, he isn't.
Local journalism is essential.
Give directly to The Spokesman-Review's Northwest Passages community forums series -- which helps to offset the costs of several reporter and editor positions at the newspaper -- by using the easy options below. Gifts processed in this system are not tax deductible, but are predominately used to help meet the local financial requirements needed to receive national matching-grant funds.
Subscribe to the sports newsletter
Get the day's top sports headlines and breaking news delivered to your inbox by subscribing here.
---