Sports > Outdoors
State acquiring land near Grande Ronde
2,200-acre parcel OK'd; WDFW targets more
Sun., Dec. 11, 2011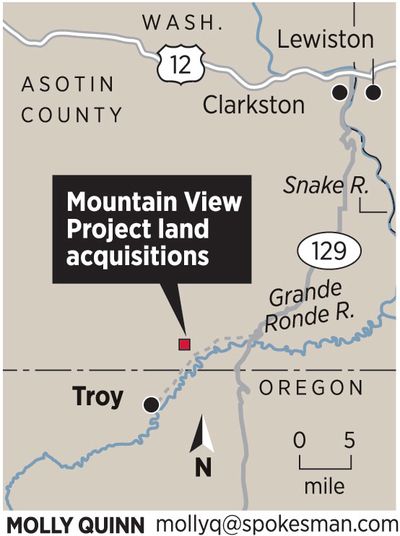 The public and wildlife soon will be sharing a chunk of an elk-friendly ranch and Grande Ronde River access in southern Asotin County. The 2,200-acre parcel bordering the river was approved for acquisition Saturday by the Washington Fish and Wildlife Commission.
The land – southwest of Washington State Route 129 and accessible from the Grande Ronde Road between Boggan's Oasis and Troy, Ore. – will be the first phase of what is planned to be an even larger acquisition over about 10 years. The plan is the result of negotiations with landowner Milton (Mike) Odom II and the 4-0 Livestock and Land Company LLC.
The area is tentatively being called the Mountain View Project, said Bob Dice, Washington Fish and Wildlife Department wildlife area manager in Clarkston.
The acquisition brings the total acreage in the Blue Mountains Wildlife Area Complex to more than 68,000 acres, Dice said.
Other units in the complex include the Chief Joseph, Asotin Creek and Wooten wildlife areas.
Purchase of the 2,200-acre 4-O Ranch property and initial maintenance was funded by a $4.2 million grant from the Washington Wildlife and Recreation Program the state Legislature had approved last session.
More than 6,000 acres were originally targeted for the first purchase, but after appraisals, the appropriation would cover only a third of that proposal, said Brian Trickel, the agency's regional land manager.
Cougar Creek Road provides access to the area, but other public access details have not yet been worked out, Trickel said. This first-phase purchase includes land from Cougar Creek southwest to the Oregon border.
"This area has a tremendous diversity of wildlife species, from birds to large ungulates," Trickel said.
The habitat ranges from the Grande Ronde River at 1,550 feet elevation up to the high ridges at more than 4,400 feet.
Elk reside in the area year-round.
"We'll likely be negotiating the land configurations for another month or two before the deal is signed," Trickel said.
Depending on future funding, the rest of the 12,000-acre ranch to the west of the initial acquisition could be purchased in six phases over about 10 years, he said.
The property is unique because the landowner managed it for maximum wildlife values, "and he had a lot to work with," Trickel said.
Local journalism is essential.
Give directly to The Spokesman-Review's Northwest Passages community forums series -- which helps to offset the costs of several reporter and editor positions at the newspaper -- by using the easy options below. Gifts processed in this system are not tax deductible, but are predominately used to help meet the local financial requirements needed to receive national matching-grant funds.
Subscribe to the sports newsletter
Get the day's top sports headlines and breaking news delivered to your inbox by subscribing here.
---