News > Spokane
Wind power helps keep Maryhill Museum in business
Sun., Dec. 11, 2011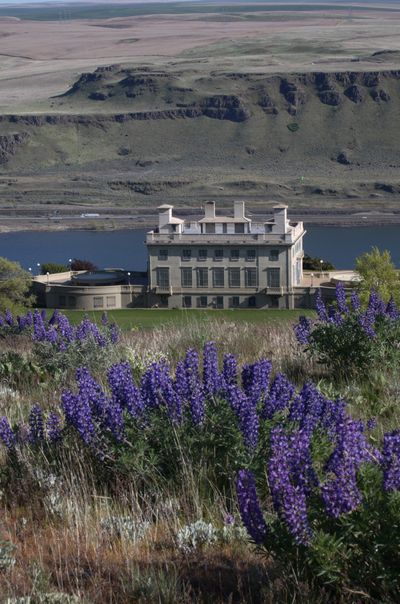 Wind turbines help the Maryhill Museum of Art host eclectic exhibits as diverse as Native American basketry, French fashion, and sculptures and sketches by Auguste Rodin.
The museum south of Goldendale, Wash., earned about $245,000 this year in lease payments from Cannon Power Group, which operates 15 wind turbines on land owned by Maryhill.
Admission rates don't begin to cover the museum's costs, so the extra revenue is a welcome addition to Maryhill's $1.3 million operating budget, said Colleen Schafroth, the museum's executive director.
Sam Hill, the railroad tycoon who built the chateau-style home in the early 1900s and turned it into a museum, also left the museum 5,300 rocky acres along the Columbia River. Maryhill earned modest sums from grazing leases before Cannon Power approached the museum's board of directors several years ago. Some of the ranching leases continue, with the wind turbines using only a portion of the land, Schafroth said.
Cannon Power's turbines aren't visible from the museum's grounds, though turbines on neighboring property can be seen. Schafroth thinks that Hill – an advocate of the Columbia River Highway and hydropower development – would have approved of the turbine lease.
"He was a very progressive kind of person," she said. "I think that wind would have fascinated him."
Becky Kramer
Local journalism is essential.
Give directly to The Spokesman-Review's Northwest Passages community forums series -- which helps to offset the costs of several reporter and editor positions at the newspaper -- by using the easy options below. Gifts processed in this system are not tax deductible, but are predominately used to help meet the local financial requirements needed to receive national matching-grant funds.
Subscribe now to get breaking news alerts in your email inbox
Get breaking news delivered to your inbox as it happens.
---