News > Spokane
Jensen-Byrd building buyers will tear it down
Thu., Dec. 15, 2011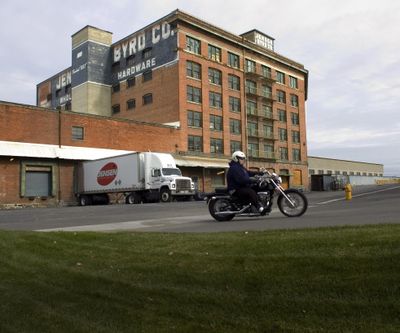 The 102-year-old Jensen-Byrd building at the east end of downtown Spokane will be torn down by its new owner, a Texas company that plans to build student housing on the site, an official of that company said Wednesday.
Washington State University sold the building to Austin-based Campus Advantage for $2.85 million, turning down a competing offer for the same amount from Spokane developer Ron Wells, who said he would have preserved the historic building.
WSU officials said Campus Advantage's offer made more financial sense. Wells' project would have required WSU to give him a nine-month window to line up financing and complete the process of establishing possible tax credits.
The Campus Advantage offer "was a cleaner deal for us," said Mel Taylor, WSU's executive director of real estate. The Wells offer would have meant another waiting period, while the one from Campus Advantage was straightforward and assured the university that the entire building would be used for student housing, Taylor said.
Wells' proposal was similar to the one he provided to WSU in 2008; both involved upper-level high-end apartments, with student apartments on three middle floors of the six-story building. He proposed office and retail spaces on the ground level of the former warehouse near the WSU Spokane campus.
Wells called Campus Advantage's plan to tear down the building "disappointing."
"That's one building I will hate to see go," he said.
Taylor said WSU officials consider it a priority to add new and affordable student housing in the University District east of downtown.
In addition, Taylor said, WSU is currently trying to raise about $1.45 million to push forward with plans to add a second-year medical education program in Spokane. Taylor said WSU needs to raise those funds before the school can go to the Legislature and request additional money for the program.
"So we got both benefits: cash from Campus Advantage for the biomedical program, and we're getting 400 student beds as well," Taylor said.
Scott Duckett, a vice president with Campus Advantage, said the company plans to demolish the building starting next summer. It expects to spend about $25 million on the new building, which is expected to have about 125 student units, with beds for about 425 students.
Units will be either 2- or 4-bedroom rentals that range from $500 to $600 per person monthly, he said. The cost will cover all utilities including cable and Internet.
Duckett said the company tried to find a way to preserve the Jensen-Byrd building but failed to find a workable plan. He said the interior's closely spaced pillars and low ceilings make it difficult to use for residential units, and converting the structure would have left the company with half as many units as it wanted there.
Duckett said Campus Advantage realizes many area residents consider the building historically significant. The company intends to reuse bricks for the walls of the new building. It also plans to reuse some interior beams in common areas and in some of the recreation spaces planned inside the new building.
Matt Cohen, president of Spokane Preservation Advocates, said the Texas company and WSU are both failing to see the long-term advantages of renovating the Jensen-Byrd building.
"They're missing an opportunity here," said Cohen, who is also an associate professor of architecture at WSU Spokane's campus. "Preserving bricks is not the same as historic preservation."
The WSU Foundation bought the building in 2001, then leased it to Jensen-Byrd, which used it as a warehouse until 2004. In 2004 it was sold to WSU; it's been vacant since.
In 2005 and again in 2008, WSU officials requested developers to come up with viable offers for converting the 4.25-acre property. An initial plan by a Spokane architecture firm and a contractor fell apart in early 2008. Later that year a Denver company was chosen by WSU after it offered to build a medical complex on an adjoining undeveloped section of the property, then convert the Jensen-Byrd building later. Wells' first offer to develop the building occurred during the 2008 bid process.
The failure of the 2005 and 2008 projects was a factor that influenced the regents selection of Campus Advantage, said WSU's Taylor. "We tried twice before to make something work, and it didn't take," Taylor said.
Local journalism is essential.
Give directly to The Spokesman-Review's Northwest Passages community forums series -- which helps to offset the costs of several reporter and editor positions at the newspaper -- by using the easy options below. Gifts processed in this system are not tax deductible, but are predominately used to help meet the local financial requirements needed to receive national matching-grant funds.
Subscribe now to get breaking news alerts in your email inbox
Get breaking news delivered to your inbox as it happens.
---