Sports
In brief: Oral Roberts tops depleted Musketeers
Mon., Dec. 19, 2011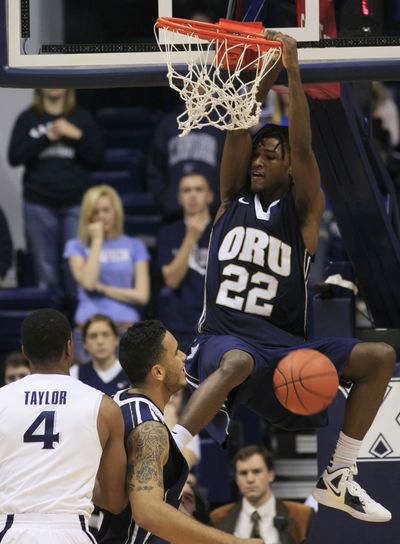 Men's basketball: Oral Roberts doesn't mind the asterisk that will get attached to this one.
Dominique Morrison scored 19 points Sunday in Cincinnati, leading the Golden Eagles (8-4) to a 64-42 victory over previously unbeaten Xavier, which couldn't do much with three of its starters sitting on the bench because of suspensions.
The eighth-ranked Musketeers (8-1) didn't have point guard Tu Holloway, shooting guard Mark Lyons or freshman forward Dez Wells, who account for 40 percent of their points. The trio was suspended for a brawl eight days earlier against crosstown rival Cincinnati.
Junior guard Brad Redford and freshman point guard Dee Davis made their first career starts for the Musketeers, who were missing their top two scorers in Holloway (17.6 points) and Lyons (17.4). Davis had 10 points, Redford two.
Xavier center Kenny Frease played with a prominent cut and bruise below his left eye, caused by a punch from Cincinnati's Yancy Gates during the brawl. Frease needed seven stitches. He finished with four points on 2 of 9 shooting.
Frease had Xavier's first field goal, a bank shot that fueled a 5-1 opening spurt against Oral Roberts, which was coming off a 67-61 loss at Gonzaga on Thursday night.
Versteeg steers Panthers to OT win
NHL: Kris Versteeg scored 3:08 into overtime, giving the Florida Panthers a 3-2 victory over the Carolina Hurricanes in Sunrise, Fla.
Stephen Weiss' shot from in front was blocked, but Versteeg found the loose puck and swept it in from the left side of the crease for his team-leading 16th goal of the season.
Sean Bergenheim and Jason Garrison also scored for Florida, and Jose Theodore made 24 saves.
• Hossa helps Blackhawks over Flames: Marian Hossa had a goal and an assist, and Chicago's Joel Quenneville became the 10th coach to earn 600 NHL victories as the Blackhawks beat the visiting Calgary Flames 4-2 for their fifth straight win.
Chicago vaulted past Minnesota into first place in the NHL standings with a league-leading 46 points.
Messi helps Barcelona win Club World Cup
Soccer: Lionel Messi scored twice and Barcelona beat Brazil's Santos 4-0 in Yokohama, Japan, to win its second Club World Cup in three years.
Messi, Xavi and Cesc Fabregas scored in the first half as the European champions won its 13th trophy under coach Pep Guardiola, solidifying its stature as the best club team in the world.
Westwood earns victory in Thailand
Golf: Lee Westwood completed a wire-to-wire victory in the Thailand Golf Championship in Bangkok, shooting a 3-under 69 in windy conditions to beat Masters champion Charl Schwartzel by seven strokes.
The third-ranked English star finished at 22-under 266 at Amata Spring Country Club. He opened with rounds of 60 and 64 and shot a 73 on Saturday in the Asian Tour event.
Schwartzel closed with a 72.
Rookard, Kuck win long track titles
Speedskating: Jilleanne Rookard and Jonathan Kuck won long-distance races in West Allis, Wis., to wrap up their first U.S. speedskating allround long track championships.
Rookard, a 2010 Olympian from West Allis, posted a time of 7 minutes, 8.58 seconds to win the 5,000-meter race. She also won the 3,000 on Tuesday on the first of five days of racing in the U. S. championships.
Kuck, who is from Champaign, Ill., captured the 10,000 with a Pettit National Ice Center track record time of 13:17.28. He shaved almost five seconds off the record of 13:22.93 set by Olympic medalist Chad Hedrick on October 24, 2005. Kuck also won the 5,000 on Tuesday.
The titles were determined on the skater's combined times for five races. Rookard's winning total was 165.138 and Kuck's 150.845.
Schild dominates Courchevel slalom
Skiing: Marlies Schild dominated her rivals and the treacherous Courchevel (France) course to win her second straight slalom race of the season, setting her up perfectly for a hat trick bid on home snow next week in Austria.
Schild won by more than a second in Aspen, Colo., last month, and this time her margin of victory was even greater. She finished 1.87 ahead of Finland's Tanja Poutiainen and a massive 2.19 clear of Austria's Kathrin Zettel.
• Ligety falls to fourth at Gran Risa: Massimiliano Blardone of Italy won the Gran Risa giant slalom in Alta Badia, Italy, in a combined time of 2 minutes 46.49 seconds.
American Ted Ligety led after the opening run but finished fourth, 0.58 seconds behind Blardone.
Baron Davis expected to join Knicks
NBA: Point guard Baron Davis is expected to sign with the New York Knicks today, a person with knowledge of his plans told the Associated Press on condition of anonymity because there won't be an announcement until the signing is official.
Davis was waived last week by Cleveland and designated as their amnesty player. He was not claimed and chose the Knicks, who are seeking more backcourt depth after waiving Chauncey Billups with the amnesty clause. New York had already signed another veteran point guard, Mike Bibby.
ESPN.com first reported Davis' intentions.
It's unknown when Davis will play, as he's been sidelined all preseason by a bulging disc in his back. But he'd be worth the risk if healthy, especially since the Knicks can only offer him at most the new two-year exception that would pay him $2.5 million in the first year.
• Pacers to send Rush to Golden State: The Indiana Pacers will trade guard Brandon Rush to the Golden State Warriors for forward Louis Amundson.
The Bay Area News Group first reported the deal. Mark Bartelstein, the agent for both players, confirmed the move.
Local journalism is essential.
Give directly to The Spokesman-Review's Northwest Passages community forums series -- which helps to offset the costs of several reporter and editor positions at the newspaper -- by using the easy options below. Gifts processed in this system are not tax deductible, but are predominately used to help meet the local financial requirements needed to receive national matching-grant funds.
Subscribe to the sports newsletter
Get the day's top sports headlines and breaking news delivered to your inbox by subscribing here.
---
Subscribe and log in to the Spokesman-Review to read and comment on this story