Sports
Baylor tops West Virginia in overtime
Sat., Dec. 24, 2011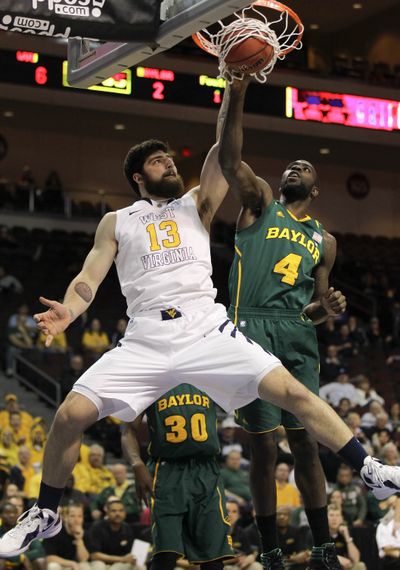 Men's basketball: Pierre Jackson scored eight consecutive points during regulation and overtime to lift No. 6 Baylor to an 83-81 victory over West Virginia on Friday night in the Las Vegas Classic championship game.
Jackson finished with 23 points while Brady Heslip added 19 and Quincy Acy had 15.
Baylor (12-0), one of six unbeatens in Division I, tied the game at 76 on Jackson's 3-pointer with 18 seconds left in regulation.
The Bears led 83-78 with 2:02 left in overtime following another 3 by Jackson and field goals by Gary Franklin and Acy.
Jabarie Hinds' 3-pointer brought the Mountaineers (9-3) within 83-81, but his shot at the buzzer fell short of the rim.
• Wagner stuns 15th-ranked Pittsburgh: Latif Rivers scored all 18 of his points in the second half – including six critical free throws in the final minute – to lead visiting Wagner to a stunning 59-54 victory over No. 15 Pittsburgh.
The Seahawks (8-3), who won their first game over a ranked opponent since knocking off then-15th-ranked Alabama on Nov. 24, 1978.
Pitt (11-2) saw its nine-game winning streak snapped.
• No. 4 Louisville rallies to beat W. Kentucky: Russ Smith scored 23 points and No. 4 Louisville (12-0) overcame a sleepy start and rallied from an eight-point deficit in the second half to beat Western Kentucky (4-9) 70-60 in Louisville, Ky.
• Long Beach State tops Auburn: Larry Anderson scored 16 points, and Eugene Phelps and Casper Ware added 13 each as coach Don Monson's Long Beach State 49ers (7-5) beat Auburn (8-2) 64-43 in the semifinals of the Diamond Head Classic at Honolulu.
Duchene's goal lifts Avs past Lightning:
NHL: Matt Duchene scored late in overtime and Jean-Sebastien-Giguere stopped 29 shots to lead the Colorado Avalanche over the Tampa Bay Lightning 2-1 in Denver.
Ryan O'Reilly also scored for Colorado. Mathieu Garon had 27 saves and Pavel Kubina scored for Tampa Bay.
• Ruutu scores in OT as Hurricanes beat Senators: Tuomo Ruutu tipped in Jay Harrison's slap shot in overtime, lifting the Carolina Hurricanes past the Ottawa Senators 2-1 in Raleigh, N.C.
Andreas Nodl scored for Carolina and Filip Kuba for Ottawa in regulation.
• Kovalchuk, Elias lift Devils over Caps in SO: Ilya Kovalchuk and Patrik Elias scored in the shootout and Martin Brodeur made an outstanding glove save on Alex Ovechkin as the New Jersey Devils, after blowing a three-goal lead in the third period, beat the Washington Capitals 4-3 in Newark, N.J.
• Lundqvist, Rangers top Flyers, take over top spot: Henrik Lundqvist made 28 saves in his second win over powerful Philadelphia this season, and rookie defenseman Stu Bickel had two assists for the host New York Rangers, who beat the Flyers 4-2 and moved into first place in the Atlantic Division.
Marian Gaborik added his league-leading 21st goal early in the third period for the Rangers.
Nats, A's complete Gonzalez trade
MLB: The Athletics and Nationals have completed a six-player trade that sends All-Star pitcher Gio Gonzalez from Oakland to Washington.
The deal was announced after the players involved passed physicals.
The Nationals get Gonzalez and minor league right-hander Robert Gilliam in exchange for four players, including three top prospects: catcher Derek Norris, right-handers A.J. Cole and Brad Peacock, and left-hander Tommy Milone.
• Reds trade Wood, two others, to Cubs for Marshall: The Cincinnati Reds acquired left-handed reliever Sean Marshall from the Chicago Cubs for young lefty starter Travis Wood and two other players.
The Cubs also get 24-year-old outfielder Dave Sappelt and 19-year-old infield prospect Ronald Torreyes.
It was the second time in a week that the Reds gave up several prospects for pitching help. They earlier sent four players, including Edinson Volquez, to San Diego for starter Mat Latos.
• Fox Sports wins ruling in Dodgers bankruptcy case: Fox Sports has won a significant victory in its effort to prevent the Los Angeles Dodgers from selling the media rights to future games.
A federal judge in Dover, Del., granted Fox's request for an emergency stay of a bankruptcy court order allowing the sale process while he considers Fox's appeal of that ruling.
The judge also indicated that he likely will overturn the bankruptcy court's determination that certain protections given to Fox in its existing contract with the Dodgers were unenforceable in bankruptcy.
Local journalism is essential.
Give directly to The Spokesman-Review's Northwest Passages community forums series -- which helps to offset the costs of several reporter and editor positions at the newspaper -- by using the easy options below. Gifts processed in this system are not tax deductible, but are predominately used to help meet the local financial requirements needed to receive national matching-grant funds.
Subscribe to the sports newsletter
Get the day's top sports headlines and breaking news delivered to your inbox by subscribing here.
---