Sports
Area women's teams start conference play
Wed., Dec. 28, 2011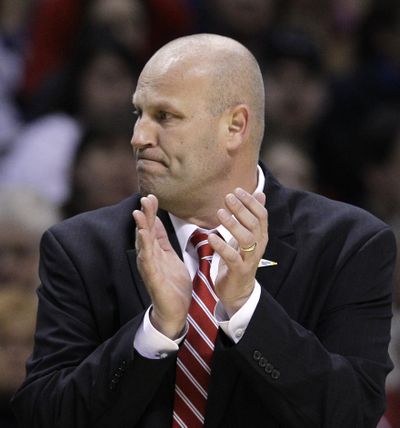 When it comes to West Coast Conference women's basketball it's all about Gonzaga.
The Bulldogs deserve it. They've won seven straight WCC titles and have a winning streak of 30 straight league games – which stretches to 36 against league opponents, courtesy of the WCC tournament.
The Zags could even throw in last year's 91-64 nonleague win over Brigham Young, which has joined the WCC.
The expanded WCC joins the Pac-12 and Big Sky in tipping off conference season before the new year, with all three area representatives playing Thursday night.
"It's a little weird having to start this early," GU coach Kelly Graves said. "This year the changing of gears is happening too soon. We better be ready."
The Bulldogs play at Portland, the last WCC team to win in Spokane.
Eastern Washington opens Big Sky play at home against Montana State, which sports the league's best record, and then Montana visits on Monday.
Washington State opens with its Oregon swing, starting with the Ducks and then going to Oregon State on New Year's Eve.
WCC: Zags' playground
BYU is just what the league needed.
"It only enhances us," Graves said. "That's what I was hoping for, another good team to help with the league résumé."
Gonzaga has a power ranking between 26 and 30 from three websites that update daily, while BYU, which is sporting a 10-game winning streak after losses to Duke and Kansas State, is between 39 and 43.
With Saint Mary's off to a strong start, the WCC is the No. 9 conference, which is a dramatic improvement for a league that used to see GU's RPI plummet during league play. With a new-style schedule, GU plays BYU twice in the final five games.
"I'm not worried about BYU, we don't play them until mid-February," Graves said. "It's kind of funny how the schedule works."
Gonzaga has four players scoring in double figures, led by Kayla Standish at 15.8 points per game, with a team best 7.0 rebounds. Katelan Redmon is at 12.5, Haiden Palmer at 13.2 and Kelly Bowen at 10.0.
"I didn't know we'd be 10-2," Graves said. "I figured there were six games that could go either way and we won four."
His two concerns heading in to league play are turnovers and shooting.
"We're way too loose with the ball and we just have to have that consistent perimeter shot," he said. "Our field-goal percent is down five or six points from where it's been."
Big Sky: EWU a dark horse
Portland State, which won the league title last year, and Montana, which won the league tournament, were picked 1-2 by the coaches.
EWU didn't get a lot of respect, coming in seventh in the vote by coaches, but so far that hasn't meant a lot.
The WCC is a good gauge. Montana and Portland State lost to Portland (by nine and eight points, respectively) but EWU and MSU beat the Pilots (by 16 and 13, respectively).
Three of the teams played at Gonzaga, with EWU losing by seven, Montana by 16 and PSU by 30.
The Eagles have shown some resolve behind seniors Brianne Ryan and Chene Cooper. Ryan leads the league in scoring (18.8) and has been explosive with six 20-point games and one of 30.
Cooper leads the league in assists at 6.9 and needs two steals to break the school career record. Ten more assists will give her 400 career assists and 200 steals.
Pac-12: Cougs moving up?
It's been a strange preseason.
The league is 89-35 in non-league games but is just 3-13 against ranked teams and 10-18 against the other five BCS conferences.
UCLA and USC, which were in some preseason Top 25s, are the bottom two teams, and Colorado, which figured to be the weaker of the two newcomers with Utah a traditionally solid team, is undefeated. The only loss for Arizona was to BYU.
Colorado and Arizona were both picked to finish behind the Cougars.
Washington State should be well-prepared, having played four ranked teams, the most among league teams, including fourth-ranked Stanford, which does not travel to Pullman this year with the new unbalanced schedule.
The Cougars gave all four ranked teams a good run, losing late at home against Louisville and Gonzaga and fading a little more in the second half at Penn State and Ohio State.
WSU has five players averaging between 7.6 and 9.5 points a game, with Ireti Amojo leading the way.
Stanford remains head and shoulders above the league. The Cardinal lost to Connecticut but whipped Tennessee just before Christmas.
On tap
Montana and Montana State usually travel together, but while the Bobcats are at Eastern on Thursday night to open league play the Grizzlies are hosting their own holiday tournament rather than playing at Portland State. Idaho (4-8) is part of that round-robin tournament. The Vandals won't play the Griz, who they met last month in Missoula. They will face North Dakota (6-6) on Thursday, then the Fighting Sioux visit Moscow on Tuesday. On Friday UI plays Southern Mississippi (5-6). … Gonzaga plays its last nonleague game when it plays host to Saint Francis of Pennsylvania on New Year's Day at 2 p.m. The Red Flash of the Northeast Conference are 5-5 heading into the Seattle U tournament this week.
Tip-ins
In a recent two-point home loss to Ohio State, California sophomore Gennifer Brandon had 24 points and 24 rebounds. The rebounds set a record for Cal's Haas Pavilion and was one shy of the league mark. … Katelyn Loper (Post Falls) scored 14 points as Hofstra beat Central Connecticut and Marist to win its own New York Life Holiday Invitational last week, earning all-tournament honors. … Washington senior Regina Rogers leads the nation in shooting at 71.1 percent. … In the Pac-12, 11 teams are allowing 62.3 points or less, led by Utah's 51.5, and all 12 average more than 63 points. Oregon gives up 77.9. … Oregon State's 75.5 average on offense is more than 20 points better than last year. … WSU has averaged 2,016 fans for its four home games, which is fourth in the league. Stanford leads at 4,254. … Gonzaga leads the WCC with 4,978 fans a game, BYU is at 1,128. … Saint Mary's freshman Carli Rosenthal (Coeur d'Alene) is fifth in the WCC in rebounding at 7.2 a game, with 4.1 of those being offensive rebounds, which is second in the league. … Montana's Katy Baker (Coeur d'Alene) leads the Big Sky in blocked shots at 2.0.
Local journalism is essential.
Give directly to The Spokesman-Review's Northwest Passages community forums series -- which helps to offset the costs of several reporter and editor positions at the newspaper -- by using the easy options below. Gifts processed in this system are not tax deductible, but are predominately used to help meet the local financial requirements needed to receive national matching-grant funds.
Subscribe to the sports newsletter
Get the day's top sports headlines and breaking news delivered to your inbox by subscribing here.
---