News > Spokane
Spokane's new mayor takes the reins
Sat., Dec. 31, 2011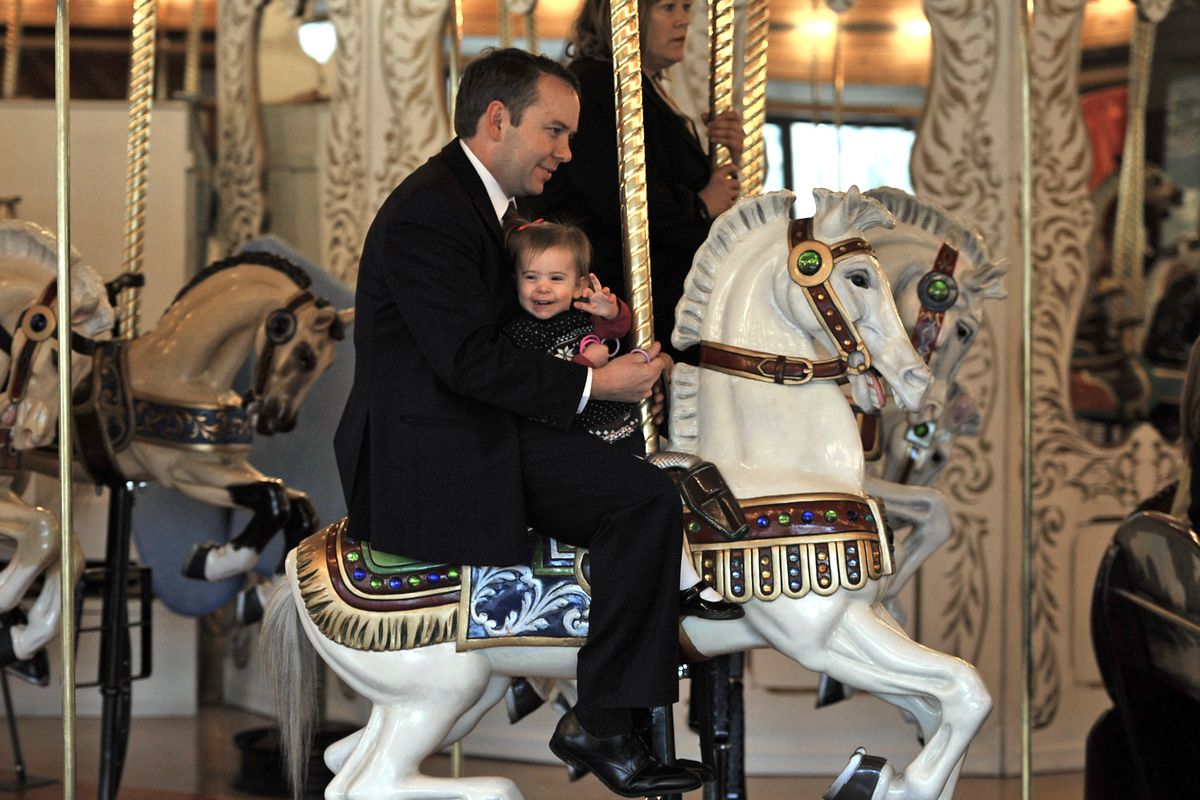 Spokane's new mayor, David Condon, celebrates with his daughter, Hattie, 1 1/2 years old, on the Looff Carrousel after a swearing-in ceremony. (Dan Pelle)
Now all David Condon has to do is wait.
After a year of researching, campaigning, debating and fundraising in what some thought was a long-shot bid to become mayor of the second-largest city in Washington, Condon took the final step required by law to take office. He took the oath to become Spokane's 44th mayor Friday morning in a short ceremony in front of the Clocktower at Riverfront Park.
Condon was sworn in with his hand on his family Bible by Spokane Municipal Court Judge Mary Logan.
In a speech lasting little more than five minutes, Condon promised to lead government that is "limited, but active in our community" and to make City Hall "collaborative, but not combative."
"All of you are my boss," he said. "I truly work for you."
He said he chose to be sworn in in front of the Clocktower – the last remains of the former Great Northern Railway Depot – to represent the city's vast history and its future.
"It has seen hardships and difficulty, booms and busts, growth and prosperity. We've turned difficult times into opportunities to shine – rebuilding after the Great Fire, hosting the World's Fair in 1974, the year I was born, and transforming this neglected area of downtown core into a vibrant place to live work and to play."
Echoing a theme he discussed in his campaign kickoff speech, Condon pointed to Bloomsday, Hoopfest and the Lilac Festival as signs that Spokane is capable of great things.
"These are the examples of what we can accomplish when the community and the city government come together," he said.
He promised to work for more partnerships with city government "to accomplish the best of what Spokane has to offer."
"Over the next four years I believe our town is a place that will encourage economic growth, embrace innovation and energize our community," he said.
Condon, whose last job was as the deputy chief of staff and district director for Republican U.S. Rep. Cathy McMorris Rodgers, has never worked in city government. His wife, Kristin Condon, who was at his side when he took the oath, is the former deputy clerk for Spokane County and has more experience in local government.
After the ceremony, Condon handed out passes to ride the nearby Carrousel and the crowd drifted to the merry-go-round for refreshments and rides.
About 150 people attended Friday's ceremony, including Councilwoman Nancy McLaughlin, who will be the longest-serving elected leader in the city as of Sunday.
"I can't get the smile off my face," said McLaughlin, who supported Condon's mayoral bid. "I feel that the citizens have put together a team for the advancement of economic development."
But Jim CastroLang, a Spokane resident and pastor of First Congregational United Church of Christ in Colville, said he has concerns about the new mayor. He attended the speech with a small group from Spokane Protest Chaplains, which is affiliated with Occupy Spokane.
"He never mentioned a single person hurting in this community," CastroLang said.
He added that he is concerned that when Condon "talks about more economic vitality, he means it for the 1 percent, not the people who don't have a voice in this community."
Councilman-elect Mike Fagan said the city's incoming leaders have "huge passion" and significantly different backgrounds and skill sets that will help them govern effectively. He noted a recent Forbes magazine article that said Spokane's employment picture looks grim for 2012.
"It's those kinds of things that are going to cause the mayor's office and council to step up," Fagan said.
Condon will become mayor Sunday.
Local journalism is essential.
Give directly to The Spokesman-Review's Northwest Passages community forums series -- which helps to offset the costs of several reporter and editor positions at the newspaper -- by using the easy options below. Gifts processed in this system are not tax deductible, but are predominately used to help meet the local financial requirements needed to receive national matching-grant funds.
Subscribe now to get breaking news alerts in your email inbox
Get breaking news delivered to your inbox as it happens.
---