News > Spokane
Senate candidates will interview under oath
Fri., Feb. 11, 2011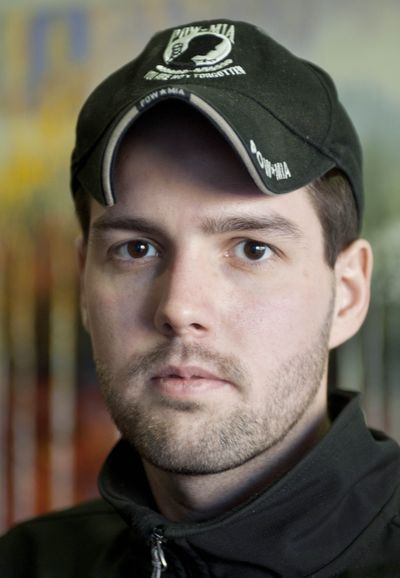 Candidates in a contentious process to fill a vacant state Senate seat will be asked to take an oath when they're interviewed today.
Spokane County commissioners hadn't planned to require sworn testimony until state Rep. Matt Shea's legislative assistant, Jim Robinson, asked Wednesday whether the interviews would be open to the public and under oath.
"I think that's a wonderful idea," Commissioner Mark Richard said in a meeting later in the day.
Richard said Robinson's question on behalf of Shea was "bizarre" and "sends up a yellow flag."
Commissioner Todd Mielke agreed. He said he had never before heard a job candidate ask such a question.
Chairman Al French said if he is to be accountable for his decision, he wants the candidates also to be accountable.
He said he would prefer a traditional "so-help-me-God" oath because "it's being suggested we are un-Christian."
Meanwhile, one of two other Spokane County Republican Party candidates for the seat vacated by 4th District Sen. Bob McCaslin has renounced the party's nomination procedures.
"We circumvented the voters," as well as precinct committee officers, candidate Roy Murry said Thursday. "Before it goes any further, we might as well come clean."
Party Chairman Matt Pederson couldn't be reached for comment.
Murry said there were several "secret" meetings – at a Perkins restaurant, at a Fred Meyer store and at a library – at which pro-Shea precinct committee officers orchestrated the vote to exclude former legislator Mike Padden.
Pro-Shea PCOs were instructed to avoid splitting their votes by voting first for Shea, then Jeff Baxter and finally Murry in a three-step process, Murry said.
He and Baxter are precinct officers. Murry has no political experience, but Baxter was an unsuccessful write-in candidate for the West Valley School Board in 2009.
Murry was severely injured by a bomb in Iraq, while serving as an Army National Guard sergeant. He said he now carries a pistol almost everywhere he goes.
Murry forfeited bail last year on a District Court charge of possessing an illegal switchblade knife. He also was recently arrested in Las Vegas, where he may be prosecuted on a firearms charge.
He acknowledged Thursday that Republicans nominated him to try to force county commissioners to choose Shea.
Murry said he was told two days before the nomination meeting that the party "needed some young blood" and he was "a viable candidate."
He now feels he was "used," but said he didn't mind when he caught onto the plan "because I perceived Matt Shea to be the will of the people."
Later, Murry said, he realized "we had been doing what I hated: back-door dealing and changing the rules."
He thinks the Jan. 15 nomination meeting was improper because it was canceled and rescheduled at another location without adequate notice.
Murry called for the party to start over and "do this legally."
Commissioners expect to interview Shea in a conference call at 1:30, but they had no formal confirmation Thursday.
Although Shea's assistant has said he couldn't leave Olympia because of pressing business, commissioners noted their lobbyist saw nothing urgent on today's schedule.
Mielke also noted that Shea gave a speech in Boise on Jan. 17.
That was Martin Luther King Jr. Day, but the Washington Legislature was in session and two of Shea's committees conducted hearings.
"I find it very interesting that he has the ability to travel to another state during the legislative session, but can't come home to interview for a position that is deemed extremely important to the 4th District," Mielke said.
Baxter and Murry have said they will appear for their interviews at 9 and 10:30 a.m., respectively.
"I figure a call from the county commissioners warrants at least showing up," Murry said.
However, he said he won't take an oath that could create a record a prosecutor might try to use against him in his pending court case in Las Vegas.
"I will answer the questions honestly insofar as they pertain to the office," Murry said.
Mielke has said he wants Shea to give an unequivocal answer to allegations by his ex-wife in divorce proceedings. She said Shea was relieved of firearms because of an anger problem while serving as an Army National Guard captain in Iraq.
Shea said in a statement last weekend that his estranged wife made outrageous charges to gain leverage, and that her attorney was "a very prominent Spokane County Democrat."
The attorney, Paul Mack, said his client swore under penalty of perjury that her allegations were true.
Also, Mack said, "I'm a Republican."
Staff writer Jim Camden contributed to this report.
Local journalism is essential.
Give directly to The Spokesman-Review's Northwest Passages community forums series -- which helps to offset the costs of several reporter and editor positions at the newspaper -- by using the easy options below. Gifts processed in this system are not tax deductible, but are predominately used to help meet the local financial requirements needed to receive national matching-grant funds.
Subscribe to the Coronavirus newsletter
Get the day's latest Coronavirus news delivered to your inbox by subscribing to our newsletter.
---