News > Washington Voices
Landmarks: Actor's murder-suicide left behind fame, forgiveness
Thu., Feb. 17, 2011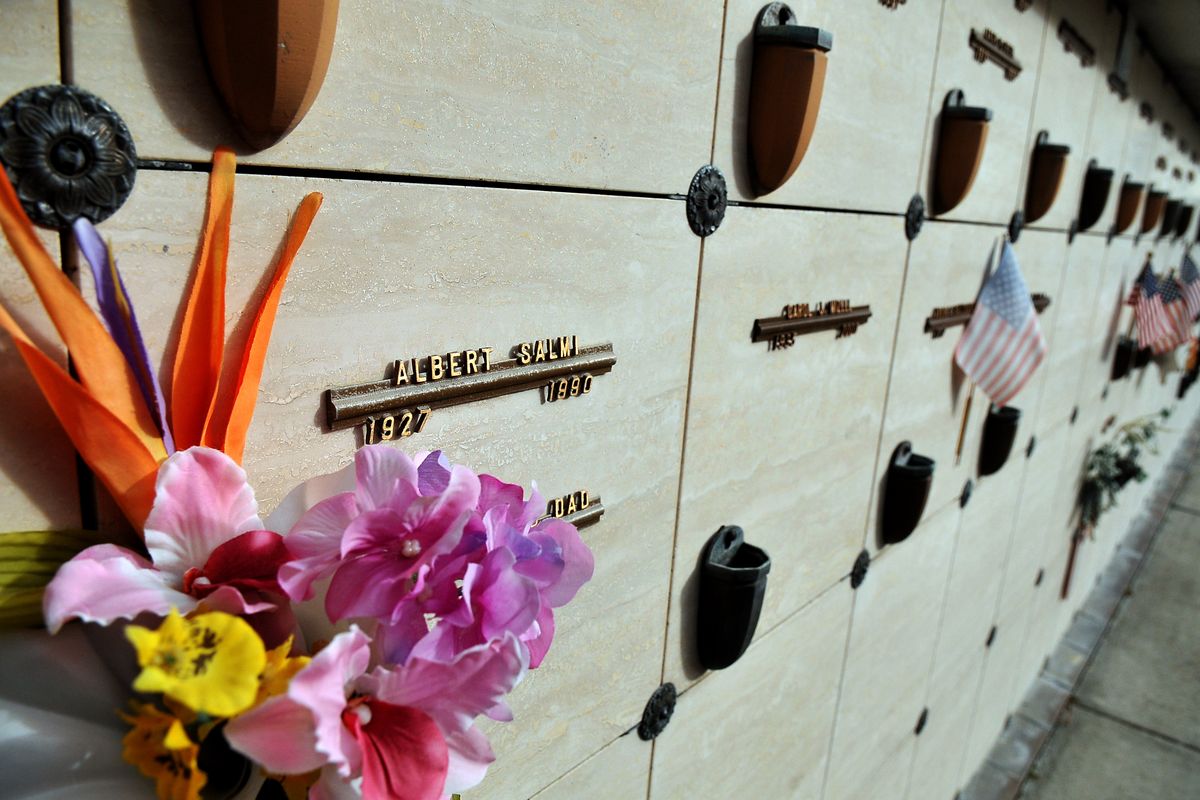 This is the final resting place of actor Albert Salmi, who played many stage and screen roles through his long career. His cremated remains are in a niche at the Greenwood Memorial Terrace. (Jesse Tinsley)
Greenwood Memorial Terrace in Spokane is the final resting place for a well-known stage, screen and television character actor. You know his face when you see it, even if his name doesn't come immediately to mind. But then, that's who a good character actor is.
Albert Salmi starred with Kim Stanley in the original Broadway production of "Bus Stop" in 1955, playing the cowboy Bo Decker. One of Salmi's daughters recalled learning that when the film version was being cast the next year, with Marilyn Monroe in the lead, Monroe begged Salmi to reprise the role. Apparently he didn't think much of film work, and refused. The role went to actor Don Murray, who went on to earn an Academy Award nomination for the performance.
Salmi was born in Brooklyn in 1928 to Finnish parents and grew up speaking Finnish. After a stint in the military, he used the GI Bill to study method acting at the prestigious Actors Studio with Lee Strasburg, moving quickly into stage work, including playing the role of the restless Westerner in the 1954 Broadway production of "The Rainmaker," starring Geraldine Page.
He moved over to live television drama and was lauded for his performance in the U.S. Steel Hour's live 1956 broadcast of "Bang the Drum Slowly." Finally he moved to film, his first role being in the 1958 "The Brothers Karamazov," for which he spurned an Oscar nomination. He made many films, working with such industry greats as Paul Newman, Burt Lancaster, Yul Brynner, George C. Scott and Robert Redford. He actively sought out Western roles, for which he largely became known, according to his daughters Lizanne Salmi and Jennifer LaRue, both of Spokane Valley.
"I think he really kind of fancied himself as a cowboy," said LaRue, who writes the Verve column for The Spokesman-Review's Voice section.
Salmi costarred in such TV series as "Daniel Boone" and "Petrocelli" and was a guest star in dozens of others, such as "Murder She Wrote," "Have Gun Will Travel," "Dallas" and "The Twilight Zone." For one episode of "Gunsmoke" in 1967, he received the Western Heritage Award from the National Cowboy Hall of Fame. This was his most prized award, LaRue said, and it is now a cherished possession in Lizanne Salmi's home.
Salmi and his wife, Roberta Pollock, raised their two daughters in Hollywood, but moved to Spokane in the mid-1980s. "He decided that once I graduated from high school, me being the youngest, they'd get out of Hollywood," said LaRue. "He hated that whole scene. We had a condo at Schweitzer, where most of our neighbors were from Spokane, so he looked for a home in Spokane."
They found one on Rockwood Boulevard on Spokane's South Hill, where Salmi loved to work in his garden and where he returned after going out on location for various acting roles. He also got involved in life in Spokane, including participation in the community's WAMPUM charity auction, and teaching some theater classes at Spokane Civic Theatre.
The Salmi sisters often visited their father on set when they were girls and sometimes appeared as extras. "I remember when he was doing an episode of 'Hart to Hart,' he knocked me over as he ran through a field, as his character was supposed to do," LaRue said. "But then it dawned on him that it was me, and with the cameras rolling, he stopped and turned back to ask me if I was OK."
On Salmi's marker, there is a simple line that reads "Our Beloved Dad," which is very much how the daughters still feel today, even considering the circumstances of their parents' deaths on April 22, 1990. That day the bodies of Roberta and Albert Salmi were found in the family home. Police determined it was a murder-suicide, with Salmi having shot his wife before taking his own life.
LaRue states that no one deserves to be murdered, but her parents both played a part in what happened. "My mother did some horrible things," she said. LaRue has been outspoken about years of abuse she suffered at her mother's hand.
There were many good things in her childhood, she added, but acknowledges that theirs was a troubled family. She remains fiercely loyal to her father, who she calls a kind man and suggests that things could have been better for him and the family if her parents had divorced when they considered it years before the incident.
Speaking of her parents, Lizanne Salmi said, "I have totally forgiven him. I loved them both."
There is a biography about Albert Salmi, "Spotlights & Shadows: The Albert Salmi Story" by Sandra Grabman, which La Rue said provides good information about his life.
Local journalism is essential.
Give directly to The Spokesman-Review's Northwest Passages community forums series -- which helps to offset the costs of several reporter and editor positions at the newspaper -- by using the easy options below. Gifts processed in this system are not tax deductible, but are predominately used to help meet the local financial requirements needed to receive national matching-grant funds.
Subscribe now to get breaking news alerts in your email inbox
Get breaking news delivered to your inbox as it happens.
---