Sports
Cougars guard coming off spate of poor shooting
Thu., Jan. 6, 2011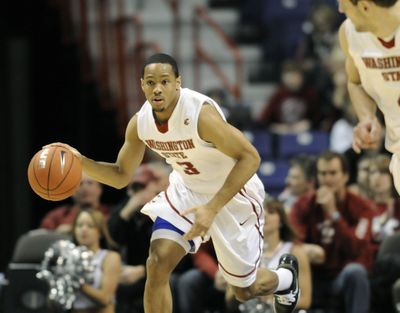 PULLMAN – It wouldn't seem as if a 10-4 college basketball team should be facing a must-win week.
But that seems to be the case for the Washington State Cougars.
"It's really important, and I'm the type of person who always likes to downplay games," said sophomore point guard Reggie Moore on Wednesday, before learning he was facing two misdemeanor marijuana charges dating back to a December search of his dorm room (See story, page B1).
"This weekend we have to win," Moore said. "It's the definition of a must-win. Not only do we have to protect the home court, but you definitely don't want to go 0-4 in league."
So the second week of Pac-10 play, which starts tonight with a 7-6 Oregon State team invading Beasley Coliseum, has added importance.
"For a team that started out 10-1, now we've lost three in a row, of which two of those were conference, it's an important stretch of the season," WSU coach Ken Bone said. "It could be a pivotal time when you look back on it a few months from now."
It's pivotal for the Cougars not just because they lost twice last weekend in Los Angeles, but because of how they lost.
At UCLA they squandered an eight-point halftime lead. At USC they shot horrendously. And at both places they didn't feature the team-first offense that helped them win 10 of their first 11.
The Cougars, who have converted almost half their shots this season, hit just 40.5 percent of them last weekend.
"I think it's better to hit a shooting slump early than late, like we did last year," said Moore, who had a hand in the weekend struggles, hitting just 3 of 18 shots with five turnovers and four assists.
It's that last number that was a sea change from early in the season. The Cougars were credited with just five assists at USC – though it seemed as if they had more – after having as many as 21 in a game this season.
"Early in the season we passed the ball and got great shots and we made those shots," Moore said. "As we kept making those shots, we felt like we could hit anything.
"We've been talking about that in practice, just keeping moving the ball and all of us will get pretty good shots."
Bone thinks the problems in L.A. were an aberration, not a new normal. Especially when it comes to Moore's play.
"I think at the end of trip he got worn down, or at least played like he was worn out," Bone said. "He played just so-so in L.A. I think he'll have a better weekend this weekend than last.
"We've been back home a few days, he's a chance to rest up and he's done a nice job in practice."
Moore missed the first five games of the season with a fracture in his left wrist. Since his return, he's played with a splint that has limited his effectiveness.
"It's pretty tough to play with it," Moore said Wednesday. "It doesn't really hurt or anything, it's just annoying to have a big glob of tape on your left hand.
"Mentally, it affects me. When I had it in the cast and when I first got it out of the cast, you just kind of forget you can use your left hand."
Though Moore is shooting 34.5 percent from the floor – he hit 41.7 percent last season – he doesn't think it's the splint as much as the time he missed shooting while it was casted.
"There's no make-up for that," he said.
The Cougars, who were finishing a 14-day, six-game road trip in Los Angeles, may be more rested, but this season their long-range shooting at home hasn't been as good as away from Beasley.
WSU is shooting 40.9 percent from beyond the arc on the road, 35.4 at home. A big part of that is Klay Thompson, who has hit just 32.4 percent of his Friel Court 3-pointers and 51.8 everywhere else. But Faisal Aden, who supplies scoring punch off the bench, is 30.4 away and 44.4 at home.
Thompson is averaging 24.1 points a game outside of Pullman, 18.8 at Beasley.
Still, it's good to be home. The last time WSU played at Beasley was the Dec. 8 win over Gonzaga.
"I like our team," Bone said. "We have proven is certain games we can be very good. That's comforting knowing that it's there. We've shown it.
"Us being 10-4 overall, looking back at the big picture, with the teams we've played, and the amount of home games we've had, I think 10-4 is a pretty respectable record."
Local journalism is essential.
Give directly to The Spokesman-Review's Northwest Passages community forums series -- which helps to offset the costs of several reporter and editor positions at the newspaper -- by using the easy options below. Gifts processed in this system are not tax deductible, but are predominately used to help meet the local financial requirements needed to receive national matching-grant funds.
Subscribe to the sports newsletter
Get the day's top sports headlines and breaking news delivered to your inbox by subscribing here.
---