News > Spokane
Deputy won't face charges in shooting
Hirzel's use of force showed no malice, prosecutor says Pastor's family continues to question fatal encounter
Sat., Jan. 22, 2011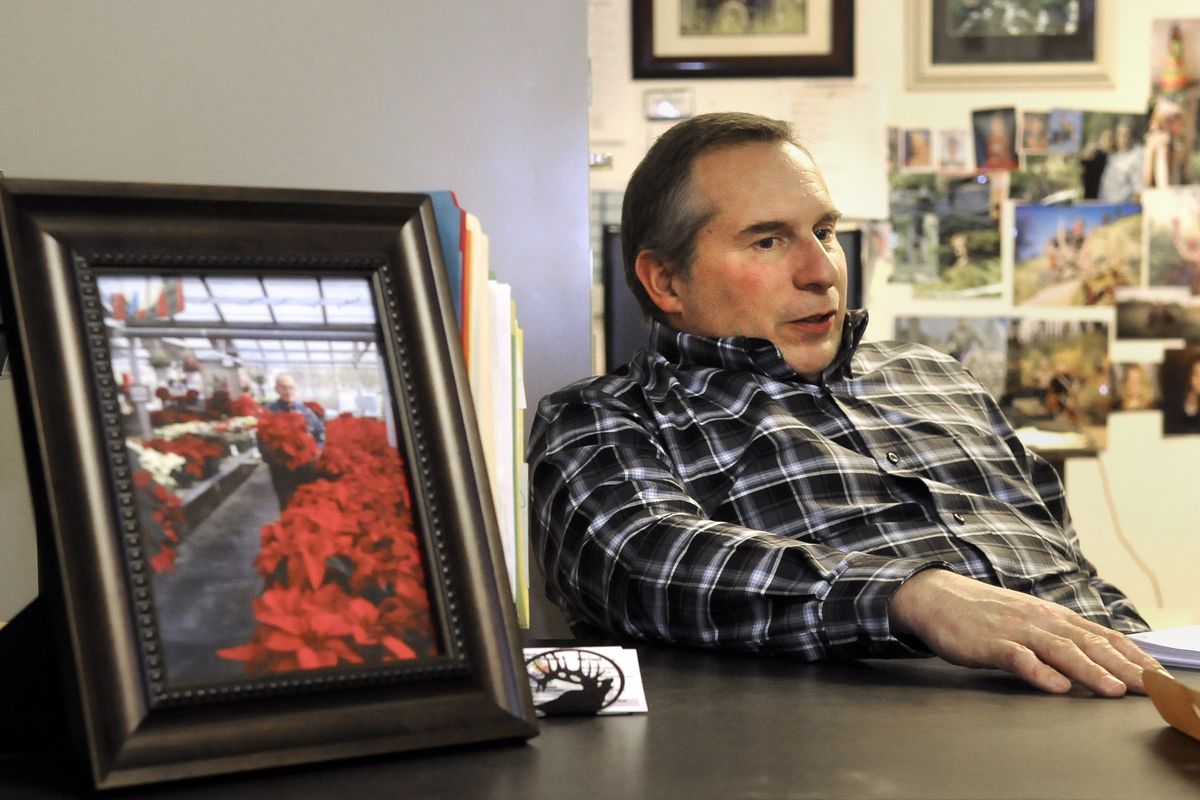 Alan Creach says his family is "trying to find the truth" in the shooting death of his father, Wayne Scott Creach, pictured on desk. (Dan Pelle)
A Spokane County Sheriff's Office deputy won't face criminal charges in the shooting death of a 74-year-old Spokane Valley pastor, a decision Prosecutor Steve Tucker says came down to this fact: Deputy Brian Hirzel has more protection under the law than the average citizen.
"It's kind of a law enforcement shield," Tucker said Friday. "Unless we can show (Hirzel) is showing malice or evil intent, we can't hold him criminally liable."
In addition, Hirzel said he didn't fire his gun until he saw Wayne Scott Creach grab for his gun, so the shooting was also allowed under a separate self-defense statute that applies to everyone, Tucker said.
"As soon as you feel you are in imminent danger, like drawing a gun, you are allowed to use deadly force," Tucker said. Hirzel "was the only witness we had."
Hirzel shot Creach late on Aug. 25 in the parking lot of Creach's greenhouse business in Spokane Valley. Hirzel was in an unmarked car and did not alert the business owner before parking there to watch for activity in the neighborhood in response to a neighbor's call.
Alan Creach, the pastor's son, said he and his brother, Ernie Creach, don't believe investigators have taken the time to challenge key elements of the investigation regarding the few seconds in which the confrontation took place.
"I'm not surprised," Creach said after meeting with Tucker and learning his decision. "A man is lying dead from protecting his own property. We were all under the impression that we were protected by amendments that allow us to protect ourselves and carry weapons without fear of losing our lives."
Tucker agreed, to a point.
"You do have the right to bear arms. But as soon as someone is threatened or alarmed by it, you have to put it down," he said. "If a cop says drop the gun, you have to drop the gun. There is no right to resist an unlawful arrest. If it's an unlawful arrest, sue him later … but don't fight him."
Sheriff Ozzie Knezovich said Tucker's decision does nothing to change the status of Hirzel, who has been on desk duty for the past five months. On Monday, the department will begin an internal investigation into the shooting to determine if all policies and procedures were followed.
"In the criminal investigation, Hirzel had the right to remain silent. But in the internal investigation … it's mandatory truthfulness," Knezovich said. "We can make mistakes. But if you lie, you're done."
The Creach family has raised several issues, such as the use of an unmarked car and parking in a private lot without notifying the business owner. Knezovich said any policy changes will come at the conclusion of the internal probe.
"I've already told the team, this will not take forever," Knezovich said. "This will be thorough … but I want it timely."
Following the internal probe, the case will go before the department's citizen advisory board, he said.
"This was a very tragic situation for the Creach family, for the community and Deputy Hirzel," he said. "We will have a very transparent review of this."
Hirzel told investigators that he parked at The Plant Farm, 14208 E. Fourth Ave., and was writing a collision report at 11:07 p.m. when he saw the shirtless Creach approaching with a flashlight in his left hand and a gun pointed downward in his right hand.
Hirzel said he repeatedly told Creach to drop the gun, but investigators could find no neighbors who heard any of that exchange. Only Creach's wife, Imogene, reported hearing anything, and she described what sounded like her husband yelling out in fear before the shot was fired.
Hirzel said Creach initially responded that he didn't have to drop his gun, and told the deputy that he had had problems with theft in the past. Creach eventually put the gun in the back waistband of his pants.
Hirzel then ordered Creach onto the ground, but Creach refused. Hirzel couldn't remember exactly when he called for backup, but said he struck Creach on the outside of the left knee with his baton. It's then, Hirzel said, that Creach reached for his gun.
"When I saw his hand go behind his back and come out with a gun, or the grip of the gun that I saw, there wasn't a doubt in my mind that he was going to shoot me," Hirzel, 42, told investigators, according to transcripts.
Following the shooting, Tucker had three deputy prosecutors review the investigation. Together, they decided in late December not to file criminal charges. But they waited for Chief Criminal Deputy Prosecutor Jack Driscoll to write a 33-page report explaining the decision, Tucker said.
"This appears to be a tragic situation where an officer, because he felt he was about to be shot, felt no other recourse but to use deadly force after Mr. Creach repeatedly failed to comply with the officer's commands," Driscoll wrote in the report. "Under these facts, Deputy Hirzel cannot be held criminally liable for his use of deadly force."
Tucker said he didn't think five months was too long to take to announce a decision, and he pointed out that the case was delayed by detectives asking for more time to review information obtained by people working with the Creach family.
In addition, the investigation was handed over to prosecutors by Spokane Police Department detectives – who handled the case under an interagency agreement – without autopsy results. Tucker said he was concerned because it was the first shooting review he'd ever seen without that information attached.
"I think it concerned the lead detective," Tucker said of the transfer of the case from police to the prosecutor's office, "… like it was being pushed over."
He added, "I'm not sure what the motivation was, other than (police) not wanting to answer the phone calls anymore" about a case that sparked widespread community comment and even outrage.
As for Hirzel, Tucker said he spoke with the deputy about the events that evening.
Hirzel "found out there was no bullet in the chamber (of Creach's gun). He said he felt bad about that, but there was no way for him to know," Tucker said. "Then he found out he was a property owner. And then he found out he was a pastor. It can't get much worse than that. He just feels bad about it."
Alan Creach said the family feels even worse.
"I'm calling baloney on the whole program," Creach said. "We are trying to find the truth."
Creach said his family will continue its investigation, which has turned up several things he called discrepancies when compared with the law enforcement investigation.
"My challenge to Steve Tucker, as the foremost law enforcement official in this county, was to step up and demand a higher standard by law enforcement," Creach said. "If this is his decision, I don't believe that's demanding a higher standard."
Local journalism is essential.
Give directly to The Spokesman-Review's Northwest Passages community forums series -- which helps to offset the costs of several reporter and editor positions at the newspaper -- by using the easy options below. Gifts processed in this system are not tax deductible, but are predominately used to help meet the local financial requirements needed to receive national matching-grant funds.
Subscribe now to get breaking news alerts in your email inbox
Get breaking news delivered to your inbox as it happens.
---