Sports > Outdoors
Pronghorns released for new start on Yakama Indian Reservation
Ancient inhabitants are of the Columbia Basin
Sun., Jan. 23, 2011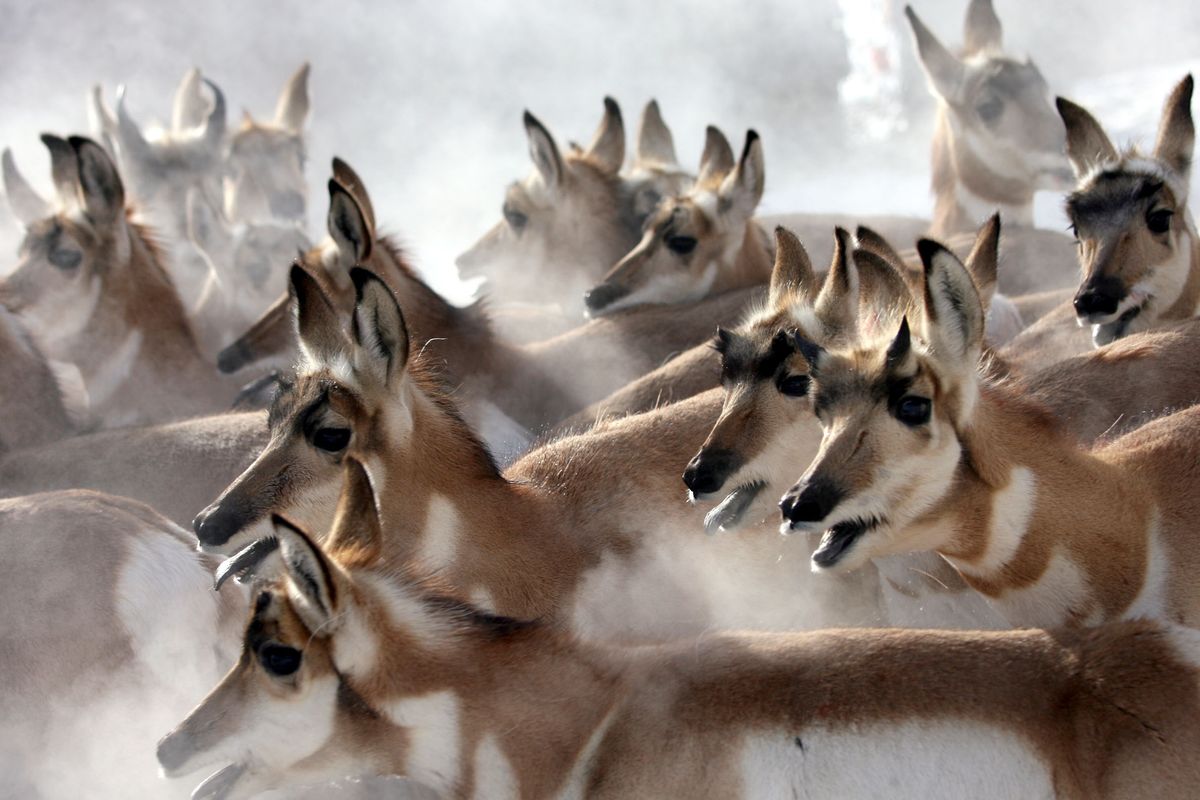 Pronghorns were herded by helicopter in Nevada on Jan. 15 before being netted and captured for transfer to Washington, where 99 of the prairie speedsters were released on the Yakama Indian Reservation. (Associated Press)
Pronghorns are reasserting themselves as the fastest land mammals in Washington, thanks to a sportsmen's group that joined with the Yakama Nation for an end run around state bureaucracy and environmental red tape.
Volunteers from Safari Club International and tribal members released 99 of the prairie speedsters last weekend on the Yakama Indian Reservation after trucking them 700 miles from their capture site in Nevada.
Washington Department of Fish and Wildlife officials said they are supportive of the reintroduction. However, by not involving the state agency in the pronghorn capture and release, the Yakamas avoided dealing in advance with issues that get sticky for government agencies.
The remote potential for introducing disease to livestock already had been raised as an issue by the Washington Cattlemen's Association.
Other agricultural groups were concerned about the pronghorn's inclination to leave the sagebrush country for irrigated alfalfa and grain crops when foraging gets tough.
The Yakama Nation would not allow its members or wildlife biologists to be interviewed for this story despite numerous requests last week.
Pronghorns, also known as antelope, are a unique North American mammal that thrives in sage country and wide-open spaces where they can leave danger in the dust at speeds of 50-60 mph.
The largest populations are in Wyoming and Montana, but they are plentiful enough for big-game hunting in all of the Western states, except Washington.
Pronghorn numbers in their traditional range once rivaled those of the bison, said Andrew Jakes, pronghorn researcher at the University of Calgary. They hit bottom at less than 13,000 animals in the early 20th century, but wildlife management has brought them back to about 1.2 million animals roaming sagebrush and native prairie from northern Mexico to southern Alberta, he said.
Archeologists have dated pronghorn bones found in central Washington at 500 to 13,000 years old. Lewis and Clark reported pronghorns as being native to the Columbia plain during the westward portion of their expedition.
Other than that, the pronghorn's existence and disappearance in Washington is sketchy until the state wildlife agency made three attempts to reintroduce the critters in the 1900s.
The most recent reintroduction efforts were sparked by Safari Club International chapters around the state starting about seven years ago.
"The state never said they didn't want the antelope, but the proposal always seemed to get the slip-through," said Glenn Rasmussen, SCI-Central Washington member from Wapato.
SCI chapters from Puget Sound to Central Washington paid $42,000 for the WDFW to complete a pronghorn habitat assessment that was completed in June 2006, said Joe Greenhaw, Puget Sound Chapter president at the time.
That was after the Puget Sound Chapter had funded feasibility studies as early as 2004.
"The (Washington Department of Fish and Wildlife) kept wanting more environmental impact statements and what all," Rasmussen said. "Finally, the chapters said no more, since no one in the state could guarantee that there would be antelope on the ground after all the money was spent."
However, the Yakama Nation also had been looking into reintroducing pronghorns on its 1.2-million acre reservation. Once the SCI funding source joined with the Yakama Nation's sovereign right to do pretty much what it chooses on its own land, the reintroduction was almost as speedy as a pronghorn.
"Basically, this is the Yakama Nation's project and we're just arranging the financing," Rasmussen said. Much of the money, including the $25,000 paid to Nevada for the capture operation, was donated from Shikar Safari Club, a group of wealthy sportsmen not related to Safari Club International, he said.
The tribe has the advantage of being free from complying with certain environmental laws and environmental impact statement requirements, said Donny Martorello, WDFW big-game manager in Olympia.
"They're an independent nation," he said. "We don't have jurisdiction over their actions.
"We'd been working with the conservation and hunting groups and we completed a habitat assessment in 2006. We confirmed that pronghorns are indigenous to the state and that we have the habitat for them.
"But the next step was an environmental impact statement and that's expensive – probably $50,000-$100,000 – and there was no guarantee that we could move forward once it was completed."
Strapped for money and staff time, and not eager for another source of crop-damage claims, the agency suggested that SCI put the pronghorn reintroduction on the back burner, Martorello said.
"The Yakamas have been working for several years to get pronghorns on the ground, so we know they're up to speed," Martorello said. "We're supportive of it."
The Washington Cattlemen's Association is concerned about the potential for introducing brucellosis or tuberculosis, said Jack Field, the association's executive vice president.
"And I certainly hope the habitat is able to sustain the antelope on an annual basis so they don't end up on neighboring crop lands around Toppenish or Patterson," he said.
"Unfortunately, there's not a lot of information. It's not been a very transparent thing considering all the parties that may be affected by this action."
Jason Kelly, spokesman for the Washington Department of Agriculture's state veterinarians, echoed Fish and Wildlife officials.
"The state does not have any jurisdiction on animals moving into the Yakama Reservation," he said. "We're ready to work with the tribe but they're not required to seek our permission."
Kelly said the state veterinarians were aware that pronghorns were coming in.
"Our understanding is that tribal officials and Nevada where conducting animal health testing," he said. "The tribe would need to make a decision on what to do if any of the animals tested positive."
Peregrine Wolff, Nevada state wildlife veterinarian based in Reno, said blood samples she drew from pronghorns delivered to Washington are being tested for brucellosis and possibly for tuberculosis, although it might be two weeks after the animals were released in Washington before results are available.
"TB testing is extremely expensive and we haven't worked that out yet," she said Wednesday.
"But there's never been a reported case of TB in Nevada antelope and no reports of hunters or ranchers seeing sick animals or anything like that."
Testing has not been done on Nevada pronghorns trapped previously because they all were moved and released within the state, she said.
"The literature says that of about 8,000 antelope tested for brucellosis, only one responded to the test and even that one may not have been infected," she said.
Martorello said it was too early to say how pronghorns might be managed in the future.
"If they take – and I think they will given the advances wildlife biologists have made in reintroducing species – there's a potential for allowing some pronghorn hunting," he said.
"If the pronghorns start colonizing outside the reservation, we'd probably approach them the same way we've looked at moose moving in from Idaho. We would start managing, and hunting is one of the tools we use."
• Document online: The "Assessment of Pronghorn Habitat Potential in Eastern Washington," funded by Safari Club International and produced by the Washington Department of Fish and Wildlife, is available on the WDFW website at tinyurl.com/WA-pronghorn
Local journalism is essential.
Give directly to The Spokesman-Review's Northwest Passages community forums series -- which helps to offset the costs of several reporter and editor positions at the newspaper -- by using the easy options below. Gifts processed in this system are not tax deductible, but are predominately used to help meet the local financial requirements needed to receive national matching-grant funds.
Subscribe to the sports newsletter
Get the day's top sports headlines and breaking news delivered to your inbox by subscribing here.
---