News > Idaho
Destroyed ice rink to rise again in Kootenai County
Aug. 1 opening planned for North Idaho facility
Thu., Jan. 27, 2011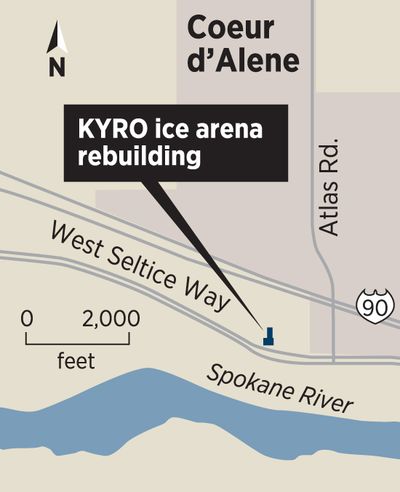 The new roof on the Kootenai Youth Recreation Organization's ice arena will be strong enough to withstand 60 pounds of snow per square foot, about 20 pounds more than building regulations require.
"We'll never have to shovel it again," said Matthew Beam, manager of the Coeur d'Alene nonprofit organization.
KYRO also hopes to never again watch the roof collapse as it did under a heavy snow load in December 2008. The record snowfall destroyed the North Idaho ice rink that welcomed 2,000 skaters and spectators weekly.
KYRO hosted adult and youth hockey teams and figure skating clubs. It offered public skating time and a safe place for church youth groups to hold late-night games of broomball. Some 250 people enrolled annually in learn-to-skate programs, and school groups used the rink for physical education classes and field trips.
"It brings so much to our family because we all can go," said Marty Fish, of Athol. "There's not a lot of stuff you can do together as a family. It's close, and it's very inexpensive for what you get out of it."
Fish and his son played hockey there, and his wife and daughter figure skated. Since the roof collapsed, Fish is the only member of his family still skating, making the long trek to the Eagles Ice-A-Rena on Spokane's North Side.
"We were so bummed when that roof fell," he said. "It's like seeing your house collapse."
Next winter, the Fishes and hundreds of other North Idaho skaters should be back in business as KYRO plans an Aug. 1 reopening. A $2 million insurance settlement allows the organization to build a bigger and better ice arena that will include room to grow. The total budget will range from $2.4 million to $2.8 million, depending on the success of fundraising efforts.
The 36,000-square-foot complex will offer a 200-by-85-foot ice rink – NHL regulation size – and has room for a second sheet of ice as demand requires. It will feature a heated 200-seat spectator area, complete with party rooms for birthdays, a concession stand, skate rental, kitchen, office space and locker rooms. It's being rebuilt at 3525 W. Seltice Way, about a mile and a half west of the intersection with Northwest Boulevard, just south of Interstate 90.
The completed complex will have at least 10 employees.
KYRO has asked Coeur d'Alene's urban renewal agency for $200,000 in funding to assist with a parking lot, which would also serve as a trailhead for the Centennial Trail. The Lake City Development Corp. approved a motion to fund the project, provided certain conditions are met. Discussions are still under way for that funding, Beam said. "We're still optimistic it will happen," said Tony Berns, LCDC's director.
Tim Everson, co-owner of Eagles Ice-A-Rena in Spokane, said when the KYRO arena collapsed, other rinks in the area, including his, saw increased traffic. People also flowed over to rinks at Eastern Washington University and at Riverfront Park.
"We helped out where we could," said Everson, who added he's looking forward to KYRO reopening because it will satisfy skater demand in this region.
"It is going to be an awfully nice rink at KYRO when it's done. We're happy to see them getting rebuilt," Everson said. "With KYRO coming back on board … this is a good situation now."
Local journalism is essential.
Give directly to The Spokesman-Review's Northwest Passages community forums series -- which helps to offset the costs of several reporter and editor positions at the newspaper -- by using the easy options below. Gifts processed in this system are not tax deductible, but are predominately used to help meet the local financial requirements needed to receive national matching-grant funds.
Subscribe to the Coronavirus newsletter
Get the day's latest Coronavirus news delivered to your inbox by subscribing to our newsletter.
---
Subscribe and log in to the Spokesman-Review to read and comment on this story