News > Spokane
State Senate nominee Murry arrested in Las Vegas
Candidate to replace McCaslin booked into Vegas jail on gun charge
Fri., Jan. 28, 2011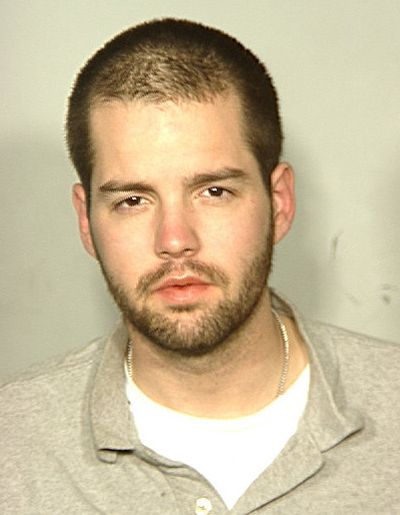 One of the three candidates to replace Bob McCaslin in the state Senate was arrested early Monday in Las Vegas after being found asleep in his car and allegedly carrying a concealed weapon.
Roy Murry, 26, said Thursday he disputes much of what Las Vegas Metropolitan Police say happened when was found fast asleep shortly after 2 a.m. behind the wheel of a car. He'll fight the charge if one is filed, and said his arrest "amounted basically to entrapment."
The car was parked on the side of a road at a strange angle with its motor running, a Las Vegas police report says. Police said they saw tobacco juice drooling from Murry's mouth and body armor in the car, and had trouble waking him up.
When they did, the police report says the officers asked Murry if he had any firearms in the car; he replied he did in the trunk. But when police ordered him out of the car and patted him down, officers reported that Murry had a semi-automatic handgun in his waistband, covered by his coat. He also had two knives, two ammunition clips and some loose rounds in his pocket.
He was arrested for carrying a concealed weapon – as well as sleeping in public, a rarely cited misdemeanor in Las Vegas – and released on $3,200 bail while the district attorney's office decides whether to charge him with a felony or a misdemeanor before his next court appearance on March 25.
Murry said he hasn't seen the police report, but after it was read to him by a reporter, he said there are things in it that are incorrect. He said he told police he had a firearm on his right hip while still in the car, was ordered out at gunpoint and the weapon was visible until he was told to put his hands on the car, which caused his jacket to cover it.
He doesn't dispute that he was asleep in the car. He said he had gone out to fill a prescription for his fiancée, became lost in an unfamiliar area and pulled over to the side. His contacts were bothering him in the dry climate; he closed his eyes, briefly he thought, but fell asleep.
"I pulled over to the road not to endanger other drivers," he said.
Spokane County Republican Chairman Matt Pederson said he was unaware of Murry's arrest, but when told of the details in the police report he called it "a very serious charge that warrants serious consideration."
He said he would talk to the county GOP's executive board, but stopped short of calling for Murry to withdraw, saying that would be up to him.
Murry said he has no intention of withdrawing. Spokane County commissioners, who will select the next senator, "can do what they want," he said.
Murry was nominated on Jan. 15 to fill the vacant Senate seat along with state Rep. Matt Shea and Jeff Baxter, who like Murry is a GOP legislative district leader, at a meeting of Republican precinct officers.
Commissioners are doing background checks on all three before conducting interviews and a public hearing. They said the arrest could knock Murry out of contention for McCaslin's seat.
But some Republicans contend he was never a serious nominee to begin with. They say Murry and Baxter were chosen over more experienced applicants to force commissioners into selecting Shea, now in his second term in the House. With Shea supporters voting as a bloc after naming him as their first choice, they picked Baxter and then Murry over former state Rep. and District Judge Mike Padden and former Spokane Valley Mayor Diana Wilhite.
"I think the party deserves a black eye in this process," said McCaslin, who had to step down after 30 years in the Senate because of health problems and is undergoing rehabilitation therapy after having his leg amputated. "They could have sent (commissioners) the names of three people with experience who would make good senators."
McCaslin supported Padden, who served with him for 14 years in the Legislature, for the job, as did former state Rep. Lynn Schindler, who had supported Shea for her seat when she retired in 2008.
State Rep. Larry Crouse, the state's senior House member, also found it "somewhat upsetting" that Padden's name was left off the list, considering his experience. Now with Murry's arrest, it could cause the public to question the party's selection process.
"People don't like things being manipulated," Crouse said.
Some Shea supporters had also demanded the commissioners select him if he was the precinct officers' top choice, threatening to vote them out of office at the next election if they didn't. But Commissioner Todd Mielke, himself a former legislator, said some of the most vocal supporters, who include so-called patriot groups who call for strict adherence to the constitution, don't seem to know the constitution doesn't require them to pick the party's first choice.
The precinct officers didn't have much time to research the backgrounds of the nominees they selected, but commissioners will do that research because they are standing in for the voters, Mielke said.
Local journalism is essential.
Give directly to The Spokesman-Review's Northwest Passages community forums series -- which helps to offset the costs of several reporter and editor positions at the newspaper -- by using the easy options below. Gifts processed in this system are not tax deductible, but are predominately used to help meet the local financial requirements needed to receive national matching-grant funds.
Subscribe now to get breaking news alerts in your email inbox
Get breaking news delivered to your inbox as it happens.
---