News > Marijuana
Liquor, tolls, care staff initiatives likely qualify for November ballot
Sat., July 9, 2011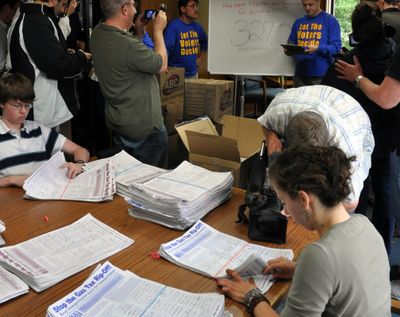 OLYMPIA – Washington voters will likely face proposals on tolls, liquor and home health care workers on the November ballot.
But not on chickens or marijuana.
Sponsors of three initiatives turned in enough signatures Friday that they are all but sure to qualify for the ballot.
Initiative 1183, which would get the state out of the wholesale and retail liquor business it has operated since the end of Prohibition, set a state record for the shortest amount of time to gather the required signatures and a cushion that makes them likely to qualify. Sponsors estimate they gathered about 354,000 signatures in just under three weeks.
About 150,000 of those were collected in Costco stores, one of the proposal's main sponsors, said Bruce Beckett of the Washington Restaurant Association, another sponsor.
Voters turned down two proposals to end state control of liquor sales last November. Beckett said I-1183 was written to address some of the concerns about those two initiatives by providing the state with more revenue, requiring more training for employees of stores that sell liquor, and limiting sales in most communities to stores with at least 10,000 square feet of space.
That would cover most supermarkets as well as big-box stores like Costco but eliminate minimarkets and gas stations that sell beer, he said. The state currently has about 340 liquor stores; if all the stores eligible under the proposal obtained a license, that would triple.
Initiative 1125, sponsored by Tim Eyman, of Mukilteo, and Mike and Jack Fagan, of Spokane, would limit the way the state could spend taxes, tolls and fares collected for transportation. Under the proposal, transportation money couldn't be siphoned off for other state expenses, and money raised for a specific project, such as a toll for a bridge, would have to be used for that project. If the toll was levied for bonds for that project, it would have to end when the bonds were paid off. The Legislature would have to approve any increase in tolls or fares.
Doug MacDonald, an opponent of I-1125 who showed up for the petition turn-in, called the proposal a mishmash of ideas. It could jeopardize funding for large projects because sponsors don't understand the complexities of modern transportation systems, the former state transportation secretary said.
The Service Employees International Union and other sponsors of Initiative 1163 turned in more than 320,000 signatures for their proposal to require more training and better background checks for long-term care workers who assist the elderly and the disabled.
An initiative needs more than 241,000 valid signatures from registered voters to qualify for the ballot, and the Secretary of State's office advises turning in at least 300,000 to provide a cushion for duplicate, illegible and invalid signatures. All three have enough signatures that they are likely to make the ballot.
Sponsors of an initiative to require more humane conditions for egg-laying hens said Thursday they had enough signatures to qualify for the ballot but were not turning them in because they'd reached an agreement with agricultural groups to seek federal legislation rather than individual state laws.
Sponsors of an initiative to legalize marijuana notified the Elections Division on Friday afternoon that they didn't have enough signatures to qualify for the ballot.
Local journalism is essential.
Give directly to The Spokesman-Review's Northwest Passages community forums series -- which helps to offset the costs of several reporter and editor positions at the newspaper -- by using the easy options below. Gifts processed in this system are not tax deductible, but are predominately used to help meet the local financial requirements needed to receive national matching-grant funds.
Subscribe to the Coronavirus newsletter
Get the day's latest Coronavirus news delivered to your inbox by subscribing to our newsletter.
---