News > Spokane
Varied views spice up council race
Longtime experience meets new outlook in battle for president
Mon., July 25, 2011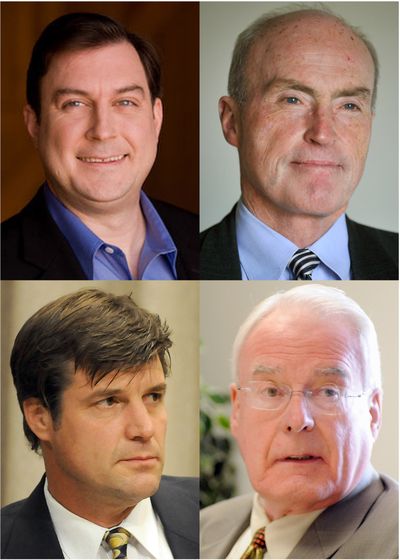 A late entry in the race for Spokane City Council president turned what otherwise would have been a sleepy primary into a campaign with interest.
Voters can chose among a newcomer to city politics, two of the most experienced political leaders in Spokane, and a long-shot candidate. The two who finish with the most votes will face each other in the November election. Ballots for the Aug. 16 primary will be mailed this week.
Former Mayor Dennis Hession entered the race for the nonpartisan position only last month, and he's nearly caught up with City Councilman Steve Corker with about $11,000 in financial contributions. Ben Stuckart, who started and leads a nonprofit group focused on education, has raised three times as much as either of them.
Hession and Corker have name recognition and long histories in city government. Hession's history includes two years as City Council president.
"I came to the position at a time of great turmoil. The council was treating each other poorly and the public poorly," Hession said at a League of Women Voters debate last month. "I restored order to the council and recaptured an atmosphere of civility and respect."
Corker, who is finishing his eighth year on the City Council, says experience is essential in a time of hard economic choices. He also is running on a pledge to improve civility in the council chambers, a not-so-hidden jab at retiring council President Joe Shogan, who has a reputation for frankness and outbursts.
"I plan to bring a more civil leadership to the City Council, one that respects the audience, people who testify, as well as my fellow council members," he said.
Stuckart is using Corker's and Hession's experience to his advantage.
Spokane residents "can vote for people who have been part of government for eight out of the last 12 years," Stuckart said. "Or they can vote for a fresh, new perspective that will bring the same success that I had in the nonprofit world and in the business world."
Also running is Victor Noder, a long-shot candidate and handyman who refers to himself as VTG for "Victor the Green." He came in sixth in a six-way primary for a City Council seat in 2009, capturing less than 3 percent of the vote.
All of the candidates reject tax and fee increases as ways to balance the budget. But Corker is the most direct in his willingness to cut programs that aren't related to police, fire or streets to deal with the city's shortfall, estimated at $7 million for 2012. It's a reality the city needs to come to terms with, he says.
"We can't have across-the-board cuts," Corker said at the debate last month. "We're undermining the ability of programs to fulfill their purposes. We're going to have to cut departments."
Hession said he'd be willing to cut programs, but only after other options, including partnerships with other governments, nonprofits or businesses, are explored. Of the programs suggested for possible elimination by Mayor Mary Verner, Hession said he would not support cutting the youth department.
"I don't want to adopt a 'let's get rid of people' platform to balance the budget," he said. Departments like arts, youth, and weights and measures are so small that eliminating them would provide little relief to the city's budget, he said.
Stuckart says no departments should be eliminated and that if the city focused more attention on economic development for small businesses and in neighborhood centers, the city's financial woes could be solved.
"This will give us the revenue to keep our streets maintained and keep police officers and firefighters employed and keep our libraries open," Stuckart said. "We need to look forward, not look forward to cutting services."
Stuckart became known on Spokane's political scene last year as a leader of the campaign for the Children's Investment Fund initiative, which was rejected by voters. The proposed tax increase would have funded programs aimed at lowering the high school dropout rate in Spokane.
He had an early start in his campaign, gathering key endorsements and getting a big fundraising lead. He has the endorsement of the Spokane County Democratic Party even though Corker is a former chairman of the group.
Corker has a long history in Spokane politics and business, and he often takes a professorial tone when speaking at City Council meetings. As he considers issues facing the council, it's not unusual for him to ask what the country's forefathers would think. He was first elected to the Spokane City Council in 1999 and served in a tumultuous period when leaders grappled with the city's controversial partnership with the Cowles Co. over the River Park Square garage. Cowles Co. also owns The Spokesman-Review. Corker was a critic of that deal, though after he left the council he voiced support for settling a series of lawsuits surrounding the case in 2004.
In his current term, he's sometimes been a swing vote. He was on the winning side of a 4-3 vote, for instance, that allowed the Spokane Park Board to purchase and demolish the former YMCA in Riverfront Park. 
He opposed the $20-per-vehicle tab tax and impact fees – taxes on development to pay for street and traffic upgrades. Last week, he said he would oppose a 13 percent increase in the sewer fee that administrators say is needed to pay for state-required sewer upgrades. In 2009, he voted for a 15 percent increase in the sewer fee and argued that the city could not shrink from its responsibility to help clean up the river and should move forward on required projects to improve treatment and prevent the dumping of raw sewage into the river.
Corker said this week that his position on sewer rates was affected by the economic downturn.
"Two years ago we were hoping that things would change and we would get better," Corker said, adding that the state needs to "give us a chance to get out of this mess."
Past election opponents have criticized Corker for his links to Metropolitan Mortgage & Securities Inc., a $2.1 billion conglomerate that collapsed in 2004. Corker says his biggest involvement in the firm was as a board member of Western United Life Assurance Co., a part of Metropolitan that stayed afloat even after Metropolitan failed. Last year, he married Helen Sandifur, the ex-wife of Metropolitan's former CEO.
Hession won a seat on the council in 2001 after serving for more than a decade on the Spokane Park Board. Two years later, he won a citywide election to lead the council. He voted for the River Park Square settlement and sponsored the change to allow city workers to get benefits for domestic partners, winning enough votes to prevent a veto from then-Mayor Jim West.
He was elevated to mayor in late 2005 when voters recalled West. He endorsed a vigorous police ombudsman system modeled after Boise's that has not been implemented here, and he successfully pursued the annexation of land along North Division Street, including sales tax revenue sponge Costco. 
He allowed the two-year property tax boost approved by voters under West to expire as promised. Hession won praise for bringing stability back to the office of mayor, but his relations with City Council were sometimes shaky and his relations with unions were worse. His decision to fire the community development director and his plan to end trash pickup in alleys to save money caused some neighborhood leaders to rally against him during his unsuccessful bid to win a full term in 2007.
Local journalism is essential.
Give directly to The Spokesman-Review's Northwest Passages community forums series -- which helps to offset the costs of several reporter and editor positions at the newspaper -- by using the easy options below. Gifts processed in this system are not tax deductible, but are predominately used to help meet the local financial requirements needed to receive national matching-grant funds.
Subscribe now to get breaking news alerts in your email inbox
Get breaking news delivered to your inbox as it happens.
---