News > Spokane
Kootenai tribal elder Trice dies
Fri., July 29, 2011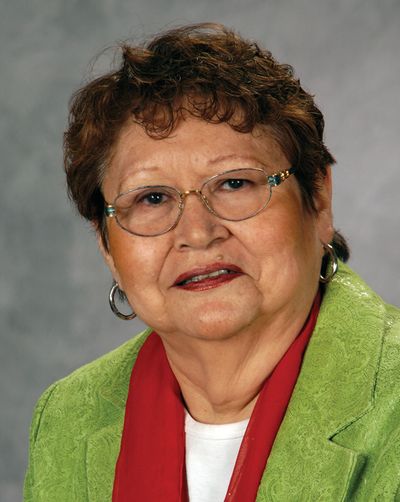 Kootenai tribal elder Amelia Trice made national headlines in 1974 when she led her tiny band in what is now known as the last Indian war against the U.S. government.
The standoff at Bonners Ferry led to creation of a 12.5-acre reservation for the Kootenai Tribe of Idaho and improvements to housing and health. The event also set the stage for tribal growth over the years.
Trice, 75, died last week after a long bout with cancer. She was being remembered this week for her courage and vision.
"She was the one who took the tribe to war in 1974 and got us recognition," said Velma Bahe, a member of the tribal council.
"She is a big loss," Bahe said.
Historically, the tribe resisted moving onto a reservation because they believed in keeping their creator-spirit's covenant to guard and keep the land forever.
As a result, they ended up on a series of allotments along the Kootenai River Valley with no reservation.
By 1974, the remaining 67 tribal members were living in poverty.
So they declared a nonviolent war.
On Sept. 20, 1974, tribal members set up informational pickets and asked for 10-cent tolls on U.S. Highway 95 on the north and south sides of Bonners Ferry.
News media descended on the small Boundary County community and in the process put government officials on the spot.
"The state police came with Mace and sawed-off shotguns," Trice said at the time. "The closest thing we had to a weapon in our tribal office was a fly swatter."
Trice had an ace in the hole. She said she was prepared to call the American Indian Movement for help, the same organization that had gotten into an armed standoff at Wounded Knee, S.D., a year earlier.
Within a couple weeks, Trice led a delegation to Washington, D.C., for talks.
President Gerald Ford signed a bill transferring two adjacent tracts of federal land to the tribe at the site of the historic St. Michael's Catholic mission. In addition, 18 new houses were built, water and sewage systems were improved and a community center was erected.
In 1986, the Kootenai River Inn was opened and in 1996 a casino was added.
Additionally, the tribe now operates a hatchery in an effort to restore the endangered Kootenai River white sturgeon.
The tribe now has 155 members.
Born on April 26, 1936, Trice died on July 21 at Deaconess Medical Center in Spokane. She was buried at St. Michael's Mission Cemetery following a Roman Catholic funeral in Bonners Ferry.
"We lost a legacy for our tribe," said tribal Chairwoman Jennifer Porter.
She described Trice as a "strong tribal woman" whose example has been passed to the younger generation.
Trice is especially known for keeping Kootenai culture and beliefs alive. "She took me under her wings and taught me a lot about leadership and tribal development," Bahe said.
Trice is survived by her husband, David, four sons, two daughters, grandchildren and great-grandchildren.
Local journalism is essential.
Give directly to The Spokesman-Review's Northwest Passages community forums series -- which helps to offset the costs of several reporter and editor positions at the newspaper -- by using the easy options below. Gifts processed in this system are not tax deductible, but are predominately used to help meet the local financial requirements needed to receive national matching-grant funds.
Subscribe now to get breaking news alerts in your email inbox
Get breaking news delivered to your inbox as it happens.
---