Golfer battled cancer, now ready to fight way up leaderboard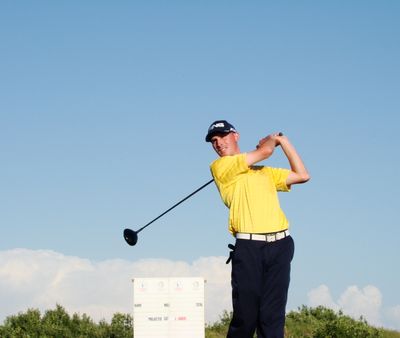 Joel Dahmen feels "a little bit behind the eight ball" these days as he attempts to scratch out a living on the Canadian Professional Golf Tour.
The 23-year-old Clarkston resident isn't complaining, however, considering what he was feeling back in March, when he was diagnosed with testicular cancer.
"I tried to ignore it at first," Dahmen said of the lump he had discovered a few weeks earlier.
But because of his family's medical history, he had a strong inkling that probably wasn't the best approach.
Dahmen's mother died of pancreatic cancer at the age of 46, when he was a junior in high school. His older brother, Zach, was diagnosed with testicular cancer in November 2009. According to Dahmen, his brother's cancer was diagnosed early, and he has since been declared cancer free.
"I can't say I was expecting it," Dahmen said of his own diagnosis. "But because of what my family had been through, I was probably a lot more conscious of the disease than most people."
So Dahmen, who was staying with friends in Tempe, Ariz., and working on his golf game at the time, called his brother to inform him about the lump.
"And he told me, 'Don't be stubborn. Go get it taken care of,' " said Dahmen, who did just that, lining up an appointment with his doctor, who ordered a scan on a Wednesday morning in mid-March, notified Dahmen of his diagnosis on Friday and scheduled surgery for the following Tuesday.
What followed was a short, but intense, round of chemotherapy treatments that flattened Dahmen for more than six weeks – which was just what he had in mind.
"I knew there were normally different rounds of chemotherapy," he said. "But because I wanted to play golf this summer, I only wanted to do one round. So I told my doctor, 'Why don't you just zap me for a week – basically, just blow me up, so I can recover sooner, instead of dragging it out over several months.'
"And he agreed to do it."
Dahmen underwent his first six-hour chemo treatment on April 25 and endured the same extended and torturous sessions for the next four days, capping his ordeal with treatments on the following two Mondays.
"It really wore me out, just like I thought it would," he said. "I felt crappy for two weeks, where I was nauseous all the time, didn't want to eat and didn't do much except sleep and watch TV."
So while the Canadian Tour was kicking off in Colombia, and his fellow competitors were competing for a share of the modest purses offered at each tournament, Dahmen was doing what he could – which was next to nothing – to speed up the recovery process.
With the exception of a couple of brief chipping and putting sessions, he went nearly 2 1/2 months without swinging a golf club. And it wasn't until the second week of June that he regained enough stamina to wake up, work out, put in a full day at the practice range and resume the rest of his normal day to day activities.
"While I was focused completely on getting healthy again, everybody else was playing golf," said Dahmen, who played in 10 Canadian Tour events as a rookie last year, making five cuts and earning a meager $11,487.62. "So when I got back out here, they were all in midseason form and I was feeling a little bit behind the eight ball – which I still am."
Dahmen, who played for the University of Washington as a freshman but ended up dropping out of school because of academic issues and turned professional in January 2010, made his first Canadian Tour appearance of 2011 in the ATB Financial Classic in Calgary, Alberta, where he missed the cut.
He suffered the same fate at last weekend's Canadian Tour Players Cup in Winnipeg, Manitoba, but in between, he picked up a check for a little more than $1,000 for finishing in a tie for 36th in the Dakota Dunes Casino Open in Saskatoon, Saskatchewan.
And he accomplished that while dealing with the realization that his battle against cancer is far from over.
"It's a long progression, and every three months I'm still getting scans and blood tests," he said. "I had a few sleepless nights with it early on. When I was diagnosed, there was all this panic and wondering what this was going to be.
"I had seen first hand what my mom went through, but I've also seen where my brother is just fine. I had to change my lifestyle – you know, eat better and take supplements – so the cancer is always with me. But it doesn't keep me awake at night anymore."
Dahmen, who is back in his home town preparing for the Canadian Tour's next stop in Seaforth, Ontario, on Aug. 18-21, has even gone so far as to embrace some of the lifestyle changes his cancer has forced him to make, particularly on the golf course.
In the Dakota Dunes event, he opened with rounds of 67 and 65 and held the third-round lead before playing the last 36 holes 12 strokes over par.
Looking back, he admits he probably handled his weekend collapse much better than he would have prior to being diagnosed with cancer.
"I understand now that things take a little longer, and that everything is a process – especially this golf deal," said Dahmen, who will try again to reach his ultimate goal by attending qualifying school for the PGA Tour this fall. "I wouldn't say I got all that mad on the golf course before. I've always been pretty even-tempered out there. But I do know that bogeys don't seem to matter to me as much as they used to, and that I have a much clearer perspective on things.
"Golf is not life or death. Cancer is."
---