Sports
Seattle Seahawks sign deals with Mebane, Carpenter, Moffit
Sat., July 30, 2011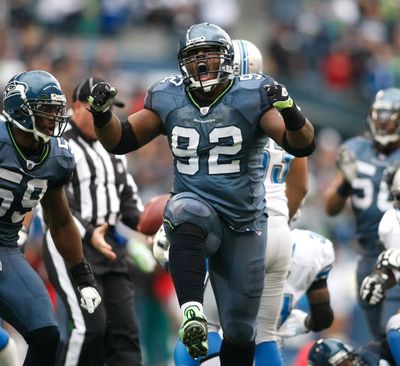 RENTON, Wash. – The toughest part of John Schneider's week wasn't the lack of sleep or the endless phone calls, emails and text messages.
It probably came when his young son punched him and ran out of the room crying when it became public that Matt Hasselbeck wasn't returning to Seattle.
"So I get it," Schneider said on Friday afternoon. "I get it."
After a wild five days, Schneider spoke about Seattle's bounty of free agent signings that was capped on Friday afternoon when the Seahawks announced they had re-signed defensive tackle Brandon Mebane to a reported five-year deal worth $25 million.
Seattle confirmed its big free-agent splashes – quarterback Tarvaris Jackson, offensive lineman Robert Gallery, defensive lineman Alan Branch and wide receiver Sidney Rice – and locked up all its draft picks when first-round selection James Carpenter and third-round pick John Moffitt signed their contracts on Friday.
But before going into detail on his new acquisitions, Schneider first wanted to address Hasselbeck and the decision to move on from the only quarterback to take the team to the Super Bowl.
"A really big decision, very hard decision. These decisions affect people's lives, and we do not take them lightly," he said. "We're very excited about moving forward, don't get me wrong, but I just wanted to start this by talking about the respect we have for the man, the football player, everything he did here in Seattle."
The Seahawks were able to retain Mebane when the sides finally agreed on a contract. Much like Hasselbeck, the Seahawks and Mebane attempted to get a deal done before the lockout, but instead the negotiation became a long process that finally ended with Mebane returning to Seattle for his fifth season.
Mebane has developed into an important cog in Seattle's run defense. He has started 53 of 59 games since being drafted in the third round by the Seahawks in 2007.
"Being able to re-sign one of your own guys who was a hot commodity in free agency is huge for us," Schneider said. "He wanted to stay here, we wanted him to stay here."
Earlier in the day, Seattle finished off its deal with Carpenter, important because Carpenter is projected to be Seattle's starting right tackle. He was on the field a short time later for the Seahawks' first practice in helmets, working as expected within the framework of what Seattle hopes its top offensive line will be.
Seattle is still waiting for Gallery, who arrived on Friday but can't practice until Thursday.
Seattle also finalized its deal with Moffitt, whom the Seahawks hope will be their starting right guard for the Sept. 11 season opener at San Francisco.
The Seahawks also brought back linebacker Leroy Hill on a one-year contract. Hill will enter his seventh season with the Seahawks and provide depth after Seattle lost Will Herring to New Orleans.
Hill missed most of last season after suffering an Achilles injury in the second game of the regular season at Denver.
Local journalism is essential.
Give directly to The Spokesman-Review's Northwest Passages community forums series -- which helps to offset the costs of several reporter and editor positions at the newspaper -- by using the easy options below. Gifts processed in this system are not tax deductible, but are predominately used to help meet the local financial requirements needed to receive national matching-grant funds.
Subscribe to the sports newsletter
Get the day's top sports headlines and breaking news delivered to your inbox by subscribing here.
---
Subscribe and log in to the Spokesman-Review to read and comment on this story