Consumers, businesses face spiking price of gas
Experts foresee peak of $3.50 per gallon this year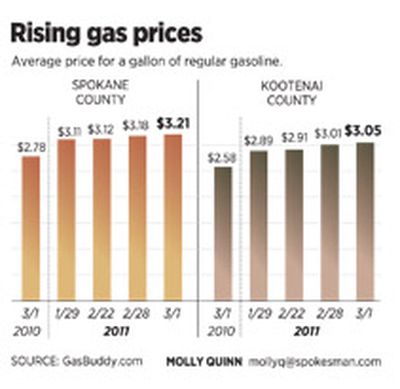 Recession-weary consumers probably aren't too tired to notice the spike in gasoline prices.
In both Spokane and Coeur d'Alene, the average price of unleaded regular gas has jumped about a dime per gallon in the past seven days, according to Gasbuddy .com, a network of websites that track local gas prices.
Overnight from Monday to Tuesday, Spokane County gas prices rose 3 cents per gallon on average, the same website reported.
As they did in 2008, drivers are likely starting to fret. Three years ago the price at the pump skyrocketed above $4 per gallon in many areas. A major factor behind the rise of oil prices is fear of instability in the Middle East, especially as turmoil threatens to disrupt three large producers: Libya, Saudi Arabia and Iran.
Some area drivers say they're psychologically equipped to ride out the price rise up to $4 per gallon. But a number of oil analysts peg the likely high point this year at $3.50 for a gallon of regular.
The price of motor fuel hasn't reached that level since Oct. 6, 2008, according to AAA, the nation's largest motoring organization.
Drivers will pay strict attention, but many, like Chris Harper, will not change their habits much until prices climb near $4.
"People seem to understand why gas prices keep going up," said Harper, who works at a Conoco station in the Spokane area.
"They stomach the increases, up to a point. Even at $3.50 per gallon, it wouldn't be that much different for me," said Harper.
Teresa Ide, a marketing coordinator for the Spokane Regional Convention and Visitors Bureau, said $4 per gallon would set off a number of big changes in her habits. She'd start riding public transportation to and from work, she said. She's also likely to start carpooling with friends to activities.
Even under $4 per gallon, Ide said she'll think seriously about how much driving she does. In 2008 she was a student in Pullman while working three nights a week in the summer.
"That weekly cost (for gas) took about half my paycheck that summer," Ide said.
Consumers may not react much to gas at $3.50, but dozens of area companies that rely on trucks, delivery drivers and transportation costs will feel the pain, said Patrick DeHaan, a petroleum analyst for Gasbuddy.com.
"Consumers will start to see the trickle-down before long. Even now it's beginning to affect the costs of companies handling freight. And those companies will pass the costs to consumers," DeHaan said.
Travis Wray, one of the managers of Wray's Trucking, based in Spokane Valley, is already pulling some of his trucks out of operation.
"It's already begun hitting us," Wray said. "We just can't continue operating the same way without passing the costs on, eventually."
Wray Trucking operates about 20 trucks, with drivers taking loads to 49 states and Canada.
"A lot of people don't care about the price of diesel, but they should," he said. "Almost everything they buy gets carried by a truck."
---