Sports > Gonzaga women
GU women win third straight WCC tournament championship
Tue., March 8, 2011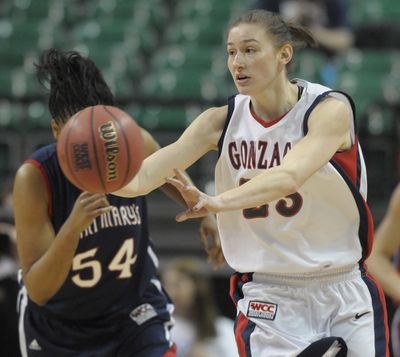 LAS VEGAS – Gonzaga has demonstrated game after game that it can score points in a hurry and run the floor like a track team.
On Monday, the Bulldogs showed they can win when forced out of their comfort zone.
Gonzaga kept its poise during one of its slowest and lowest scoring halves of the season and then dialed up the tempo to run away from Saint Mary's 72-46 to claim the West Coast Conference women's tournament championship Monday before a title-game record audience of 3,848 at the Orleans Arena.
The top-seeded Bulldogs (28-4), who won their 18th straight game and their third consecutive tournament title, earned an all-expenses-paid trip to play in their home gym in the NCAA tournament. Gonzaga is guaranteed to open the NCAAs at the McCarthey Athletic Center. The Bulldogs will learn their opponent next Monday. Second-seeded Saint Mary's (19-12) will participate in the WNIT.
"Isn't that great," said GU head coach Kelly Graves, whose team climbed to No. 20 in the latest AP poll. "We're at home, we're at home."
Gonzaga trailed by seven early, but used an 11-0 run, capped by Katelan Redmon's spin move down the lane, to go in front 19-15. Kayla Standish took a feed from tournament MVP Courtney Vandersloot for a layup and then Vandersloot dished to Redmon, who was fouled while hitting a 10-foot baseline jumper. Redmon's free throw gave Gonzaga a 28-20 lead and a momentum boost going into halftime, despite being held below 30 points for just the third time this season.
"I told them I was really proud of them," Graves said. "To show the composure the way we did and really battle through mentally and physically and take an eight-point lead was huge. We made some adjustments to get Redmon the ball a little more and get Courtney some open lanes and we played better in the second half."
The Bulldogs dominated the final 20 minutes. They hiked their lead to 51-29 when Vandersloot patiently waited on the break for Claire Rapp to clear a defender, then hit her in stride for a layup. Moments before, Vandersloot drove and dished to Kelly Bowen for a 3-pointer.
Vandersloot set the tournament record with 14 assists in Sunday's semifinal win over Portland. She bettered it with 16 assists, 11 in the second half.
"It was a grind-it-out game and I think we needed that," Vandersloot said. "We're not going to be able to score 100 points on everybody and I think this was good for us going into the NCAA tournament."
Vandersloot drove baseline, faked a pass and then hit a reverse layup to give GU a 63-35 lead. It was the last of her 18 points and one of the more spectacular baskets of her decorated career. She left to a standing ovation with 2:08 remaining
"That's as good a move as I've seen in all my years of coaching," Graves said.
Gonzaga routed Saint Mary's 106-77 and 106-66 in the regular season, but the Gaels controlled the pace in the first half. They often walked the ball up court, worked the shot clock and used five offensive rebounds to prolong possessions. They just didn't make shots (5 of 21, 24 percent).
Graves said he was a bit surprised by the Gaels' strategy, but eventually Gonzaga's pressure defense forced SMC turnovers that were converted into points at the offensive end.
"We want to get up and down the floor and they were walking it up," said Redmon, who had 17 points, six rebounds, three steals and three assists. "It's definitely not as much fun playing that way. Once we extended our defense and put the pressure on them, the energy just came."
Standish, who had eight points and 10 rebounds, joined Vandersloot on the All-Tournament team.
Others honored were Saint Mary's Louella Tomlinson, San Diego's Sam Child and Portland's ReZina TecleMariam.
Gonzaga 72, Saint Mary's 46
 Saint Mary's (19-12) — Tomlinson 3-8 1-1 7, Gaze 1-8 2-2 5, Davis 0-2 0-0 0, Coatney 0-5 1-5 1, J. Smith 1-13 4-4 6, Carbonel 4-7 0-0 8, Levesque 0-0 0-0 0, Richey 0-0 0-0 0, Puletasi 0-0 0-0 0, Bailey 0-0 0-0 0, Mauldin 5-8 9-11 19. Totals 14-51 17-23 46.
Gonzaga (28-4) — Bekkering 3-7 0-1 7, Vandersloot 7-13 2-2 18, K. Redmon 8-16 1-1 17, Standish 4-13 0-0 8, Bowen 3-5 0-0 8, Schick 0-0 0-0 0, Lorenzo 0-0 0-0 0, Winters 0-0 0-0 0, Golden 1-1 0-0 2, Reader 0-0 2-2 2, J. Redmon 2-2 0-0 4, Raap 3-4 0-0 6. Totals 31-61 5-6 72.
Halftime—Gonzaga 28-20. 3-Point Goals—St. Mary's, Cal. 1-15 (Gaze 1-4, Tomlinson 0-1, Davis 0-1, Coatney 0-1, Carbonel 0-2, J. Smith 0-6), Gonzaga 5-7 (Vandersloot 2-2, Bowen 2-2, Bekkering 1-3). Fouled Out—None. Rebounds—St. Mary's, Cal. 37 (Mauldin 10), Gonzaga 34 (Standish 10). Assists—St. Mary's, Cal. 9 (Tomlinson 4), Gonzaga 23 (Vandersloot 16). Total Fouls—St. Mary's, Cal. 8, Gonzaga 21. A—NA.
Local journalism is essential.
Give directly to The Spokesman-Review's Northwest Passages community forums series -- which helps to offset the costs of several reporter and editor positions at the newspaper -- by using the easy options below. Gifts processed in this system are not tax deductible, but are predominately used to help meet the local financial requirements needed to receive national matching-grant funds.
Subscribe to the sports newsletter
Get the day's top sports headlines and breaking news delivered to your inbox by subscribing here.
---
Subscribe and log in to the Spokesman-Review to read and comment on this story