A&E > Food
As delicious, new vegetarian entrees emerge, use of meat on the retreat
Wed., March 9, 2011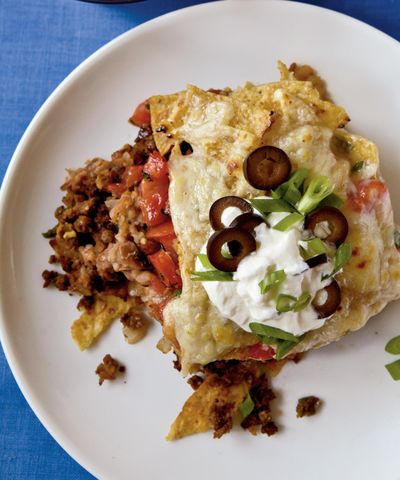 Whether you're eating less meat in the spirit of sacrifice during the Lenten season, working more meatless meals into the dinner rotation due to health concerns, or both, finding satisfying recipes is easier than ever.
Vegetarian and vegan cookbooks abound, but even more traditional cookbooks and cooking magazines are helping guide readers to dishes that are not meat-centric.
Like many new cookbooks, the Cooking Light "Complete Meals in Minutes" includes a tab for "Meatless Main Dishes." Books such as Mark Bittman's new "Food Matters Cookbook" aren't meant for vegetarians, but meat is much less important in the recipes.
Magazines from Taste of Home to Everyday Food to Eating Well index vegetarian recipes and some go further. Martha Stewart's Everyday Food suggests dishes that could be "Vegetarian Entrees" and Bon Appetit magazine includes a menu guide in the closing pages with a menu recommendation for "Meatless Monday."
Meatless Monday, which started as a nonprofit health initiative of the Johns Hopkins Bloomberg School of Public Health, has made serious strides since it was introduced in 2003.
The movement takes inspiration from a program during World War I in which the U.S. Food Administration urged families to help the war effort by cutting their consumption of some staples, according to the Meatless Monday website, www.meatless monday.com.
The government encouraged Americans to observe "Meatless Monday" and "Wheatless Wednesday" to do their part.
The current campaign hopes to help Americans improve their health and the environment. Cutting back on meat, researchers say, can help limit cancer risk, reduce heart disease, fight diabetes, curb obesity and help people live longer.
It can also shrink one's carbon footprint, cut water use and help reduce fossil fuel dependence, mostly because production of meat takes more water than fruit and vegetable product and transportation costs are high, Johns Hopkins Bloomberg officials say.
More than 20 schools of public health have signed on to the program. Hospitals, schools, restaurants, businesses, celebrities (Oprah Winfrey and chef Mario Batali) and bloggers around the country are now on board.
The www.meatless monday.com website has more details, links to articles about the history of the original movement and recipes.
If you want some confidence as you tackle cooking and serving more meatless meals, Cooking Light's "Way to Cook Vegetarian" is a great place to start.
Gorgeous color photos will give you confidence whether you try the familiar flavors of a Mexican Casserole (recipe follows) with meat substitute, or move on to the blend of Caribbean spices in Potato Roti Curry (recipe follows).
For those who are ready to tackle meat alternatives such as tofu, seitan and tempeh, the book includes step-by-step pictures that will take the mystery out of those ingredients.
Mexican Casserole
From "Way to Cook Vegetarian," from the editors of Cooking Light (Oxmoor House, 2010). Look for veggie protein crumbles in the produce section, near the tofu. "Zesty Mexican spices and flavorings sass up plain- (or original-) flavored crumbles," editors write.
4 teaspoons olive oil, divided
1 cup chopped onion
2 garlic cloves, minced
1 jalapeño pepper, minced
1 teaspoon chili powder
1/2 teaspoon ground cumin
1/4 teaspoon freshly ground black pepper
1 (12-ounce) package meatless fat-free crumbles (such as Lightlife Smart Ground)
48 baked tortilla chips
Cooking spray
1 (15-ounce) can pinto beans, rinsed and drained
1 tablespoon fresh lime juice
2 cups chopped, seeded plum tomato
2 tablespoons minced fresh cilantro
1/4 teaspoon salt
1 cup (4 ounces) shredded Monterey Jack cheese
2 tablespoons fat-free sour cream
2 tablespoons chopped green onions
1/4 cup sliced ripe olives
Preheat oven to 375 degrees.
Heat 2 teaspoons oil in a large nonstick skillet over medium heat. Add onion to pan; cook 4 minutes or until tender. Add garlic and jalapeño; cook 1 minute. Stir in chili powder, cumin, black pepper and crumbles; cook 3 minutes or until thoroughly heated.
Arrange half of tortilla chips in an 11- by 7-inch baking dish coated with cooking spray; top evenly with crumbles mixture.
Heat remaining 2 teaspoons oil in skillet over medium heat. Add beans, mashing with the back of a wooden spoon until chunky and thick; cook 2 minutes or until heated, stirring constantly. Stir in lime juice.
Combine tomato, cilantro and salt. Layer beans and tomato mixture over crumbles mixture in dish. Top with remaining tortilla chips, pressing to slightly crush. Sprinkle evenly with cheese.
Bake at 375 degrees for 13 minutes or until cheese is bubbly. Cut casserole into 6 equal pieces; top each serving with 1 teaspoon sour cream, 1 teaspoon onions, and 2 teaspoons olives.
Yield: 6 servings
Approximate nutrition per serving: 313 calories, 12.9 grams fat (4.6 grams saturated), 20.6 grams protein, 30.2 grams carbohydrate, 18 milligrams cholesterol, 7.4 grams dietary fiber, 718 milligrams sodium.
Sweet Potato and Black Bean Chili
From "Taste of Home" magazine, www.tasteofhome.com. "My whole family enjoys this chili, but my daughter especially loves it. I like to make it because it's so easy and very flavorful," says Joy Pendley, of Ortonville, Mich.
3 large sweet potatoes, peeled and cut into 1/2-inch cubes
1 large onion, chopped
1 tablespoon olive oil
2 tablespoons chili powder
3 garlic cloves, minced
1 teaspoon ground cumin
1/4 teaspoon cayenne pepper
2 cans (15 ounces each) black beans, rinsed and drained
1 (28-ounce) can diced tomatoes, undrained
1/4 cup brewed coffee
2 tablespoons honey
1/2 teaspoon salt
1/4 teaspoon pepper
1/2 cup shredded reduced-fat Monterey Jack cheese or reduced-fat Mexican cheese blend
In a nonstick Dutch oven coated with cooking spray, sauté sweet potatoes and onion in oil until crisp-tender. Add the chili powder, garlic, cumin and cayenne; cook 1 minute longer.
Stir in the beans, tomatoes, coffee, honey, salt and pepper. Bring to a boil. Reduce heat; cover and simmer for 30-35 minutes or until sweet potatoes are tender. Sprinkle with cheese.
Yield: 8 servings
Approximate nutrition per 1-cup serving, with 1 tablespoon cheese: 252 calories, 4 grams fat (1 gram saturated), 10 grams protein, 47 grams carbohydrate, 5 milligrams cholesterol, 9 grams dietary fiber, 554 milligrams sodium.
Tilapia with Citrus Bagna Cauda
For many families, fish is still the traditional substitute for meat at meals during the Lenten season. This recipe from Giada De Laurentiis was a hit with the families in my weekly meal exchange. Tilapia farmed in the United States is the most sustainable choice for tilapia, according to the Monterey Bay Aquarium Seafood Watch program.
3 tablespoons unsalted butter
2 tablespoons extra-virgin olive oil, plus 2 teaspoons
4 anchovy fillets, minced
1 1/2 teaspoons minced garlic
2 tablespoons orange juice
2 tablespoon thinly sliced fresh basil leaves
1 teaspoon lemon zest
1 teaspoon orange zest
6 (6-ounce) skinless tilapia fillets
Salt and freshly ground pepper
Cook the butter and 2 tablespoons extra-virgin olive oil in a heavy, medium saucepan over low to medium heat just until the butter is melted, stirring frequently. Add the anchovies and stir until the anchovies dissolve, about 2 minutes. Add the garlic and cook just until fragrant, about 30 seconds.
Remove from the heat. Stir in the orange juice, basil, and lemon and orange zests. Season the sauce, to taste, with salt.
The bagna cauda sauce can be made a day ahead. Cool, then cover and refrigerate. Rewarm before using.
Meanwhile, preheat oven to 200 degrees.
Sprinkle the fish with salt and pepper and brush both sides of the fish with remaining 2 teaspoons extra-virgin olive oil. Working in two batches, fry the fish until just opaque in center, about 3 minutes per side.
Transfer fish to platter. Cover with foil and keep warm in the oven while cooking the second batch of fish. Drizzle the sauce over and around the fish and serve.
Yield: 6 servings.
Gruyere Risotto Cakes with Fresh Chives
A friend shared this recipe that she adapted from Cook's Illustrated magazine. She serves the cakes with a roasted tomato sauce for a satisfying meatless main dish.
3 cups broth or water
2 tablespoons olive oil
1/2 cup chopped onion
1 cup plus 2 tablespoons Arborio rice
6 tablespoons Parmesan cheese
2 tablespoons butter
1 1/2 cups Panko bread crumbs, divided
1/2 cup grated Gruyere cheese
1/4 cup parsley, chopped
3 tablespoons chives, chopped
1 large egg yolk
2 large eggs
Oil for frying
Bring 3 cups of broth to simmer in small pan. Reduce heat to very low; keep warm.
Heat oil in pan over medium heat and add onion; sauté until translucent, about 5 minutes. Add rice, stir 1 minute.
Add broth, 1/3 cup at a time, stirring until rice is just tender and liquid is absorbed. Continue adding broth until all is used and risotto is creamy, about 18 minutes.
Remove from heat and mix in Parmesan and butter. Season generously with salt and pepper. Let cool completely.
Mix ½ cup Panko, Gruyere, parsley, chives and egg yolk into risotto. Shape into 1 ¼-inch balls; flatten to 2 in rounds. Arrange on rimmed baking sheet lined with a Silpat or parchment paper (can be made two days ahead).
Preheat oven to 250 degrees. Beat 2 eggs in shallow bowl to blend. Place remaining 1 cup Panko in another bowl. Dip risotto cakes into beaten egg, then into Panko to coat.
Pour enough oil into large skillet to coat bottom; heat oil over medium-high heat. Working in batches, sauté risotto cakes until crisp and brown, about 2 ½ minutes per side. Transfer to oven to keep warm. Sprinkle with Parmesan and chives when serving.
Yield: Varies.
Meatless Shepherd's Pie with Horseradish-Cheddar Potatoes
Recipe courtesy Rachael Ray.
4 medium-large starchy Idaho potatoes, peeled and cut into chunks
2 parsnips, peeled and cut into thick slices
Salt
3 tablespoons prepared horseradish
3/4 cup milk
3 to 4 tablespoons chopped chives
Freshly ground black pepper
1 1/2 cups super-sharp white Cheddar
1 egg, lightly beaten
1/4 cup extra-virgin olive oil
6 medium portobello mushroom caps, wiped clean, gills scraped and chopped into bite-size pieces
2 sprigs fresh rosemary, leaves finely chopped
1 large carrot, peeled and chopped
1 medium-large onion, chopped
4 cloves garlic, chopped
1 small bundle Dinosaur, Tuscan or black kale, stemmed and thinly sliced
A few grates nutmeg
1/4 cup Worcestershire sauce
3 cups mushroom stock or vegetable stock
3 tablespoons butter
2 tablespoons all-purpose flour
Preheat the broiler and put a rack in the middle of the oven. Arrange individual casseroles or a large casserole dish on a baking sheet and set near the stove.
Put the potatoes and the parsnips in a medium pot and cover with water. Bring to a boil, over high heat, then salt the water and cook until the potatoes and parsnips are tender, 15 minutes or so.
Drain and return the potatoes and parsnips to the hot pot. Add the horseradish, milk, chives, salt and pepper, to taste, and mash to desired consistency. Stir in 1 cup of the cheese and the egg.
Meanwhile, heat a Dutch oven or large skillet over high heat with extra-virgin olive oil. Add the mushrooms and the rosemary leaves and cook for 10 minutes.
Stir in the carrot and onion and season liberally with salt and pepper, to taste. Cook for 5 minutes more, then stir in the garlic and the kale and season with nutmeg. Cook until the kale wilts, about 2 minutes. Stir in the Worcestershire sauce and the stock and bring to a boil.
In a small skillet, over low heat, melt the butter, whisk in the flour and cook for 1 minute, then stir it into the sauce to thicken. Transfer the vegetable mixture to the individual dishes or large casserole. Top with the mashed potatoes, sprinkle with the remaining cheese, and brown under the broiler for 2 to 3 minutes. Remove from the oven and serve.
Yield: 4 to 6 servings
Potato Roti Curry
From "Way to Cook Vegetarian," by the editors of Cooking Light. "This mild, soupy side dish hails from the Caribbean, where it's often made with sweet calabaza squash and served alongside or stuffed into the tortillalike Indian flatbread roti. While roti is traditional, whole wheat tortillas or pitas are great accompaniments for sopping up the liquid. Serve with lime wedges and rice," editors write.
1 1/4 teaspoons salt
2 teaspoons ground cumin
1 1/2 teaspoons ground turmeric
1 teaspoon ground ginger
1/4 teaspoon ground allspice
1/4 teaspoon crushed red pepper
1 tablespoon canola oil
1 1/2 cups chopped onion
4 garlic cloves, minced
4 cups (1-inch) cubed peeled Yukon gold potatoes (about 1 1/2 pounds)
3 cups (1-inch) cubed peeled acorn squash (about 3/4 pound)
1 cup chopped red bell pepper
2 cups water
1/2 cup light coconut milk
1/2 cup chopped fresh cilantro
Combine first 6 ingredients; set aside.
Heat oil in a large Dutch oven over medium heat. Add onion; cook 3 minutes or until tender, stirring frequently. Add garlic; cook 15 seconds, stirring constantly. Add spice mixture; cook 30 seconds, stirring constantly.
Add potato, squash, and bell pepper, stirring to coat with spice mixture; cook 1 minute, stirring constantly. Stir in water and coconut milk, scraping pan to loosen browned bits; bring to a boil. Cover, reduce heat, and simmer 25 minutes or until potato is tender. Sprinkle with cilantro.
Yield: 6 servings
Approximate nutrition per serving: 183 calories, 4 grams fat (1.2 grams saturated), 3.6 grams protein, 36.2 grams carbohydrate, no cholesterol, 4 grams dietary fiber, 510 milligrams sodium.
Local journalism is essential.
Give directly to The Spokesman-Review's Northwest Passages community forums series -- which helps to offset the costs of several reporter and editor positions at the newspaper -- by using the easy options below. Gifts processed in this system are not tax deductible, but are predominately used to help meet the local financial requirements needed to receive national matching-grant funds.
Subscribe to the Spokane7 email newsletter
Get the day's top entertainment headlines delivered to your inbox every morning.
---